'Better Watch Out' Trailer: This Could Be The Year's Most Divisive Horror Movie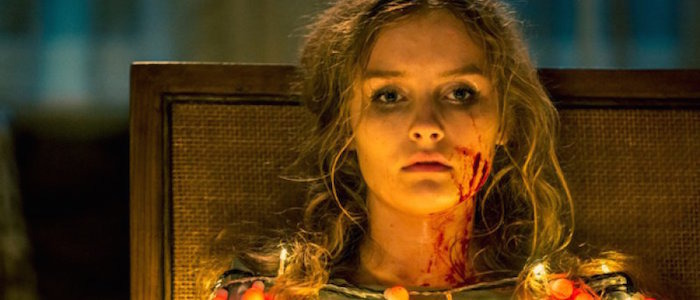 2017 has been an exceptional year for horror, with It tearing up the box office, Get Out igniting a cultural conversation, and Raw ruling the arthouse scene like the cannibalistic powerhouse that it is. But there's another horror movie on the horizon that's going to get people talking. And arguing.
I saw Better Watch Out at Fantastic Fest last year, back when it was titled Safe Neighborhood, and hated it. Loathed it. Couldn't stand it. When I left the theater, I learned that I was not alone. But I also learned that many people adored it and spoke to fest-goers who were head-over-heels in love with this gonzo horror comedy and just couldn't believe that I didn't like it.
And now the Better Watch Out trailer is here to spark the conversation for a much wider audience.
This is a red band trailer, so if you're at work or in a public place, be careful before you click play. There's plenty of violence and foul language to be found, even in the critical praise for the film splattered across the screen.
And while I'm here, I'll actually recommend that you actually don't watch this trailer at all. If you're a horror fan and want to join the discussion about this one, I strongly suggest going in as blind as possible. Better Watch Out begins as a boilerplate home invasion thriller set against a Christmas backdrop before it suddenly evolves into a very, very different movie...and that very, very different movie is on full display in this preview. Much of the film's shock value comes from seeing the left turn happen organically, so proceed with caution. The trailer even gives away one of the movie's best gags, something so bizarre and horrible and darkly funny that even I, someone who hated the rest of the movie, appreciated it.
But here's the trailer.
If you skip the trailer, the official synopsis sets the stage quite nicely without going too far:
This holiday season, you may be home, but you're not alone... In this fresh and gleefully twisted spin on home-invasion horror, babysitter Ashley (Olivia DeJonge) must defend her young charges (Levi Miller, Ed Oxenbould ) when intruders break into the house one snowy night – or so she thinks.
Considering how many genuine horror buffs fell in love with this movie and how many hate every stinking' frame, I don't think this is the last time we'll be talking about Better Watch Out on /Film. In fact, our team covering the Fantasia Film Festival was so divided on it that we're considering a roundtable discussion of the movie once it arrives to talk it over and figure out what the hell we actually saw.
And you'll be able to join in very soon, as Better Watch Out hits theaters and VOD on October 6, 2017.