'Game Of Thrones' Will Film Multiple Endings For The Series Finale To Avoid Spoilers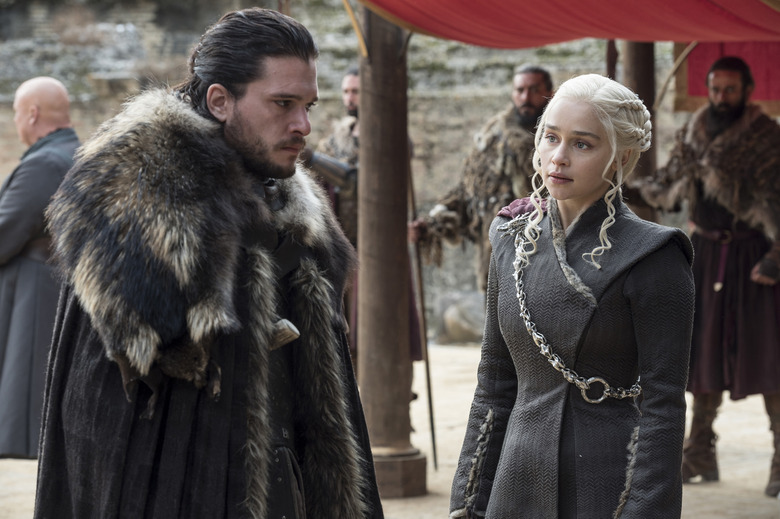 As HBO learned through its prolonged dealings with hackers this summer, the internet is dark and full of spoilers. And as the network's flagship shows nears its end, the frenzy for spoilers of just how Game of Thrones will conclude will soon reach its peak.
It's no wonder that HBO will go above and beyond to prevent as many spoilers from hitting the internet as possible. The newest strategy: Game of Thrones is shooting multiple endings of its series finale.
HBO Programming President Casey Bloys told local Pennyslvania newspaper The Morning Call that the network is planning to shoot multiple variations of Game of Thrones season 8's final episode.
"I know in Game of Thrones, the ending, they're going to shoot multiple versions so that nobody really know what happens. You have to do that on a long show. Because when you're shooting something, people know. So they're going to shoot multiple versions so that there's no real definitive answer until the end."
It's an old TV trick that Game of Thrones has used before. Kit Harington has said that the HBO fantasy show shot multiple fake scenes to throw off the local paparazzi during the production of season 7 — with the fake scenes taking up to five hours each to shoot. Game of Thrones may also be taking a cue from The Walking Dead, which shot multiple scenes of the aftermath of the season 6 cliffhanger, turning the hiatus into a guessing game of "Who did Negan kill?" In that case, AMC participated in a somewhat cruel troll of fans, but HBO is likely trying to save fans from themselves.
There's been no show on TV that has such a delicate balance with spoiler culture, with each season hinging on some game-changing twist or death, starting with the beheading of Sean Bean's Ned Stark in the first season. Since then, Game of Thrones has only increased the veil of secrecy as the tumult around spoilers has escalated.
The multiple finale variations is a painstaking strategy to avoid spoilers, but it is probably worth it after HBO's tiresome experience with hackers this summer — who actually weren't responsible for the majority of the Game of Thrones episode leaks. Ironically, most of those were accidental releases by HBO distributors themselves, which makes us wonder if the network is tamping down on its distribution process in addition to putting its actors through this arduous process. But better safe than sorry.
Game of Thrones season 8 is set to premiere on HBO in late 2018 or early 2019.