'Hellboy' Reboot First Look Reveals 'Stranger Things' Star David Harbour As Big Red [Updated]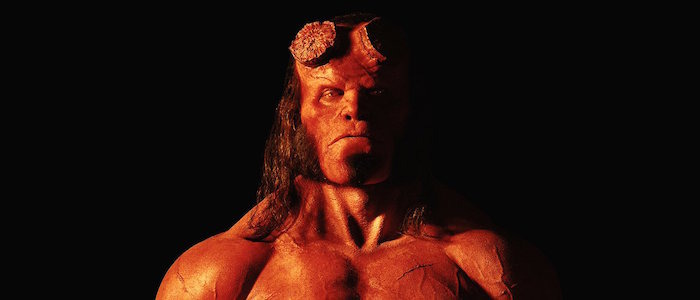 Update: Lionsgate has informed us that the widely reported 2019 release date is not correct. We will update this article when new information is available.
***
While fans have been grumbling about the new Hellboy reboot and how director Guillermo del Toro never got to finish his trilogy, let's be honest. We've all been at least a little bit curious about what an R-rated Hellboy movie directed by Neil Marshall and starring Stranger Things' David Harbour as the red-skinned paranormal investigator would look like.
Now, thanks to a first look image of Harbour in character, we know. It looks like Hellboy.
For better or worse, this Hellboy looks very similar to the incarnation played twice by Ron Perlman in 2004's Hellboy and 2008's Hellboy II: The Golden Army. His hair is longer, his body a little more battle-worn, and "the Right Hand of Doom" has a completely different texture, but I can imagine someone with only vague memories of the first two movies seeing this image and thinking it was the same actor.
In any case, David Harbour is completely unrecognizable under that make-up. Whether he's wearing elaborate (and convincing) body prosthetics like Perlman or somehow shed that dad bod he still had at Comic-Con this summer in record time is something you can debate in the comments! (Although it's the former, of course.)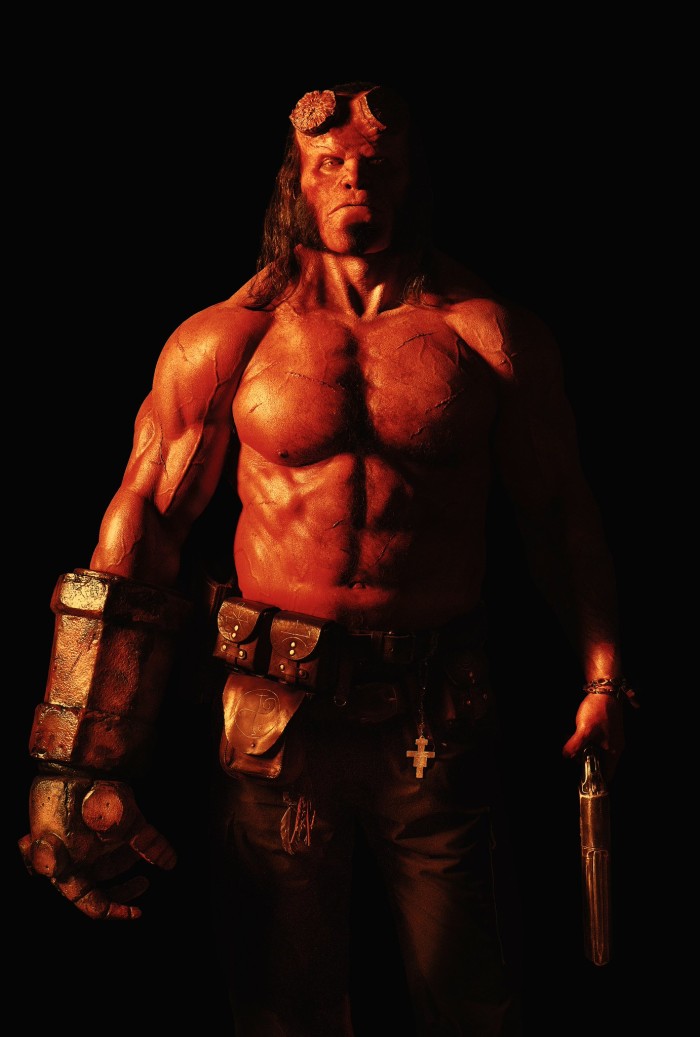 As a fan of Mike Mignola's comics, I'm admittedly surprised that they once again went with a super-beefy take on the character. While Hellboy has a muscular build in the comics, he's often drawn as leaner and slumped – a less confident, more weary, somewhat blue-collar demon-hunting demon. Here, he has a more traditional comic book superhero build, albeit one brought to life by impressive make-up artists rather than a personal trainer on the Marvel payroll.
I'm also a fan of Hellboy's new utility belt, with its various pouches and occult objects. If the new movie follows the comics in any way, these will probably be discarded in short order, leading him to solve most of his problems with punching.
Harbour himself shared another image from the set, showing him wearing the character's trademark trench oat. If the new movie follows the comics in any way, this will probably be discarded in shorter order, leading him to solve most of his problems wearing only pants.
The Hellboy reboot is filming now under the direction of Marshall, whose credits include The Descent, Doomsday, and a few great Game of Thrones episodes. The supporting casting includes Ian McShane as Trevor Bruttenholm, Hellboy's adoptive father, Milla Jovovich as Nimue, "The Blood Queen" and the movie's main villain, Sasha Lane as Alice Monaghan, one of Hellboy's allies with magical abilities, and possibly Daniel Dae Kim as Ben Daimio, a grizzled soldier with odd supernatural abilities. No release date has been announced.