'Big Mouth' Trailer: Nick Kroll Gets Gross About Puberty In Netflix Animated Series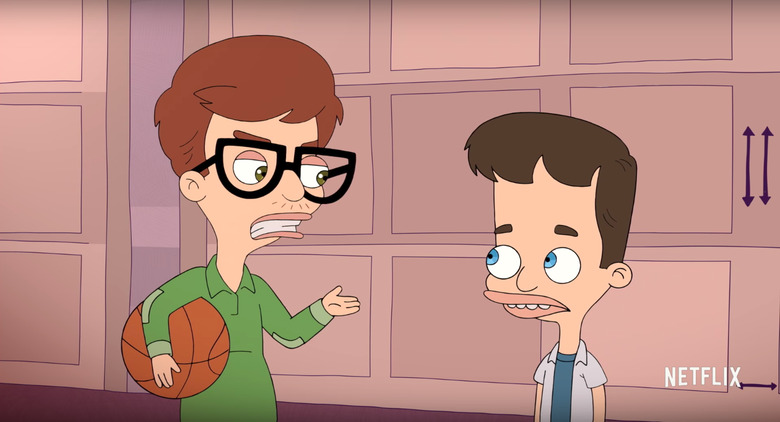 Puberty is the worst, but at least you can laugh about it thanks to Nick Kroll's new animated comedy series, Big Mouth.
The Netflix comedy follows the pitfalls of growing up as a teen dealing with raging hormones in the American suburbs, and features some of today's funniest comedians voicing the animated teenagers. Netflix has released a few videos teasing the hormone monsters and "monstresses" plaguing these young teens, but the official trailer for Big Mouth has just dropped.
Don't let the animation's cheery tone fool you, this trailer is very NSFW, with lots of scenes of pillow-humping, period fouls, and even a talking vagina.
"Relive puberty from the safety of your sofa" the Big Mouth trailer promises, diving into a crass, cringeworthy depiction of your average American teens. Andrew (John Mulaney) is woken by the monster of hormones who proceeds to banter with him before giving his best friend Nick (Kroll) a wet dream. Sex and masturbation are on all the boys' minds in the trailer, as they struggle to tamp down their impulses and deal with the equally hormone-plagued teen girls at their school. Meanwhile, the hormone monstress causes the rebellious Jessi to shed any tomboy hobbies she had in favor of Lana del Rey and misplaced anger.
Here's the official synopsis for Big Mouth:
Big Mouth is a 10-episode, half-hour edgy adult animated comedy from real-life best friends Nick Kroll and Andrew Goldberg about the glorious nightmare that is teenaged puberty. Comedian John Mulaney lends his voice to the character of Andrew, while Kroll (who serves as co-creator, executive producer) voices many including best friend Nick. Maya Rudolph, Jason Mantzoukas, Jordan Peele, Fred Armisen, Jenny Slate and Jessi Klein are among those who lend their voice to the series.
This is the second Netflix project for Kroll, who teams up with Mulaney again after their Oh, Hello on Broadway Netflix special, featuring their sketch characters Gil Faizon and George St. Geegland.
It seems like Netflix has become the new home for "edgy" adult animated comedies after Adult Swim dominated the genre in the '90s and early 2000s. The late-night programming block on Cartoon Network has less of a prominent platform than the streaming service, and Kroll's partnering with Netflix for this kind of content may be a sign of shifting times.
Big Mouth premieres on Netflix on September 29, 2017.