J.J. Abrams Returning To Write And Direct 'Star Wars: Episode 9'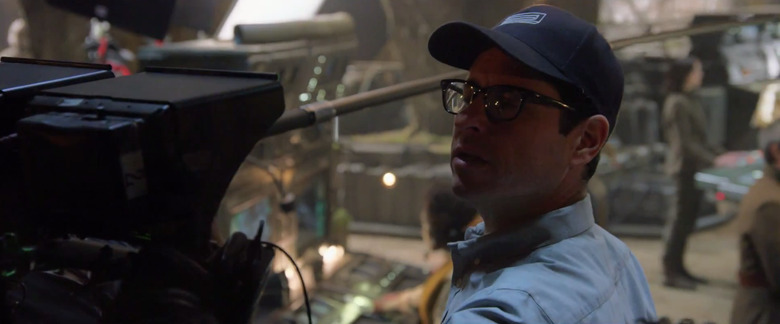 Two years after he reintroduced Star Wars into the modern era with Star Wars: The Force Awakens, J.J. Abrams is returning to the franchise.
Abrams is officially replacing Colin Trevorrow as the director of Star Wars: Episode 9.
Abrams has been hired by Lucasfilm to write and direct Star Wars: Episode 9, a week after it was announced that Trevorrow was leaving the project, StarWars.com announced Tuesday. Abrams will co-write the script with Argo and Batman v. Superman: Dawn of Justice screenwriter Chris Terrio.
In an Emergency Podcast, Ben Pearson and Hoai-Tran Bui join Peter Sciretta to discuss the latest news and our thoughts on JJ Abrams as the director of Episode 9:
You can subscribe to /Film Daily on iTunes, Google Play, Overcast and all the popular podcast apps (here is the RSS URL if you need it). The full story follows below:
In a statement released alongside the announcement, Lucasfilm President Kathleen Kennedy said:
"With The Force Awakens, J.J. delivered everything we could have possibly hoped for, and I am so excited that he is coming back to close out this trilogy."
Abrams first worked with Lucasfilm to direct 2015's The Force Awakens, which reinvigorated the Star Wars franchise, bringing on a new host of core characters played by Daisy Ridley, John Boyega, and Oscar Isaac to join the beloved original Star Wars characters played by Harrison Ford, Carrie Fisher, and Mark Hamill. Although The Force Awakens was a huge critical and commercial success, the journey to the big screen was not quite smooth, with Abrams and Kennedy allegedly butting heads throughout production.
However, despite Abrams' clashes with Kennedy, it makes sense that she would return to a director who she has worked with before. Past disputes can inform their working relationship now as Abrams returns to the mothership that he helped pilot into the modern era — which seems inconsequential now, but was a remarkable feat after the Star Wars series suffered setbacks with George Lucas' prequels. Abrams has a lot of goodwill for his soft reboots of both Star Wars and Star Trek, and could offer a solid bookend for the new trilogy.
The conflicts that Kennedy had recently with Star Wars directors like Phil Lord and Chris Miller for the Han Solo film and Trevorrow for Episode 9 seem like they were a product of Lucasfilm too eagerly hiring upstart directors who don't know how — or aren't willing — to work within the system that Kennedy has implemented. Abrams and Kennedy may have had their disagreements, but his return shows that Kennedy would rather work with a dependable director she knows — hence the hiring of Ron Howard to replace Lord and Miller.
While Episode 9 is early enough in development that Kennedy could have hired someone outside of the Lucasfilm sphere with a really fresh take on the franchise, like many of our diverse choices on our director suggestions for Episode 9, it seems like Kennedy doesn't want to take the chance for another potential conflict. Rian Johnson, who has recently wrapped directing Star Wars: The Last Jedi, was also reportedly an option to pick up Episode 9 but took himself out of the running earlier this week.
The question becomes, however, whether Abrams and Terrio's addition to the team will push Episode 9's release from its scheduled May 24, 2019 date. Terrio is coming on to the project after Lucasfilm hired Jack Thorne to do a rewrite of Trevorrow and his writing partner Derek Connolly's Episode 9 script — which may have been one of the sources of contention between Trevorrow and the studio. With Abrams and Terrio potentially doing an overhaul of the script, Episode 9 could easily be pushed back to fall or winter of that year.