'Downsizing' Trailer: Honey, Alexander Payne Shrunk Matt Damon And Kristen Wiig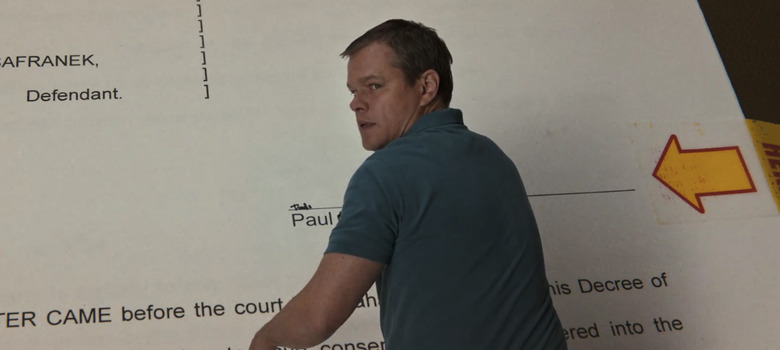 After playing the Venice Film Festival and the Toronto International Film Festival this month, Alexander Payne's latest film Downsizing has debuted a full theatrical trailer, giving us a glimpse at the director's first sci-fi film as only he can deliver.
Matt Damon and Kristen Wiig star in the film as a couple who decide to abandon their lives in the normal-sized world in the innovative and planet-saving "downsized" community of Leisureland, New Mexico, a society created in the future to deal with overpopulation of the world. Watch the first Downsizing trailer below to see what this new movie looks like.
Watch the Downsizing Trailer
The trailer does a fine job of briefly explaining the premise and the motivation for wanting to be shrunk down to .0364% of their body mass. Who wouldn't want to move to a place where the $52,000 Matt Damon and Kristen Wiig have turns into $12.5 million in the smaller world they're heading to? And what's not to love about having a small fraction of regular bottle of vodka be more than enough for an entire dinner party to enjoy?
The early buzz on Downsizing from the Venice Film Festival was pretty good, with The Guardian writing:
"What a spry, nuanced, winningly digressive movie this is. No sooner I had it pegged as a jaunty black comedy than it starts folding in elements of dystopian sci-fi, or compassionate human drama. A less polished director might have become lost and confused along the film's lengthy running-time. But Payne's handling is perfect. He never puts a foot wrong, rustling up a picture that is as bright as a button and as sharp as a tack. Downsizing contains multitudes. Inside, it's a giant."
As a fan of movies like Election and Sideways, this is an endeavor of Alexander Payne's that I can't wait to see unfold on the big screen. That's especially true when considering the supporting cast in the movie, which includes Christoph Waltz, Hong Chau, Jason Sudeikis, Laura Dern, Alec Baldwin, Neil Patrick Harris and Margo Martindale.
Here's the official synopsis for Downsizing from Paramount Pictures:
When scientists discover how to shrink humans to five inches tall as a solution to over-population, Paul (Matt Damon) and his wife Audrey (Kristen Wiig) decide to abandon their stressed lives in order to get small and move to a new downsized community — a choice that triggers life-changing adventures.
Downsizing arrives in theaters on December 22, 2017.