'Hellboy' Reboot Eyes Daniel Dae Kim As Replacement For Ed Skrein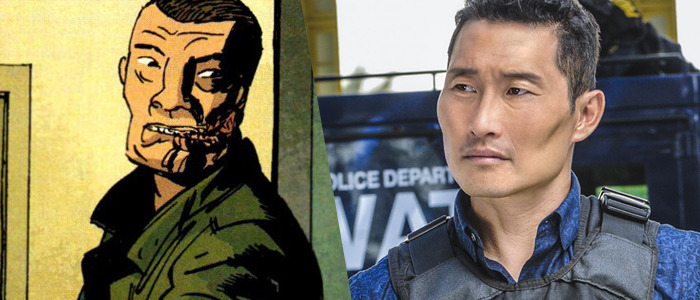 Now, this is more like it. After actor Ed Skrein stepped away from Lionsgate's Hellboy reboot following controversy over whitewashing a Japanese-American character, a new report says that the studio is currently in talks with Lost and Hawaii Five-0 star Daniel Dae Kim to play the role of Major Ben Daimio.
Two weeks ago, Skrein – a white British actor – nobly took it upon himself to step down after being cast as Daimio in the reboot, saying he was unaware that the character was of mixed Asian heritage and citing the importance of representation of ethnic diversity on screen. It was the type of classy move that's all-too-rare in Hollywood these days, especially during a time when whitewashing is still shockingly common.
The Hollywood Reporter says that Kim, a Korean-American, is currently in talks to replace Skrein as Major Ben Daimio, "a rugged military member of the bureau of paranormal research and defense who, [spoiler alert] due to a supernatural encounter, can turn into a jaguar when angered or in pain." Sounds like a cool opportunity for Kim, an actor who's made it big on TV in the past decade, to have a spotlight as a supporting role in a major film release. And assuming this deal goes through, it'll be a nice reward for Kim for taking a stand against CBS and quitting Hawaii Five-0 earlier this year when the show wouldn't pay him as much as his white co-stars.
When the outcry initially happened, Lionsgate released a statement that said, "It was not our intent to be insensitive to issues of authenticity and ethnicity, and we will look to recast the part with an actor more consistent with the character in the source material." Skrein basically forced their hand by walking away from the part, so hiring Kim should be considered a win for those who value representation on the big screen.
And honestly, this should be a win for anyone who loves film. Representation is maybe the most important battle being fought in movie culture right now, and it's incredibly important – look no further than the reaction to Wonder Woman or Girls Trip earlier this year for only the latest examples of the impact it can have on people. Being able to see a reflection of yourself on screen is something many white people (myself included) often take for granted, but it's an issue that bears repeating, loudly and often.