'The Boys' Will Bash In Some Superhero Skulls On Amazon; Seth Rogen And Evan Goldberg Still On Board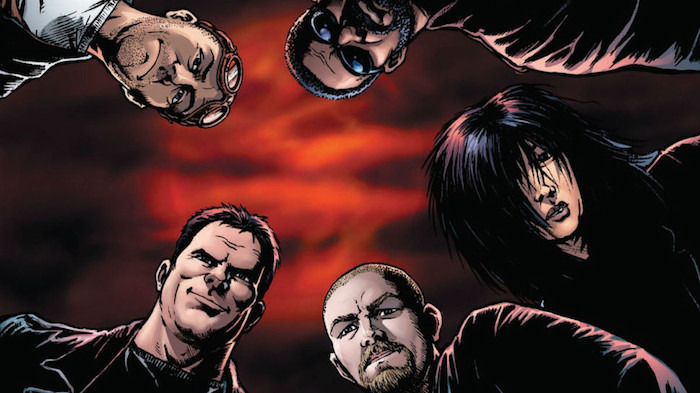 After years of jumping between the big and the small screens, and of being bounced from network to network like a troubled child in an '80s movie, The Boys has found a new home. The television adaptation of Garth Ennis and Darick Robertson's anti-superhero comic is now being developed at Amazon, where it could receive a straight-to-series pick-up. Seth Rogen and Evan Goldberg are still on board to executive produce and direct. Supernatural creator Eric Kripke is still attached to the write the pilot.
The news of The Boys heading to Amazon is buried at the bottom of a larger Variety post about new shows being developed there. It doesn't mention how the show had apparently found a home at Cinemax well over a year ago, nor does it mention director Adam McKay's years-long struggle to bring it to the big screen. In an era where superhero stories feel like a license to print money, this one seems to give studios and networks cold feet.
To be fair, the original comic gave people cold feet, too. The series (which ran for 72 issues from 2006 through 2012) follows a team of government black ops agents who secretly "police" the superhero community, destroying the reputations of the powerful beings who threaten to upset the status quo and beating the snot out of those who don't get the message through blackmail or threats. The series' gleeful disgust for the superhero genre caused it to be cancelled by Wildstorm (who are owned by DC comics) after six issues. It was rescued by Dynamite, who published it for the remainder of its run.
And it was filthy and offensive and frequently went out of its way to spit on good taste. It didn't always work – Ennis' juvenile sense of humor feels like it was scooped out of that toilet from Trainspotting – but when it worked, it worked. Like with Ennis' best known series, Preacher, The Boys would make you roll your eyes at its lowbrow antics before revealing a character turn so compelling or delivering a plot twist so deranged that you just had to keep reading. And Robertson, who had plenty of practice drawing all kinds of nastiness with Transmetropolitan, constructed an all-too-detailed world defined by spit and blood and tears and semen.
So yeah, I'm interested to see an adaptation of The Boys, especially since Rogen and Goldberg have proven themselves quite adept at bringing Ennis' work to the small screen with AMC's Preacher (season 2 flat-out rocks, y'all). It's easy to imagine these two understanding what works about this comic and emphasizing that while toning down the comic's bad habits. After all, they have plenty of experience in that department.
Then again, Amazon exists in the wild west of streaming television. If anyone is going to embrace a superhero TV show where a bunch of nasty jerks devote their lives to beating the shit out of fascist superheroes, it's them. Let's see if it can actually come together this time.