'Star Wars Episode 9': Rian Johnson Takes Himself Out Of The Running (For Now)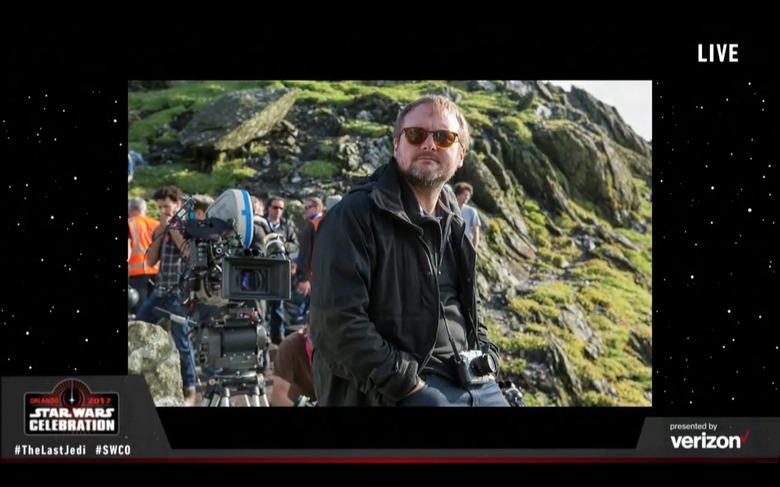 When Jurassic World director Colin Trevorrow parted ways with Star Wars: Episode 9, it left a vacant director's chair for one of Lucasfilm's biggest and most important movies yet. We offered our own suggestions of who should take over, and one of our choices was Rian Johnson, the director of this year's Star Wars: The Last Jedi and the reported frontrunner for the Episode 9 directing job.
But in a new press conference, Johnson implied that he won't be directing that follow-up after all. Is it back to the drawing board for Lucasfilm? Read Johnson's comments below.
Johnson has been in Japan doing some press for The Last Jedi, and this morning, StarWarsUnderworld pointed us to a video of a public press conference in which Johnson essentially says he won't be coming back to direct Episode 9:
In case the video is taken down or you can't watch it right now, here are the relevant quotes:
"It was never in the plan for me to direct Episode 9, so I don't know what's going to happen with it...for me, I was entirely focused on Episode 8 and having this experience. Now I'm just thinking about putting the movie out there and seeing how audiences respond to it. So no, I'm not really thinking about that right now. Whoever does it, I'm going to be really excited to be an audience member again, and to sit down and see what the next filmmaker has to show us and where this story ends up going."
If you read his words closely, Johnson never explicitly says that he 100% will not direct Episode 9. He's doing exactly what he's supposed to do right now: staying focused on the movie at hand, one he's spent the last two years of his life working on. This reminds me of the Daniel Craig James Bond saga: when you ask someone if they'll immediately undergo an incredibly exhausting process so quickly after finishing a similar one, it's not surprising that they need a minute to recover. Craig eventually agreed to play Bond again, but Johnson won't have nearly the same amount of recovery time that Craig did.
Episode 9 is currently slated to hit theaters in May of 2019, and Lucasfilm likely wouldn't delay it any longer than Christmas of that year. So are negotiations happening behind the scenes as we speak to convince Johnson to immediately jump into a follow-up, or is Kathleen Kennedy and her team frantically searching for someone else to step in? I'm sure they'd prefer Johnson to come back, since from all accounts he worked extremely well in the Lucasfilm system (and it's become increasingly clear that can be a difficult thing to do for some filmmakers). And don't forget this tweet from not too long ago:
Star Wars: The Last Jedi arrives in theaters on December 15, 2017, and Episode 9 is currently set for May 24, 2019 with Jack Thorne working on that script.