'Molly's Game' Early Buzz: Aaron Sorkin And Jessica Chastain Have Never Been Better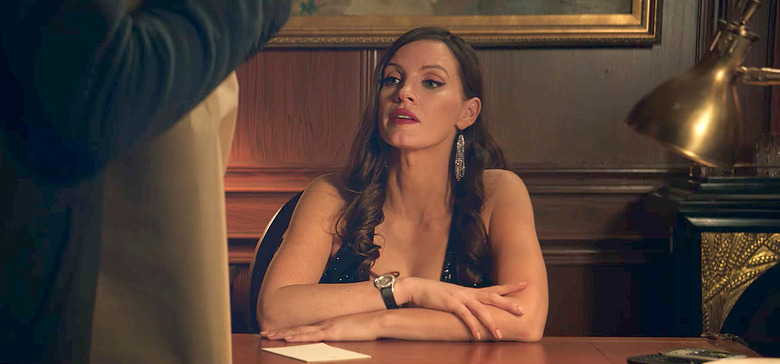 The Toronto International Film Festival is in full swing, and one of the movies we were most excited to hear about was the directorial debut of The Social Network and A Few Good Men writer Aaron Sorkin. If the reviews from the festival are any indicator, not only does Sorkin have another fantastic movie to add to his career, but Jessica Chastain can add another acclaimed performance to her résumé.
Molly's Game follows a former Olympic skier who turned from the sudden end of her athletic career to a thriving business throwing poker games for Hollywood celebrities, business tycoons and plenty of exclusive high rollers. To find out what critics are saying about Aaron Sorkin's first turn at directing his own script, read out round-up of Molly's Game reviews below.
First, our own Chris Evangelista caught the movie at TIFF, and he offered up praise in his full review,which you can read over here. Here's an excerpt:
S

orkin is a better writer than director. The first half of

Molly's Game

has considerable more energy than the second, to the point that it starts to feel like two different movies. Still, there's an air of excitement radiating off

Molly's Game

, and the film ends on a truly hopeful note that'll have you walk out of the theater feeling like you just ended a poker game with a royal flush.
Todd McCarthy at The Hollywood Reporter say Molly's Game has the plethora of words we've come to expect from Aaron Sorkin and it's all handled very well:
Quite aside from its considerable merit as a singular story neatly told, it's a good bet that Molly's Game packs more voiceover narration than any Hollywood feature ever made, which is to say that it's practically papered with it wall-to-wall. Fortunately, the words have been written by the ever-eloquent Aaron Sorkin and are spoken with skill and speed by Jessica Chastain as a way of telling, in as much detail as a mainstream film could allow, the dense and complicated story of Hollywood and Wall Street high stakes poker den mother Molly Bloom. In his overdue directorial debut, Sorkin both entertains and makes you lean in to absorb every detail of this wild tale, which boasts a stellar cast to help tell it.
Bryan Bishop at The Verge thinks that having Sorkin behind the camera has made him a better writer:
As it turns out, Sorkin the director is very much like Sorkin the screenwriter. His film is full of grand stylistic flourishes and epic emotional gestures. And as always, the impassioned Sorkin-esque monologue rules the day.
But wearing two hats also appears to have let the writer-director become a better critic of his own work. Molly's Game is the best of Sorkin, with many of his problematic tendencies removed, resulting in a tremendously entertaining film that turns the prolific writer into a filmmaking double-threat in one fell swoop.
Molly's Game is tremendous fun, and Sorkin threads together the storylines and themes with ease. The movie never stops moving, propelled by both the script and the impressive performances. In the past, many of Sorkin's female characters have been problematic, but Molly is an unstoppable force of nature, with Chastain working Sorkin's dialogue like few actors can. At one point in the film, Idris Elba delivers a thundering speech that's so impassioned, the audience I saw the film with broke into spontaneous applause.
Peter Debruge at Variety commends Aaron Sorkin for finally writing a strong female character in a movie without letting misogyny get in the way:
Aaron Sorkin talks a good game, so it should come as no surprise that his directorial debut — surprisingly cinematic for someone so voluble, in which Jessica Chastain plays self-made gambling madam Molly Bloom, who built a multi-million-dollar poker empire that managed to attract a lot of unwanted attention (much of it on account of her memoir, "Molly's Game") — amounts to a series of mile-a-minute monologues, stacked back-to-back for the better part of 140 minutes. Still, for a writer accused of misogyny in the past, "Molly's Game" delivers one of the screen's great female parts — a dense, dynamic, compulsively entertaining affair, whose central role makes stunning use of Chastain's stratospheric talent.
Richard Lawson at Vanity Fair also found Sorkin to put aside some of his less than stellar tendencies to writer the Main character of Molly's Game as the confident, strong character she is, which Chastain really leans into:
Much of Sorkin's familiar paternalistic, mansplain-y chauvinism is eschewed in Molly's Game, because he seems so genuinely in awe of this singularly American character. Bloom learned the poker trade mostly by accident, but she proved—as she had with most things in her life prior—preternaturally adept at negotiating the contours and physics of this semi-sordid world. Which gives Sorkin opportunity to write rich torrents of speech for Chastain to tear into. She does so with focused, funny aplomb. It's her best role since The Help—yes, better than Zero Dark Thirty.
Mike Ryan at Uproxx threw even more praise at Jessica Chastain in the lead role:
Molly's Game is the Jessica Chastain movie I've been waiting for since Zero Dark Thirty. Chastain is one of the best actors working today, but she seems to be in quite a few movies in which other aspects of the film betray her. (Miss Sloane is an example of this.) But here we get Chastain in all her glory and she is a force, spitting out finely tuned Sorkin dialogue, sometimes at light speed. Even when Molly Bloom isn't in control, Chastain always is. Chastain owns this movie.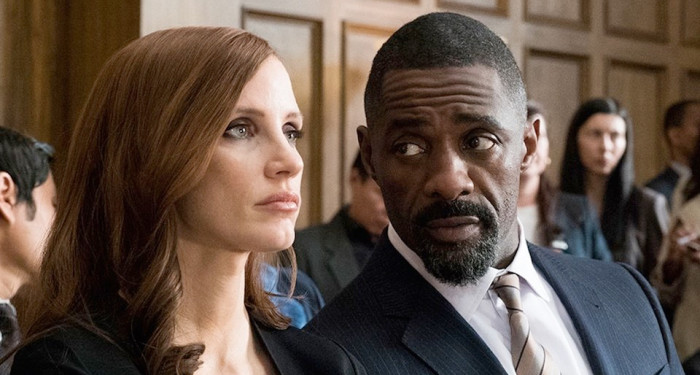 David Ehrlich at IndieWire also comments how Sorkin seems to direct as precisely as he writes:
Sorkin is a natural behind the camera, and his direction is a lot like his writing: Fast, precise, and often just a tiny bit too blunt, it never gets in the way (mercifully, he seems to have learned more from David Fincher than he has from Danny Boyle, though the confidence with which he busts out some sly visual effects suggests that he wasn't totally put off by what the latter did to his last script). Nevertheless, this was certainly the right time for him to assume full control. "Molly's Game" is an immensely riveting testament to the notion that money can buy freedom, and the veteran creative mega-force is finally cashing in his chips. He bends the truth here in all the right ways, creating a movie that that lusts after power but settles down with pride.
Adam Chitwood at Collider says the the film isn't quite a home run, but it's still a fine debut:
Sorkin more than shows he's capable at crafting a film from every angle, and I was pleasantly surprised to see some real visual dynamism in his work with cinematographer Charlotte Bruus Christensen (Far from the Madding Crowd). This is absolutely no softball script for a first-time director—it's a complex story with lots of different locations, a non-linear narrative, and plenty of voiceover narration. But Sorkin approaches his script confidently and, thankfully, with ambition, juggling complex exposition with a swell (and exciting) visual style that makes the viewing experience a highly entertaining and positively delightful watch. This movie is very fun at times, and Sorkin knows how to drive this thing with gusto.
Kevin Jagernauth wasn't quite as enamored with the movie, writing in this review at The Playlist:
In this regard, "Molly's Game" is captivating only up to a certain point, because there are only so many times you can watch stacks of poker chips get higher, outfits get more expensive and low cut, and players more high rolling, before the drama becomes slightly repetitive. Particularly at two hours and twenty minutes, the story is overlong, even if to Sorkin's credit, his energetic screenplay is always moving. However, there is a lack of finesse in his approach. Layered with flashbacks and with the story told in voice-over by Molly who provides a running commentary on the proceedings, "Molly's Game" sees Sorkin at his clunkiest when it comes to storytelling. The film is a drama, legal thriller, and even a father/daughter tale about family rolled into one, and that bulk is felt.
Jason Gorber at Birth.Movies.Death also didn't love the movie, offering a comparison that is both complimentary and detracting:
Echoes to Scorsese are aplenty, especially Goodfellas and the criminally underloved Casino, but Sorkin's script doesn't have the same tenacity or operatic scope of those films, borrowing the kinetic style and voice overs but lacking the inspired attention to detail and deft, Catholic sensibility about the moral quandaries at play. Still, to slam Sorkin for not being Scorsese seems churlish at best, and if he's going to borrow for his own little crime drama he might as well from the master.
***
Since Molly's Game was one of my most anticipated movies of the year, I'm more than pleased to hear all this praise for Aaron Sorkin's directorial debut. Even more encouraging is the fact that Sorkin seems to have improved in areas where he usually falls short. Plus, it helps that every single performance in the movie, especially Jessica Chastain, seems to bring Sorkin's words to life. It's a shame that we'll have to wait until just before Thanksgiving to see it.
If you haven't watched the Molly's Game trailer yet, check it out over here.
MOLLY'S GAME is the true story of Molly Bloom a beautiful, young, Olympic-class skier who ran the world's most exclusive high-stakes poker game for a decade before being arrested in the middle of the night by 17 FBI agents wielding automatic weapons. Her players included Hollywood royalty, sports stars, business titans and finally, unbeknownst to her, the Russian mob. Her only ally was her criminal defense lawyer Charlie Jaffey, who learned that there was much more to Molly than the tabloids led us to believe.
Molly's Game opens in theaters November 22, 2017.