'Super Size Me 2' Likely Headed To YouTube Red, Read The Early Buzz From TIFF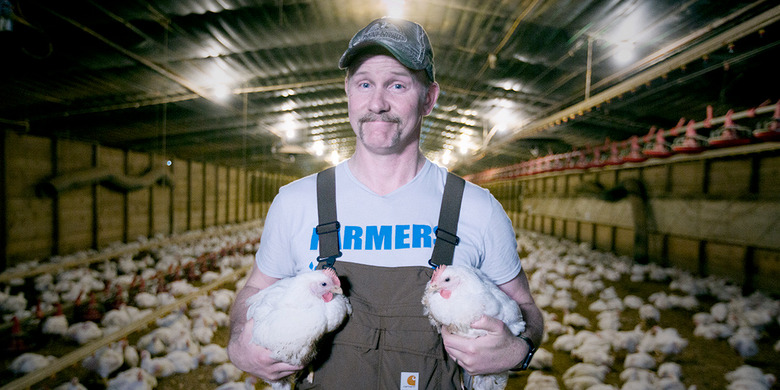 The Toronto International Film Festival (TIFF) is underway, and there will be plenty of indies and hopeful awards contenders debuting up in Canada as fall kicks into gear. One of those movies is an anticipated documentary from Morgan Spurlock, a sequel to the movie that put him on the map as a filmmaker back in 2004.
Super Size Me 2: Holy Chicken! follows Morgan Spurlock as he explores the world of fast food again, but this time from behind the register as he aims to open his own chicken franchise. Spurlock starts off by raising chickens and runs all the way through the opening of his own restaurant, one that calls attention to all the deception that fast food chains put right in front of our faces without us knowing it.
We don't know when we'll be able to see Super Size Me 2 yet, but it sounds like YouTube Red will be the ones distributing it, since they're in negotiations to pick up the doc after it premiered at TIFF on Friday.
First up, here are a couple of posters for Super Size Me 2 from Entertainment Weekly:
Deadline reports that YouTube Red is currently in talks to pick up Super Size Me 2 for $3.5 million, marking the most ambitious festival acquisition for the online subscription service side of YouTube. Don't worry, a theatrical release will be part of the distribution despite being picked up by YouTube Red, but it's not clear when that will happen at this point.
Speaking with Metro News, Spurlock talked about what motivated him to put Super Size Me 2 together 13 years after the original documentary debuted, "If you look at the first film, Super Size Me is a great look at the food industry told from a consumer perspective. What we wanted Super Size Me 2 to represent was to have an industry perspective — how does the industry view consumers? How does it view us almost as commodities? How does it view their role in what they do?"
That's why Spurlock is opening his own chicken franchise in the movie, and he also brought his own food truck to TIFF that featured revealing messages of its own, including bags for his food like this:
Bag from @MorganSpurlock's food truck at 'Super-size Me 2: Holy Chicken!' premiere #TIFF17 pic.twitter.com/SqL8KkZQpk

— Jada Yuan (@jadabird) September 8, 2017


Super Size Me 2 has already premiered at TIFF, but reviews online are scarce as of now, with only Screen Daily chiming in with some disappointing details. The review notes that one of the problems is Spurlock himself, because "as our guide through the film, he's often far too pleased with his own delightfulness to allow the material to have the central focus." Furthermore, when it comes to making revelations about the chicken industry, "Super Size Me 2 delivers these details in a flashy style that never cuts very deeply or seriously shocks us." Though they do say there are still some fascinating revelations to be had.
Here are a few more reactions on Twitter from those in attendance at the premiere at TIFF:
Super Size Me 2 is interesting, entertaining and thought-provoking. But it's tonally inconsistent, and lacks a clear thesis. #TIFF17

— Dave Baldwin (@davemabaldwin) September 8, 2017
Mind blowing take of the language of capitalism and deception with Super Size Me 2 at #TIFF17 shedding light on how corporate speak ruins pic.twitter.com/liFQvTAExQ

— Andy Borkowski (@HuffinRadaway) September 8, 2017
SUPER SIZE ME 2 Review: Frm a consumer side A doc that @MorganSpurlock does justice, if only @iamjohnoliver didn't beat him to it. 6.5/10 pic.twitter.com/mJ3eGJSjsW

— The XWF Outlaw (@XWFOUTLAW) September 8, 2017
Morgan Spurlock brought a food truck to #TIFF17 for his Super Size Me sequel. #cbcent pic.twitter.com/XrbGu0BOQj

— Haydn Watters (@HaydnWatters) September 8, 2017
For SUPER SIZE ME 2 @MorganSpurlock takes on "Big Chicken" & begins a convo that could be as impactful as the original movie. #TIFF17

— Jason Guerrasio (@JasonGuerrasio) September 8, 2017
Here's the official description of Super Size Me 2 from the TIFF program guide:
In the 13 years since Super Size Me, the fast-food industry has undergone a makeover. Today, chain restaurants tout food that's "healthy," "organic," and "natural." Filmmaker Morgan Spurlock explores this new reality with an approach even more immersive and subversive than that used for his first film: he sets out to open his own chicken franchise. We follow him every step of the way, from raising poultry and conjuring recipes to designing the brand and scouting a location. Spurlock brings his disarming humour to uncover the truths and lies behind this multibillion-dollar industry.
There's no release date for Super Size Me 2 yet, but as soon as we know more, we'll let you know.