'Thor: Ragnarok' TV Spot: Thor's New Team Probably Doesn't Need A Name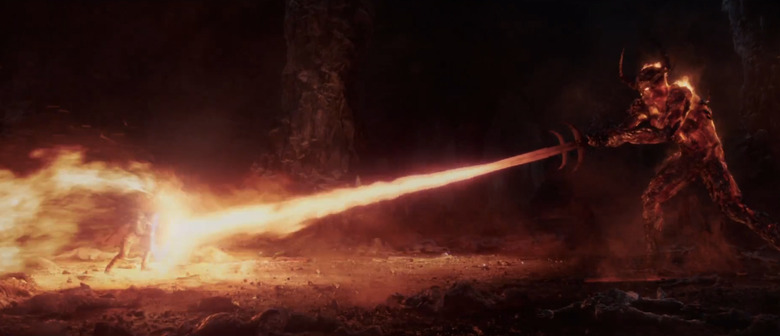 Hot off the heels of our set visit report for Thor: Ragnarok, last night brought the debut of a brand new TV spot for the Marvel Studios sequel featuring a bunch of new footage from the movie, including a poorly conceived name for the team that the god of thunder is putting together in order to stop the goddess of death from destroying Asgard. You'll see what we're talking about in the new Thor Ragnarok TV spot below.
There's so much good stuff packed into this TV spot. From the giant holographic version of Jeff Goldblum as The Grandmaster and Thor taking on the fire demon Surtur in Muspelheim (seen above), this movie looks better and better all the time. That includes the great comedy being brought to the table, especially that "Revengers" joke.
As for Cate Blanchett's villain Hela, the first female villain in the Marvel Cinematic Universe, it seems like Marvel Studios is playing things fairly close to the vest with that character. Not only did they ask us to hold back our interview with Cate Blanchett from the set, but we're seeing a limited amount of footage of her so far. Plus, there was discussion of her having some kind of secret motivation.
What this movie really needs more of, at least as far as the marketing is concerned, is Idris Elba as Heimdall. We're still not really sure how his character will come into play during the proposed destruction of Asgard, but hopefully he has a decent sized role this time. Meanwhile, the rest of the cast includes Tom Hiddleston, Tessa Thompson, Karl Urban, and Anthony Hopkins.
Thor: Ragnarok is written by Eric Pearson and directed by Taika Waititi (What We Do in the Shadows, Hunt for the Wilderpeople), and you can read out interview with the filmmaker from our set visit last year later today. He's certainly bringing the right kind of comedy to the Thor franchise so far while also giving us some killer blockbuster action and other refreshing elements to make the threequel a must-see.
Tickets for Thor: Ragnarok are already on sale, and you can buy them right here.
In Marvel Studios' "Thor: Ragnarok," Thor is imprisoned on the other side of the universe without his mighty hammer and finds himself in a race against time to get back to Asgard to stop Ragnarok—the destruction of his homeworld and the end of Asgardian civilization—at the hands of an all-powerful new threat, the ruthless Hela. But first he must survive a deadly gladiatorial contest that pits him against his former ally and fellow Avenger—the Incredible Hulk!
Thor: Ragnarok hits theaters on November 3, 2017.