'Black Mirror' Season 4 Photos Give First Look At 'Star Trek' Spoof, Jodie Foster-Directed Episode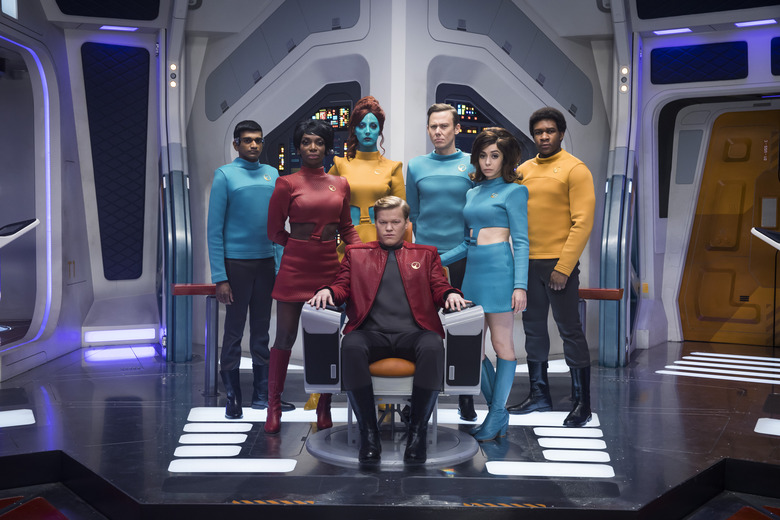 Black Mirror has always been an anthology series that pushes the boundaries of reality and social consciousness, and the first look at season 4 guarantees that it will continue to do just that.
One image, from an episode titled "USS Callister," shows the series boldly going beyond its usual hyper-realistic science fiction with a riff on the long-running sci-fi series, Star Trek. An image from an episode titled "Arkangel" gives viewers a peek at an episode directed by Jodie Foster.
The first official image from "USS Callister" introduces a crew led by Friday Night Lights alum and Fargo actor Jesse Plemons, as well as Cristin Milioti (The Wolf of Wall Street, Fargo), Jimmi Simpson (Westworld), Michaela Coel (Chewing Gum), and Billy Magnussen (Ingrid Goes West).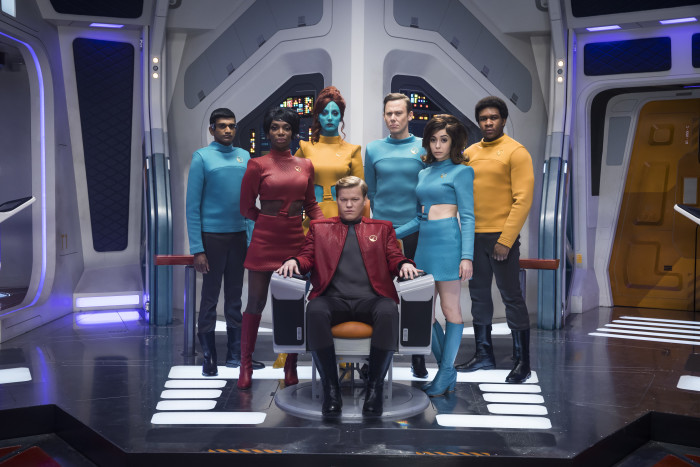 This particular episode has piqued the interest of Black Mirror fans and non-fans alike, as it's still hard to tell whether the story will be a straight-up spoof or if it will follow actors and crew on a Star Trek-inspired TV series set. Black Mirror has rarely gone into fantastical sci-fi, instead choosing to portray dystopic visions of the near-future to make incisive comments on current events or technology. With this in mind, it's likely that it's the latter, or that the image even depicts a virtual reality game of some kind.
The episode is directed by Toby Haynes (Doctor Who and Sherlock) and is written by William Bridges and Black Mirror creator Charlie Brooker, according to Netflix.
The second image comes from the episode "Arkangel" and it involves an Academy Award winning actress behind the camera. The episode is directed by Jodie Foster and written by Brooker, and will feature a cast of Rosemarie Dewitt (La La Land, Mad Men), Brenna Harding (A Place to Call Home), Owen Teague (Bloodline).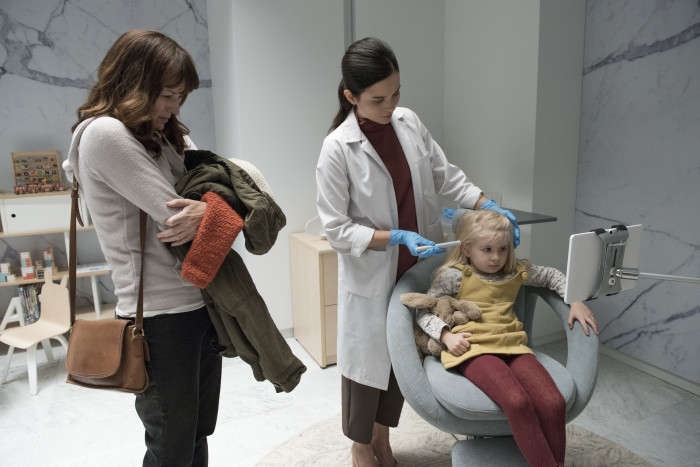 There's not much to pull from this image except it seems that the child in the picture is going through some sort of procedure that makes her mom uncomfortable. Discomfort is the Black Mirror way, after all.
This wouldn't be the first time that Foster has sat in the director's chair, having helmed feature films like 2011's The Beaver and 2016's Money Monster. However, the first was a family drama while the latter a hostage thriller, so this is new territory for her.
While Black Mirror has been known for painting a bleak, nihilistic vision of how technology plays a role in society, Brooker and executive producer Annabel Jones have suggested that season 4 may shift its tone toward a more optimistic outlook, inspired by the critically acclaimed "San Junipero" episode last year.
The light and campy look of "USS Callister" seems like an indicator of that, but the vague official synopsis of Black Mirror that Netflix released doesn't offer much:
Black 

Mirror

 is an anthology series that taps into our collective unease with the modern world, with each stand-alone episode a sharp, suspenseful tale exploring themes of contemporary techno-paranoia leading to an unforgettable – and sometimes unsettling – conclusion. Without questioning it, technology has transformed all aspects of our lives; in every home; on every desk; in every palm – a plasma screen; a monitor; a Smartphone – a 

Black

 

Mirror

 reflecting our 21st Century existence back at us. The series is created and written by Charlie Brooker, and executive produced by Brooker and Annabel Jones.
Black Mirror is expected to debut on Netflix later this year.