'Terminator 2: 3D' Set To Close At Universal Studios Florida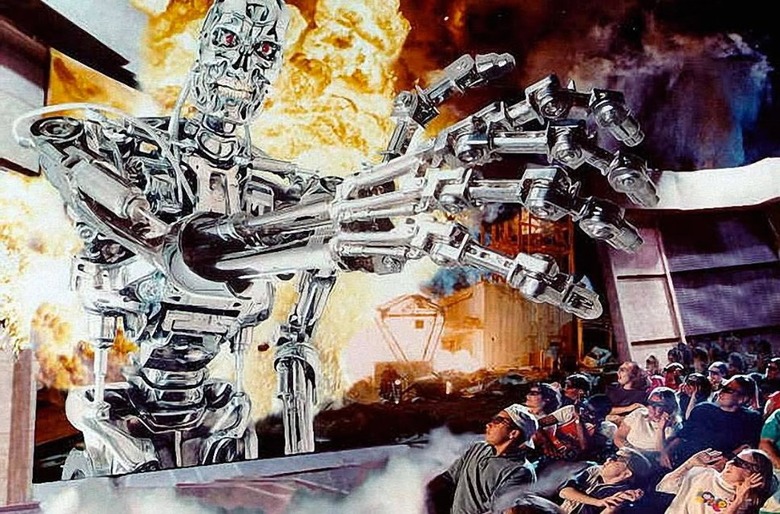 After 21 years of operation, Terminator 2: 3D at Universal Studios Florida is set to close its doors forever. The attraction is a theme park landmark for a number of reasons and was, for years, one of the first stops for many guests entering the park. However, Universal Studios has proven itself to be unsentimental when it comes to its classic attractions. Their parks are in a constant state of self-reinvention, a far cry from the ever-nostalgic leanings of Disney theme parks.
Now we consider two questions: what is replacing Terminator 2: 3D and is any ride safe from Universal's ruthless (but undeniably effective) quest to bring the biggest, most advanced, and most "tied to a beloved intellectual property" attractions to its parks?
The Universal Way
T2 3-D: Battle Across Time (the attraction's more official title) will run through October 8, 2017 before closing its doors to make way for an "all-new live action experience based on a high energy Universal franchise" set to open in 2019. Here's the actual statement:
Terminator 2: 3-D at Universal Studios Florida will run its last shows on Sunday, Oct. 8 to make way for an all-new live action experience based on a high-energy Universal franchise. It will open in 2019. This is one of many exciting new experiences coming to Universal Orlando Resort as we continue our epic growth.
There's not much to glean about the new attraction from this release, but it does speak volumes about the kind of theme park Universal Studios has become over the past decade. Building a ride around an existing (and presumably popular) franchise. A extremely fast turnaround (only two years!) for a brand new attraction, which is downright speedy in this industry. A focus on "epic growth" with a distinct lack of sentimentality. This is the Universal Studios of 2017, for better and worse. Always changing, always looking forward...but also rarely pausing to concern itself with things like legacy. At the same time, it's hard to blame them – clunky, older rides based on movie series that have seen better days don't draw big crowds. Read between the lines: if you want to re-experience your childhood, go to Disney; if you want something fresh and new and trailblazing, we've got you.
But for those of us who visited Terminator 2: 3D in its heyday, it was fresh and new and trailblazing and oh-so-very exciting. While it's common for filmmakers and creators to get involved with theme park attractions today, James Cameron took things to the next level when this attraction opened back in 1996. In addition to directing the extensive film segments of the show, he rounded up all of the film's cast members. This was no cheap cash-in – this felt like a proper sequel, one starring Arnold Schwarzenegger, Linda Hamilton, Edward Furlong, and Robert Patrick. Sure, future Terminator movies essentially wiped it from the continuity and it was more about explosive action and "Wow!" moments than thoughtful science fiction, but it was a blast. Hell, the ride film is probably the third best Terminator movie.
It also marked Cameron's first real experience working with 3D cameras, a filmmaking tool that would turn into a genuine obsession for him in the decades that followed.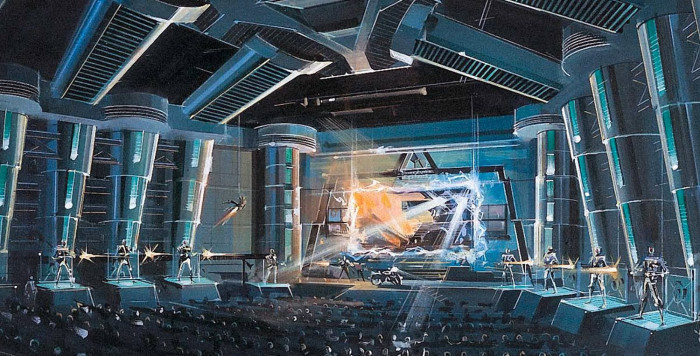 The Ride Experience
T2 3-D immediately sets the stage with a brilliant conceit: you are walking into the rebuilt headquarters of Cyberdyne, the company that was blown up by the good guys at the end of Terminator 2: Judgment Day. The queue twists and turns past various security checkpoints, and TV screens feature information about how the company is redefining the future and interviews with employees who were present when those "terrorists" attacked five years ago. It's a hoot before the show even starts.
Soon enough, you're standing before a Cyberdyne employee as they talk about the plan to launch SkyNet...only for Sarah Connor and John Connor to hijack the giant screen in the room to warn everyone of the impending robot apocalypse. Undeterred, the host takes you to the main theater, where you don "protective glasses" (actually your 3D glasses) for a demonstration. And that's where things really get started.
Giant robot animatronics rise around you. John and Sarah Connor storm the stage. The screen behind the actors reveals a time portal and the Terminator himself joins the action. It's here that T2 3-D introduces its coolest concept: lookalike actors on stage walk "into" the screen, where they become the actors from the movie, and sometimes walk "off" the screen, where the doubles continue the action in the theater with you. And while it doesn't make a lick of sense, we somehow follow our heroes into the future, where they do battle with robots and attempt to destroy SkyNet once and for all.
It's fun and slick and silly and loud and I still vividly remember experiencing it for the first time. For a kid obsessed with the Terminator movies (and one who hadn't yet realized that the original 1984 movie is a better film than its still-excellent sequel), it was a brain-molding piece of entertainment. This was a theme park attraction directed by James Cameron. Of course it was a crowdpleaser.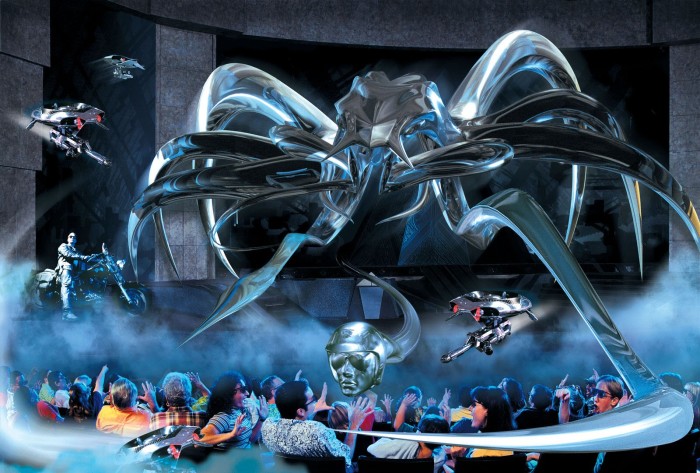 What's Next?
While I'll always remember this attraction fondly, it's hard to blame Universal for thinking that it's time to swap out an attraction based on a movie released in 1991 whose three sequels proved that audiences straight-up don't care about these characters anymore. And yeah, people like me may have a fondness for the attraction, but it was definitely starting to show its age in a big way. As I said above, Universal isn't in the nostalgia business...except for the E.T. Adventure ride, it seems, which is being spared even as the entire land around it is bulldozed to make room for Super Nintendo World.
So what's next? The short turnaround and the use of "live action experience" in the press release suggests that this new attraction will make use of Terminator 2: 3D's basic skeleton. The big auditorium and the stage with the giant screen will probably remain to serve a new movie franchise. While Universal has partnered with other studios and companies for its various rides and lands (Harry Potter, Marvel, and Nintendo, just to name a few), the press release specifies that this new show will be based on a Universal property. A "high-energy" one.
With a new Fast and Furious ride already being constructed across the park, we can rule that out. And while the Universal Studios Hollywood version of Terminator 2: 3D was replaced with Despicable Me: Minion Mayhem in 2012, a clone of that ride already exists elsewhere at the Florida park, so we can rule that out as well. If The Mummy wasn't an enormous bomb, I would have put money on this being a show themed around the "Dark Universe" of horror movies, but that seems like an unwise decision.
There have been rumors for some time now that Universal wants an attraction based on The Secret Life of Pets, so maybe this is where they'll build it? The "live action" component gives me pause, but maybe they'll make use of the same tech as Terminator 2: 3D and feature on-stage performers interacting with animals on screen.
In any case, you now have one more month to check out Terminator 2: 3D. Or you can visit Universal Studios Japan, where it's still up and running. For now. It's been a good run.