'L.A. Confidential' TV Show In Development At CBS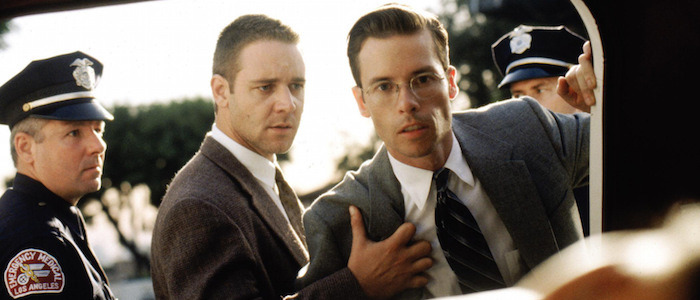 L.A. Confidential, the 1990 noir mystery novel by author James Ellroy that was adapted into a feature film in 1997, is getting the small-screen treatment...again. An L.A. Confidential TV show pilot debuted back in the early 2000s, but didn't move forward as a series. Now, a new report indicates that CBS is developing a new TV version of the story that will be brought to life by one of the producers of the critically-acclaimed movie.
Deadline reports that producer Arnon Milchan (The Revenant, Brazil, Fight Club, 12 Years A Slave) is producing a TV version of Ellroy's novel alongside Jordan Harper (Gotham), who will write the script. According to Deadline, this version "follows three homicide detectives, a female reporter and a Hollywood actress whose paths intersect as the detectives pursue a sadistic serial killer through the seedy underbelly of glamorous 1950s Los Angeles." That sounds similar enough to the description of the movie, with the lone exception of the female reporter; in the film, Danny DeVito plays a publisher of a tabloid called Hush-Hush, so perhaps they're erasing or minimizing that role in an effort to include more female characters in this version.
I still haven't read Ellroy's novel (it's on my list), but from what I understand, the movie only adapts a handful of the characters and subplots featured in the book, so there's a lot of potential for this as a TV series. In fact, New Regency produced a pilot back in the early 2000s that starred Kiefer Sutherland as Jack Vincennes (the celebrity cop by Kevin Spacey in the film), David Conrad as Ed Exley (Guy Pearce), Josh Hopkins as Bud White (Russell Crowe), Melissa George as Lynn Bracket (Kim Basinger), Eric Roberts as Pierce Patchett (David Strathairn), and Pruitt Taylor Vince as Sid Hudgens (Danny DeVito). The pilot was included as a bonus feature on the movie's home video release years later. You can watch it below:
I'm not thrilled about this being on CBS, since airing on a major broadcast network like that automatically means the showrunners will need to sand down the story's rougher edges, and that dirty underbelly is integral to the plot's success. But as a sucker for anything noir, I have to admit that I'm intrigued at the idea of heading back to 1950s Hollywood on the small screen. Period pieces like this aren't cheap to make, so I'm guessing that CBS is going to go all-out to recreate the streets of Tinseltown in its heyday, and that alone should be worth tuning in to see.