'The Current War' Trailer: Benedict Cumberbatch & Michael Shannon Have An Electric Battle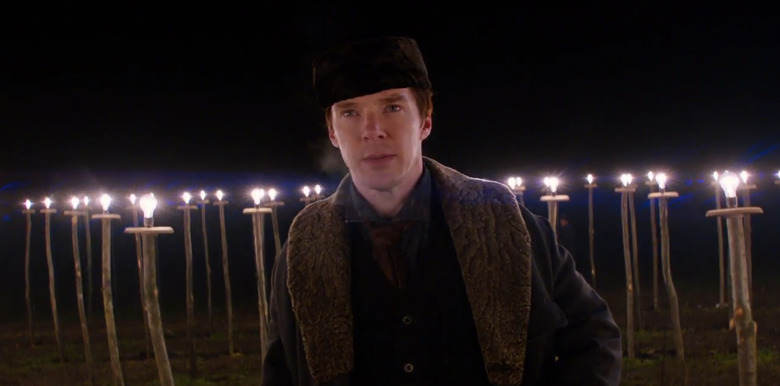 Today, electricity surges through our homes, offices and restaurants and we're hard-pressed to get anything done without the power it provides. But back in the 19th century, electricity was in its infancy, and it was at the center of a war between two of the greatest minds of the time to see who would control the marketplace for energy. The story of that historic battle is coming to the big screen this fall.
The Current War stars Benedict Cumberbatch as inventor Thomas Edison and Michael Shannon as entrepreneur and engineer George Westinghouse as the two battle to see whose idea for bringing electricity to the masses would become the primary source for power. The battle stems from Edison's company wanting to use direct current while Westinghouse thought alternating current was the way to go, hence the title of the movie.
Watch The Current War Trailer
The trailer for this movie is so much more lively and stylistically contemporary than I anticipated it would be. Even the visuals don't feel in line with the kind of cinematography we usually see from period pictures like this. There is an abundance of fisheye lens shots, not to mention a lot of Dutch angles that create some mesmerizing shot compositions. It's a much more pronounced and unique period piece than I would have expected from director Alfonso Gomez-Rejon (Me and Earl and the Dying Girl), almost having the flair of The Social Network.
As expected, Benedict Cumberbatch looks outstanding, and Michael Shannon appears to be just as fantastic right next to him. Plus, Nicholas Hoult (X-Men: Apocalypse) gets a quick introduction at the end as Nikola Tesla. The rest of the cast includes Katherine Waterston (Fantastic Beasts and Where to Find Them) and Tom Holland (Spider-Man: Homecoming).
The Current War opens on November 24, 2017, but premieres at the Toronto International Film Festival this month. You can read the official synopsis from the TIFF program guide below:
In 2017, it's nearly impossible to imagine a world without electric light. Yet the technology that illuminates our homes and projects images onto our screens dates back only the length of two lifetimes. The Current War, featuring brilliant performances from Oscar nominees Benedict Cumberbatch and Michael Shannon, brings to life the innovations and rivalries that would switch on the world.
Thomas Edison (Benedict Cumberbatch) knew he was a genius — and he made sure everyone else knew it, too. In 1879, he and his team conducted the first successful light bulb tests, declaring an end to night as people knew it. But the broad distribution of electricity posed a daunting challenge. Edison was convinced that direct current was the superior system, but entrepreneur George Westinghouse (Michael Shannon), Edison's less flamboyant competitor, had a different idea.