'Thor: Ragnarok' Posters Splash Some Color On Marvel's Heroes And Villains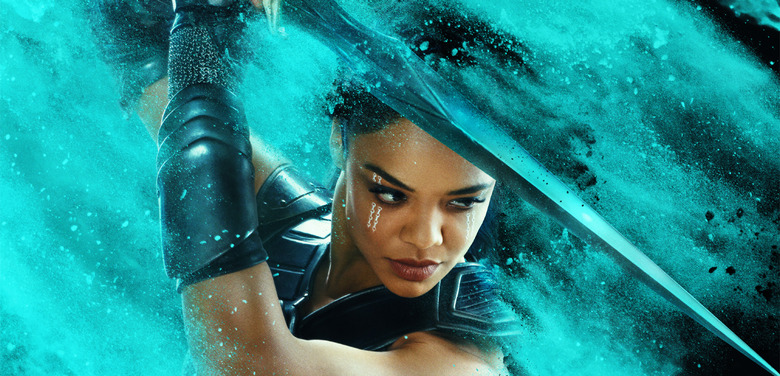 To go along with our extensive set visit report for Thor: Ragnarok today, Marvel Studios also sent over some bright, colorful new character posters featuring the cast of the cosmic comic book sequel.
Chris Hemsworth, Tom Hiddleston, Tessa Thompson, Cate Blanchett, Idris Elba, Sir Anthony Hopkins, Jeff Goldblum and (kinda) Mark Ruffalo all get their own posters, each with an explosion of colored powder surrounding them. Even though character posters may be excessive marketing, at least these look fairly cool.
Check out the Thor Ragnarok posters below.
Thor: Ragnarok also stars Karl Urban as Skurge, Benedict Cumberbatch as Doctor Strange, and director Taika Waititi himself as the motion-capture character Korg, but they're apparently not cool enough to get their own posters. But since there's still a couple months left before the movie hit theaters, I'm sure we'll be seeing plenty of them in the marketing leading up to the movie
If you want to see more from Thor: Ragnarok, you can watch the most recently released trailer over here.
Thor (Chris Hemsworth) is imprisoned on the other side of the universe without his mighty hammer and finds himself in a race against time to get back to Asgard to stop Ragnarok – the destruction of his homeworld and the end of Asgardian civilization – at the hands of an all-powerful new threat, the ruthless Hela (Cate Blanchett). But first he must survive a deadly gladatorial contest that pits him against his former ally and fellow Avenger – The Incredible Hulk!"
Thor: Ragnarok arrives on November 3.