'Thor: Ragnarok' Director Taika Waititi Wanted To Strip Down The 'Thor' Franchise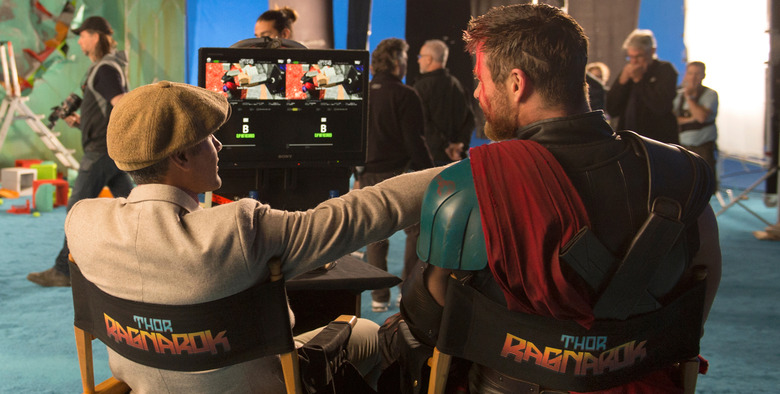 It was nearly two years ago that director Taika Waititi was reported to be in talks to direct Thor: Ragnarok, the third film in the god of thunder's solo franchise. The filmmaker wasn't the most obvious choice for the blockbuster sequel, having only directed Eagle vs Shark, Boy, and the outstanding mockumentary What We Do in the Shadows. And we hadn't even seen the fantastic Hunt for the Wilderpeople yet. But Marvel Studios knew exactly what they were doing, because everything we've seen from the sequel looks fantastic so far.
So why did Taika Waititi get the job? Producer Brad Winderbaum says it was Boy that ultimately convinced them he was the right person, "It had the a combination that we always are striving for at Marvel, which is a great sense of humor that ran through the whole thing, but also moments of real drama and melancholy that the characters had to deal with." It also helps that Taika Waititi wanted to do something completely different from the first two movies, stripping down the very franchise itself to create something that felt new.
Find out what Thor Ragnarok director Taika Waititi had to say about his approach to the sequel below.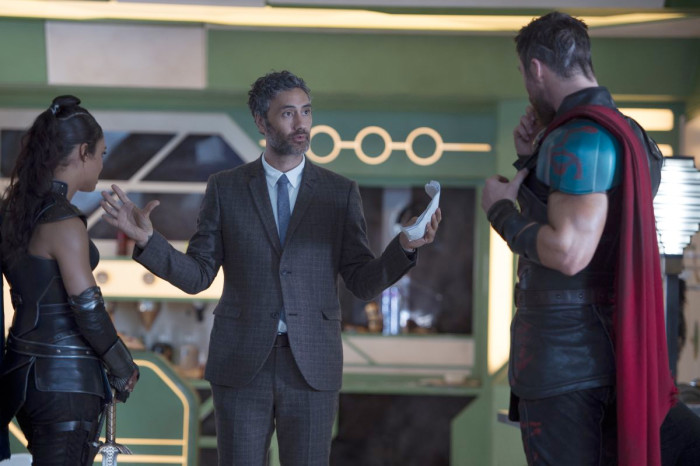 Ragnarok Is More Than Just a Title to  Taika Waititi
For director Taika Waititi, his approach to Thor: Ragnarok was much different than how filmmakers seem to approach sequels nowadays. While plenty of fans are excited about seeing a Thor movie tackle the Ragnarok storyline, it doesn't necessarily mean the same thing for Taika Waititi, and he looked at it as more of an opportunity to do something completely different with Thor. The filmmaker said during our set visit in September of 2016:
"A lot of people have been wanting to see this idea of Ragnarok, and a lot of people are excited by the idea of what Ragnarock means. But to me it means the stripping down of the establishment, of what's already there, and then building it up in a new way.  Which is almost like this cyclic idea of Ragnarok. So my own personal idea of Ragnarok is what we're doing to the character and to the franchise, and to the story. But in a way where what comes out the other end is way more exciting and interesting, in a way that you can never go back from that."
That's why we're seeing Thor (Chris Hemsworth) having his life totally upended in this sequel. From losing his golden locks, to having his hammer Mjolnir destroyed, to being captured and forced to fight on a strange planet – Thor is a fish out of water in a way that we haven't seen before. But he's not the naive sort of hero we knew from the first Thor, who had no concept of Earth or what life was like without the privilege of being the future king of Asgard.
Waititi wanted to acknowledge that the first two films were there, but he didn't want to get bogged down with trying to emulate them or worrying about whether audiences had seen the first two. Waititi says:
"The main challenge was actually working at getting away from the other two films. Yes, the other films are there, it's great to watch them. I think they're good films, but I don't mind if people start with this film. For me, this is my Thor 1. I've seen the other films and I respect them a lot, but I can't spend too much time thinking about this as a threequel. Because then I get tied up too much in respecting what went before and respecting what's gonna come after. For me, it has to be a standalone thing. This could be the only time I do this, so I just want to make a Marvel film in the best way possible."
That doesn't mean there aren't references to the rest of the Marvel Cinematic Universe, especially with Hulk being such a big part of this movie, but it sounds like Taika Waititi didn't go out of his way to ensure there were endless connections to the previous Marvel movies, or even plenty of threads that would lead to something in the future movies. Again, that doesn't mean those elements aren't there, but they had to feel organic and allow Taika Waititi to do what he wanted to do with the story.
Hopefully the result will be not only the most refreshing film in the Thor franchise, but one of the most satisfying sequels in the entire Marvel Cinematic Universe. We'll find out when Thor: Ragnarok hits theaters on November 3, 2017.
For more about Thor: Ragnarok, check out our full set visit report right here.