'Thor: Ragnarok' Interview: Chris Hemsworth Doesn't Understand Infinity Stones Stuff Most Of The Time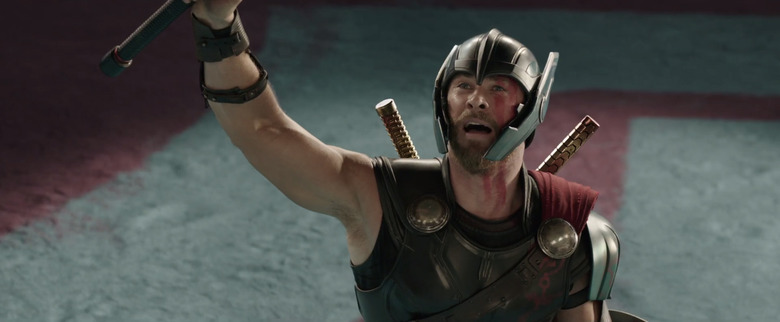 In September of 2016, /Film was invited to visit the set of Thor: Ragnarok. We already dove into everything we learned during our time on the Australian set, but we also got to spend time talking to franchise star Chris Hemsworth about various aspects of the sequel.
As soon as Chris Hemsworth walked into the room, he noticed my Ghostbusters shirt (which wasn't intentionally worn for this day), prompting him to immediately, playfully ask, "Are we friends or no?" That's the kind of fearless charisma and personality this guy has. In our full interview, Chris Hemsworth talks about Thor's journey in this movie, having fun with Benedict Cumberbatch on set, dealing with criticism and more.
Read our Thor Ragnarok Chris Hemsworth interview in its entirety below.
Note: This interview has been edited for length and clarity.Can you talk about Thor's arc? In the first movie he has to learn a lesson in humility, the second movie evolves from there. Is this movie meant to be a completion of Thor looking to be the king that he was meant to be?Chris Hemsworth: It's obviously kind of a lot of his- Thor's story is, as you said, from the first film, being the rightful king earning the right to take that position in power and taking on that responsibility.  In the second film he's kind of pulling away from it.  I think there's still kind of a reluctance with it all.  I think he spent a lot of Earth, he's part of that team now and that world.  And we ended Avengers with him saying there's something going on out there. There's some bigger questions I need answered. So he's on this sort of a personal journey to his own discovery and then find these answers for himself.  Then his, what would you call it, his origin, where he's home, it calls him back, or has drawn him back, and he's drawn to this thing. So if there is a reluctance, it's not necessarily him trying to, as you say, now search, or become the king.
He kind of has no choice, I think. Then he gets completely torn out of anything familiar and it shifts again. This is totally where the whole film sort of shifts and we're on different worlds that we haven't seen before. There's different looks to all the characters.  There's different dynamics. I think the coupling of myself, working with Ruffalo as well, brought out a whole new tone for both of our characters. Which we were like, "Wow, this is very far [removed from the other films in the franchise]. Is It too far?" But I said, it's good to play with that. Let's send it off world and then we'll make it somewhere in the middle. That's been really enjoyable because it's kept us on our toes. I think it's gonna keep audiences on their toes, too. There's just a whole different energy, look, and feel to any of the Thor films we've seen before. I think even different to any of Marvel films, which is great.
Director Taika Waititi said that he's bringing more humor to it than before, because he loved how it worked in the first two, and it just wasn't enough. So what has that changed what you're bringing to the character?CH: Well, I always felt the same. I felt in the first film we had a lot of fish-out-of-water humor and it was the origin story, so there was a lot of naivety. It was sort of Crocodile Dundee, something we'd laugh about. In the second film, tonally, because of the story, that didn't lend itself to many opportunities to have those moments of humor. And I've missed that. At the time, I thought, where can we put in some more [funny] stuff here and have more fun? Then when I saw the film, I was happy with it, but I thought the next one's gotta be more fun.
I was a big fan of Taika's work and think that, in all of his films, he strikes this beautiful balance of humor and heart. It's all grounded in a reality we can kind of relate to. But it's fun and enjoyable. And that's what we're gonna do with this. Again, what I said before about pushing it in that direction, this could be a flat out comedy if we wanted, or we could pull it back and meet it in the middle.  But I've never improvised so much within this character, which has been really exciting. Taika will just yell suggestions while rolling – try this, try that and so on – and that has really come to change the game for myself and for the film.
You mentioned how the joy of the comedy in the first film is the fish out of water.  Now Thor is a much more knowing character, and you want to stress that he's really come into his own in a new way. How are you finding new shades of humor in that version?CH: The comedy, as far as the world we're in, he's very much fish out of water again, I guess. The situations he finds himself in are very much removed from any kind of Asgardian, ethereal tone we had before. But there's greater awareness now, obviously. As you say, there's a maturity to him, so he can't go back and back in a completely adolescent way like he may have felt the first [couple] times. I think it takes a lot more work in that sense. We've gotta go, "Okay, what was specifically here? What would we expect Thor to do or say? And how can we come out from the other direction?" That lends into going, "Oh, this doesn't even feel like the character anymore." Which, I think is a good thing...more interesting things happen.One of the more fascinating parts of the franchise has been the relationship between Thor and Loki.  Obviously they're brothers, but they're always at odds. It seems like you guys are working together even more this time as allies than in Thor: The Dark World.CH: Well, not really. Without giving too much away, one thing I said was I don't wanna repeat that relationship either.  And I think, Tom [Hiddleston] felt the same. All of us were like, "What can we do again here?" I'm sorry, I'm walking a fine line kinda what I can do, but there's a bit of reversal. In the first films,  a lot of the time you're seeing Thor going, "Come back, Loki, and da-da-da-da." I think there's a feeling from Thor now that's just like, "You know what kid, do what you want. You can't hate me for trying. You're a screw up, so whatever. Do your thing." So there's a bit of that, which is fun, but also something we haven't sort of played with as much.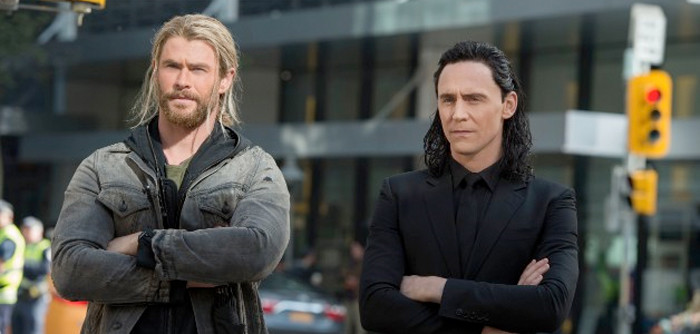 The cat came out of the bag online and then they told us today, Doctor Strange is gonna be popping up.CH: Oh really? I didn't know that, too. Okay. It's online, right? Isn't it?*A member of production clarifies that at this time, they've only revealed an image of Doctor Strange's business card.*CH: Sure. Oh, yes. Yeah, yeah, right. Okay.How was it with Benedict [Cumberbatch] for the first time? Or have you not filmed that yet.CH: Uhhhhh...He's fantastic. But, um, yeah, I don't know. Sorry, man. I don't know what's online and what was referenced. Sorry.Well, you're working with Cate Blanchett in this film. What have you been able to teach her about acting? *Laughter*CH: Oh, that's been a real bore. She's like, "Chris, please, I don't know how to approach this scene. I don't know how to walk. I don't know how to talk properly. And the accent." So that's been exhausting having to kinda teach her. *laughter* No, I'm in love with Cate. My wife is too, so I can say that. *laughter* The fearlessness, she's just insanely funny and smart and talented. It's sort of too good to be true. Kind of like, what's the catch?
When she came on set, she was talking about villains and how she'll walk totally different than what you've seen.  And I thought, "Oh, I wonder what she's gonna do." And I had a sort of image in my head. Then she came on and I was like "Wow, that's what you do if you're Cate Blanchett." That's why she is who she is. It's so far from anything I've seen before and as intimidating and scary as it is interesting. You have an empathetic view, feeling toward her a lot of time, from what she's doing. You're kinda like, "Ah, she's got a point maybe." And then you've gotta remind yourself, she's trying to kill us all.
She's worked really hard at the start of the film, or pre-production, saying, "What does she really want?" What is it that Cate can relate to here and say, "I get what she is and her frustration, or what's driving her."
You've got somebody you're working with we believe in the next couple of weeks, Jeff Goldblum. What are you anticipating from that?  Have you talked to your brother who just worked with him on Independence Day: Resurgence about that?
CH: I think he's Liam [Hemsworth's] favorite person in the world. Seriously. Had such a great time with him. He'd talk about him all the time – he did to me – maybe more than the film. Have you guys seen that light bulb commercial he did? Oh my God. I've never seen that. I'm like, oh yeah, Jeff Goldblum, he's a good actor. And he is. He's funny, but then I saw that commercial, oh my God. That felt, in a big way, sort of like an audition for the film. Many colors of that character, I think, I hope, will be in this film.  Certainly on the page there were some tonal similarities.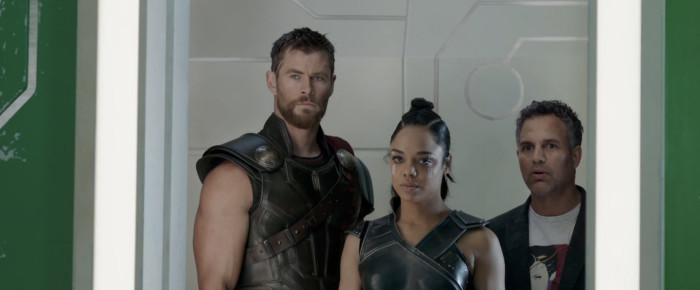 We've heard that when Thor meets Valkyrie he's a bit of a fan, that he's heard about her. Can you speak to that or what it's been like working with her?
CH: Yeah, it's like Thor's meeting his hero. He's absolutely smitten by her because of her history being Valkyrie and all of that.  But she's also this beautiful woman, so he's kind of caught off guard. She could beat the s*** out of him if she wanted. I think he hasn't come up against that very often. It certainly wasn't the case with Jane Foster. It was a whole different sort of affection. So that was again another, how can we make that different from the previous one.
So Thor is just kinda over Jane now?
CH: We have some very respectable fun with how that relationship may have come to a mutual end. *laughter*
It seems like Thor has met more of a match phsyically in this film than he has in past ones. The idea of being in a gladiator ring with Hulk, it's gonna be more fun for you to play knowing maybe you don't really get to win this one.
CH: Yeah, for sure. With the origin story, there's so much room there because you get to start from nothing and you're in that ride. Then you get to the end of the film, and you're the hero, and you're strong. Then you come to the next film, and how do we break him down again? So it's removing Thor from his environment and his world where he dominated a lot of the fight scenes. Putting him in a situation where all of sudden he's fairly equal with everybody. He's perhaps gonna use his brain more, or as much as, his brawn, which I think a smart thing for the writers to do. He's up against it the whole way through this and no step he takes is easy when he's climbing this particular mountain.
Tessa Thompson said earlier that you helped her deal with some of the criticism her casting received because of your experience to backlash from Ghostbusters.  I'm just curious of your take on that.CH: I can't remember what I said. But the criticism, I try not to pay too much attention to it. I know when she brought it up, I said it's far easier to point out the negatives in things, and people do, unfortunately. That negative tone is often louder than the positive one, unfortunately. It is what it is. Next week they'll have something else to talk about and so on. At the end of the day she was the best person for the job, and when people see her play that character they'll absolutely agree.
She's pretty fantastic and physically capable. You have some people who come in and it's, "Oh yeah, can you do fight scenes?" "Yeah, yeah, I can do fight scenes." Awesome. "Can you do gymnastics?" And they just say yes to everything, and then you go, "We're gonna need to bring a good double in." But she's trying nonstop through this. The physicality matches the emotional tone of the character, too. And that's a hard balance to show.
I talked to the Avengers: Infinity War directors Anthony & Joe Russo a couple weeks ago and Joe specifically said Thor is who he's most looking forward to working with. He was so gung-ho about the events of Ragnarok and where they leave Thor, so I wonder in what ways, if you can share, does this tie into the future?CH: Yeah, sure. They all do. It's its own film, too though. We didn't wanna get bogged down in Infinity stones and da-da-da-da, because I don't even understand that stuff a lot of the time.Yeah, we saw the mockumentary *laughter*CH: *laughter* There you go! That was my drawing. Yeah, I spoke to the Russos before I even had the script for this and asked, "How does this link into that? What can we look out for? How do we continue this tone?  'Cause we wanted to do something different here. So it was nice I felt that sort of encouragement from them. It started early, too.
But for The Avengers 4 story, I don't even have a script for that yet. But again, without giving anything away, this definitely bleeds nicely into that, as they all tend to do. This being called Ragnarok, which everyone knows what that means, it obviously is gonna affect the larger universe.
You mentioned the story is very much a homecoming for Thor, so I'm curious just how it feels to be coming back to Australia with this production.CH: Awesome. I hadn't shot here for years, probably since I went to Hollywood, 10 or 12 years ago. Any time production would talk, "Oh where are we gonna shoot?" It's, you know, Detroit or Vancouver, and then London for the last six or seven years, and I love shooting there. But if there was an opportunity to get back here to Australia, especially since we've moved back here, that was the dream.
Pirates of the Caribbean had just shot here, it's obviously Disney, so I said, well, you made it work there with that film, can't you do it with this one. They were open to it and said, "We'll look into it,", and thankfully it panned out. Great to be an hour from my actual home, and sleep in my own bed, and my kids and wife are here. My daughter still gets to go to school here. That's the hardest thing, having kids and family and uprooting everybody off into a new location for four months to set up shop again. We didn't have to do that this time around, which is wonderful.
*The scene we saw being filmed involved a confrontation between Thor, Valkyrie, Hulk, Loki and Hela. We're told this is from the final act of the movie, so we weren't allowed to listen to the audio for fear of knowing too many spoilers. We could only see what was happening on the monitors and what the cast members were wearing and wielding*We saw on the bridge that you're wielding dual-fisted swords. Can you tell us a bit about the training and why Thor is choosing swords this time? Where's the hammer?CH: Where is the hammer? Good question. Can't tell you where.It's in bed.CH: It's in bed! *laughter* Taking a nap. *laughter* With the swords, it's part of the costume being different from what it was before. The cape is not in the best shape, and he's got something stuck to his shoulder. It's this makeshift kind of costume, and the weapons are kind of get-what-you-can – so I think it says a lot about the journey he's going on and where he is at in that point of the film. So I can't tell you exactly where the hammer is.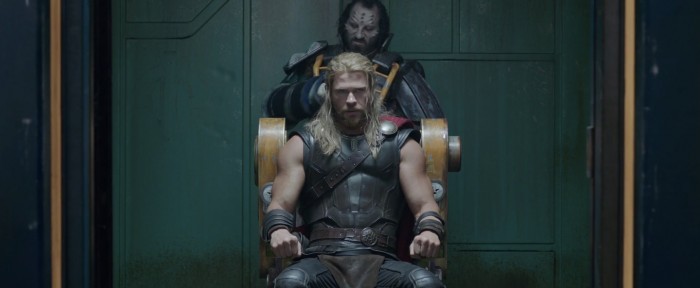 Thor has literally been shorn of things, including his hair. How does he react to this stripping away of vanity, from the hair to his wardrobe and more?CH: It's part of the insanity, all of the conflict and the disharmony of the world he's in. His physical appearance altered due to that, too. I think it is also paralleled by his journey, who he is in the world and how he thinks he fits in with this new version of him.
It's funny, because we talked about this a long time ago – the hair – partly because it's an hour in make-up during the morning, and we can fuckin' shave that off the schedule as well.
One of the great things about the Marvel movies at this point is that you can take different characters and pair them off, and the dynamics are different, it's fun.  But also it's very revealing about a character. You touched a little bit on the Hulk, but what does being teamed up with Hulk in this movie reveal about Thor?CH: Well, it gave us an opportunity to do anything we wanted with our relationship. Because me and Mark on set were like, "Have we ever even spoken on screen?"You gave him s*** in Avengers: Age of Ultron.CH: I give him s***, a little bit.The screams of the damned...CH: That's right, yeah. And he punches me in the face in the first one. The Avengers stuff is hard because it's not very personal. There's seven of you in a room and you have to get across all this information that feels expositional.  So it's hard to really have a dynamic. Obviously Tony and Cap have a lot of one-on-one screen time.
I'd always felt like I don't have that as much, and that's when you get to really have fun. As I said, we just went for it in this, and there's a nice kind of love-hate relationship there. A lovely kind of pairing. Very early on I was saying, "Let's do something like Butch and Sundance and pair 'em up and go on a road trip. There's elements of that in there, too.
I was curious what your reaction was when Taika Waititi presented your debut in that short film of you and your buddy.CH: Yeah, I was really excited.  I was excited because this is very different from what we've done before. The world and that mockumentary style sort of shooting and tone is right up his alley. It's something I hadn't done a lot of, so I thought we're in safe hands. It felt like a nice rehearsal to the film, because from that, it was a day or two shoot, we went, "Oh okay, that worked, we can do more of that," or "That one, we'll pull that out." Then we can come into the film with that energy, even moreso than if we'd done a week's rehearsal, because we put it one film and it really set the tone.
So did you shoot that before the production of the film start?CH: Yeah, it was like a month before.He tweeted something that seemed like it was maybe cut from that, where it was the hammer on a toilet. Was that actually shot for the mockumentary or...CH: Nah, he just did that. That's just part of his daily antics. He also likes to change his outfits. You'll notice the outfits change after three or four hours. It's like, "Did you have that on this morning?" And he's like, "No, different mood, different outfit."Aside from the humor, what else is Taika Waititi bringing to the table that's different from the first two movies?CH: I don't know, I think the first film had a lot of heart and fun and conflict. I guess he's just very smart about saying, "Okay what's the bigger picture here? What's driving him from now until the end of the film? Why are we gonna wanna get on that train with him and keep going?"
If it's a dramatic scene or a scene where we're trying to build suspense, it's, "What else can we do with it? Yes, that's what's on the page, but what if we said this? What if we tried that?" There's a certain fearlessness to his directing, which a lot of people don't bring to these films, especially this size of a film.
In the Marvel universe, there's the approach of, "If it ain't broke, don't fix it" sort of thing. Is that the expression? Doesn't sound right. Anyway, I think then it becomes safe, you stick to keeping it within the box. Sohe's constantly experimenting and trying to squeeze more heart, add a bit more suspense, more humor, more everything, as opposed to going, "This is the version I think works, let's just try and do fifty takes of that."
That's when it gets repetitive. And then you have nothing to cut. You get in the edit room and it's like, "I wish we'd tried this or that," and you didn't. We sort of leave it all out on the field, which is nice.
***
That's all for our interview with Chris Hemsworth from the set of Thor: Ragnarok. For more about the movie, check out our full set visit report and also our full interview with director Taika Waititi. Stay tuned later this week for our full interviews with co-stars Tessa Thompson and Tom Hiddleston as well.
Thor: Ragnarok hits theaters on November 3, 2017.