'Thelma' Trailer: Norway's Oscar Entry Is A Wild Horror Movie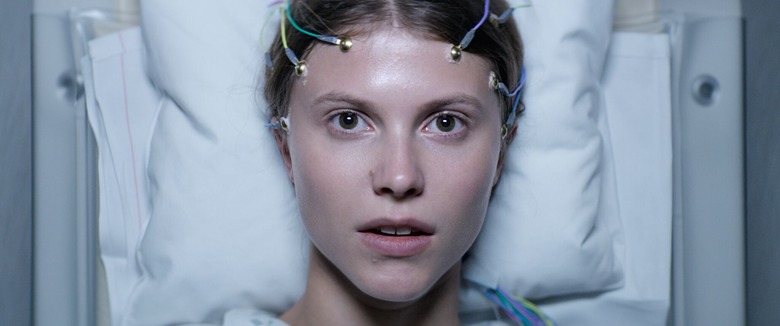 2016 was one of the best years for horror movies in recent memory and 2017 has done a fine job of picking up the torch and running with it. While the incredible Get Out has dominated the headlines with its rave reviews and massive box office, the mainstream has proven surprising (the very entertaining Annabelle: Creation) and the arthouse has given up the goods (the brutal and exquisite Raw).
Thelma looks to continue to the trend. Here's a horror movie about a girl with supernatural powers grappling with her mysterious abilities and a new relationship during her first year at college. And it's Norway's submission for the Best Foreign Language Film category at the next Academy Awards. You can watch the first trailer now to see what it's all about.
Thelma looks a bit like Carrie if you swapped out Brian De Palma's dark humor and Stephen King's raw brutality and slipped in a distinctly European attention to mood and sensuality. Like Raw, the film appears to be using a genre hook to explore the fears and anxieties of being away from home, embracing your sexuality, and embarking on a journey of self-discovery and not liking what you find. It also looks nothing short of gorgeous. And it has a girl with psychic powers at the center of it all.
Thelma is the new film from director Joachim Trier, whose credits include Reprise, Louder Than Bombs, and Oslo, August 31st, so it definitely has an arthouse pedigree that could turn some heads. However, the supernatural hook will also attract the genre junkies. Could this be the next Let the Right One In or The Babadook, a horror movie that appeals to both scare-hungry horror fiends and cineastes?
We'll start hearing buzz when Thelma premieres at the Toronto International Film Festival, but I'll be able to tell you more when I catch it at Fantastic Fest later this month. The film is currently scheduled for a November 10, 2017 release.
Here's the official synopsis, which provides all of the story details the trailer sidesteps:
In a snowy wood, a little girl stands transfixed by a fawn, while her father takes aim with his rifle. Except, the gun is turned toward the child. It is only a moment, and it passes as the man reconsiders his target. Years later, Thelma (Eili Harboe) embarks on her freshman year at college in Oslo. On the surface, Thelma is not unlike her fellow students: Sensitive, vulnerable, feeling her way through new experiences and sensations of the adult world. Raised in the country by strict and religious parents, she encounters the rituals of campus life as if emerging from a cocoon. But there also is something unusual and extraordinary about her. One day as she studies in the library Thelma is gripped by a seizure, her tremors punctuated by the thud of black birds smashing themselves against the windows. Anja (Kaya Wilkins), another student, comes to her aid.
Before long, a friendship blooms between the two young women. Although her parents Trond (Henrik Rafaelsen) and Unni (Ellen Dorrit Petersen) monitor Thelma through persistent phone calls, she begins to loosen up.  Through a budding attraction to Anja, she experiences an emotional and sexual awakening that both thrills and terrifies her. The new feelings cause Thelma to struggle with her religious upbringing, and the tension unleashes more uncanny events – erotic dreams replete with crawling serpents; seizures that disorder the world around her. As her connection to Anja deepens, Thelma's need to discover her true self becomes urgent. She seeks a medical answer to her episodes, which are diagnosed as psychogenic nonepileptic seizures, an affliction that once got women misidentified as witches. Digging further, she uncovers disturbing secrets about her family, and reluctantly comes to a fateful realization – just as Anja goes mysteriously missing.
Thelma sees no option but to return to her rural home and face the difficult truth of her legacy, and the terrifying implications of her powers.