'Bohemian Rhapsody' First Look: See 'Mr. Robot' Star Rami Malek As Freddie Mercury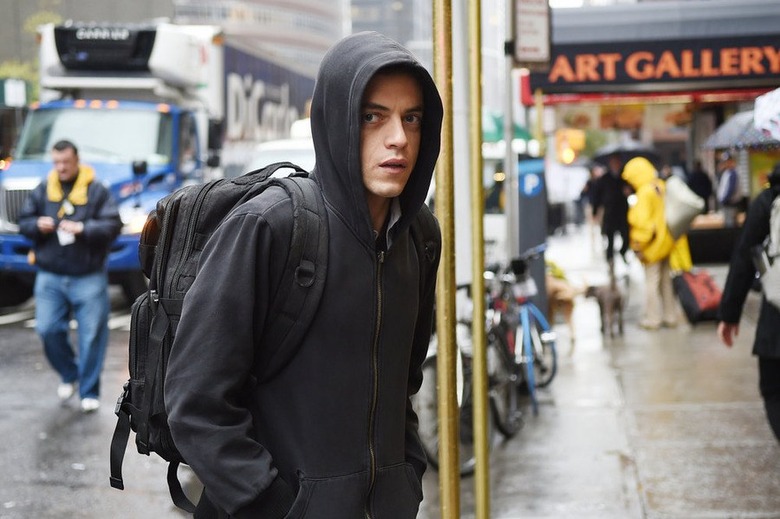 Rami Malek carries the burden of portraying the first silver screen depiction of Freddie Mercury, and it looks like the Mr. Robot actor may just pull it off.
The first look at Bryan Singer's Bohemian Rhapsody biopic was released on what would have been the Queen frontman's 71st birthday, showing Malek donning Mercury's signature white tank top and mustache. It's the first sign that the end is in sight for a movie that has had a long road to production since Queen and Sacha Baron Cohen first took on the project in 2010.
Malek signed on to play Mercury in Bohemian Rhapsody in 2015, replacing Ben Wishaw (who played Q in the recent James Bond films) after Cohen left the film that he initially helped kick off with Queen lead guitarist Brian May. The first look at Malek in character was unveiled by Entertainment Weekly.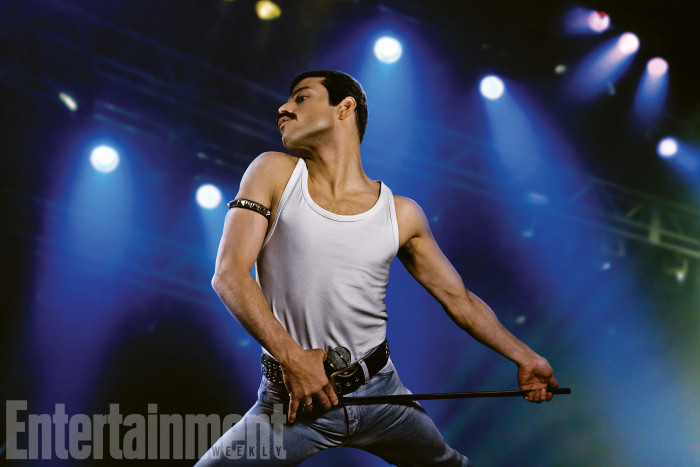 Though Malek is aware that he doesn't closely resemble the lanky, flamboyant rock star, he told EW that the hair and makeup certainly helped him get in character, which Malek seems to give his all to, if the above picture is any indication. Malek said:
"When you're able to open your eyes and see a different person staring back at you in the mirror, it's a very affirming moment."
Resembling the rock legend "only adds to the level of confidence that one would need to play Freddie Mercury," Malek added.
Whether that confidence will inspire Malek to try his hand (or his voice) at tackling Mercury's famous four-octave vocal range, which few mainstream singers are able to achieve, is another question. The film will use a combination of Malek's voice and recordings of Mercury's voice, according to EW. Malek said:
"We're going to use Freddie as much as possible and use myself as much as possible. I'm in Abbey Road [Studios] right now if that should say anything to you. I'm not working on my acting."
The movie chronicles Queen from their inception in 1970, when Mercury teamed with May and Roger Taylor, through the band's performance at Live Aid in 1985, six years before Mercury's death. Notably, however, it doesn't chronicle any of Mercury's struggle with HIV and AIDS, which were the causes of Mercury's early death at age 45 in 1991. Singer has described Bohemian Rhapsody as "not a traditional biopic" but "a celebration" of Queen, while May — who is heavily in involved in the production of the film alongside Roger Taylor — reportedly been adamant on preserving Queen's legacy. Cohen has stated that the reason he left the project was because he wanted to give an accurate depiction of Mercury's sexuality and hard-partying lifestyle — both of which were kept under heavy veils of secrecy at the time due to the stigma around being openly gay in the 1970s and '80s.
With Queen producing the film, Cohen said Bohemian Rhapsody was in danger of being a hagiography, which sounds like it may be the case since the film only covers the events of when Queen was at its peak. It's the problem that befell Straight Outta Compton — for all its impact and political timeliness — with its refusal to acknowledge the domestic abuse allegations surrounding Dr. Dre. It's unfortunate that Bohemian Rhapsody will avoid completely what was such a defining factor of Freddie Mercury's legacy — his sexuality, his death by complications from AIDS, his longtime partner Jim Hutton — especially when director Bryan Singer himself is an out gay man. I do like Malek and am excited what he can do for the role. Hopefully he'll honor Mercury's legacy and not just Queen's legacy.
Bohemian Rhapsody hits theaters December 25, 2018.