UPDATE: The Han Solo Spin-Off Adds Paul Bettany To Replace Michael K. Williams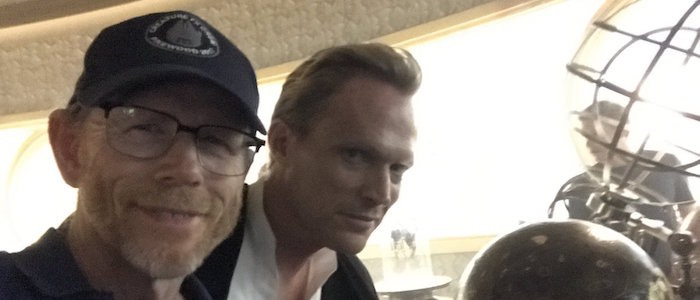 A few weeks ago, we learned that the character played by actor Michael K. Williams in the upcoming Han Solo spin-off had been cut from the film amidst reshoots. Now, we've learned that this is only partially true. While Williams will no longer be in the film, his character has been recast, not cut.
Paul Bettany, who has worked for director Ron Howard twice before, is heading to a galaxy far, far away...
Howard revealed the casting on his Twitter feed, posing with his A Beautiful Mind and The Da Vinci Code star on the set of the next Star Wars Story spin-off. While he doesn't mention why Bettany is on the set, our sources have confirmed to us that he has joined the cast of the film, taking over the role initially played by Williams. It seems that Howard turned to an actor he was familiar with when Williams could not return for reshoots as a result of his very busy schedule.
The Outer Rim just got a little bit wilder #PaulBettany #ForceFriday pic.twitter.com/KzuAwhcIXy

— Ron Howard (@RealRonHoward) September 1, 2017
Bettany will be playing the exact same character Williams was set to play, with the same name and motivations. However, the character will now be a human instead of a motion-capture alien. The change makes sense  – with the project undergoing extensive reshoots following the firing of original directors Phil Lord and Chris Miller, the visual effects team at ILM probably doesn't have enough time to create a new digital character from scratch.
UPDATE: Deadline has followed up with information contrary to the above, saying Paul Bettany is "playing a completely different character." However, our source is extremely trustworthy with matters like this, and has indicated that the character's name in the script hasn't changed as of now, but that it certainly could. So while Paul Bettany may end up playing a different character than Michael K. Williams would have played, he will still serve the same function in the story.
So, what do we know about this mysterious, unnamed character? We know that when Williams was in the role, it was a "half-animal" alien creature that the actor described as "kick-ass." Bettany's wardrobe suggests some kind of sleazy, upper-class criminal type and the text of Howard's tweet – "The Outer Rim just got a little bit wilder" – only backs that up. Since the Outer Rim of the Star Wars galaxy is a breeding ground for illicit activity of all kinds, could this be one of Han Solo's scoundrel allies? Or maybe he's someone with some ill intentions for our favorite sci-fi smuggler?
Bettany is no stranger to playing roles in big-budget franchises produced by Disney, having voiced JARVIS in the Iron Man movies before evolving into Vision in Avengers: Age of Ultron and Captain America: Civil War. While I remain disappointed that Williams is no longer part of the movie (and bummed that the character is no longer an alien), Bettany is a fine actor and someone I have always enjoyed watching. I have my fingers crossed that this troubled production will end up surprising us all.
The untitled Han Solo movie is still set to hit theaters on May 25, 2018.