Cool Stuff: LEGO UCS Millennium Falcon Is The Biggest, Most Expensive Set Ever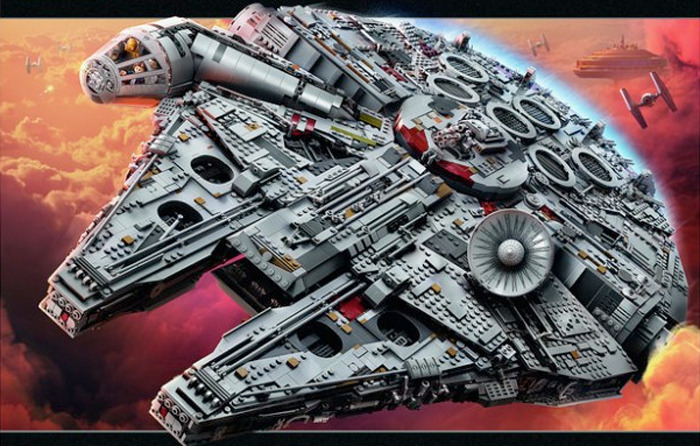 Along with today's slew of Star Wars: The Last Jedi merchandise revealed in honor of Force Friday II, there was another major announcement when it comes to to collectibles from a galaxy far, far away.
After teasing the arrival of some kind of huge Star Wars LEGO set, today the building brick company announced the forthcoming arrival of a new Millennium Falcon LEGO set as part of their Ultimate Collector's Series line of huge, extremely detailed building sets. It's officially the largest and most expensive LEGO set that has ever been produced, and you don't even want to know how much it's going to cost.
Find out more about the LEGO UCS Millennium Falcon below.
Here's the official announcement video for the LEGO UCS Millennium Falcon:
The first LEGO UCS Millennium Falcon was released back in July of 2007 with 5,195 pieces, but here we are a decade later with an even bigger set with more detail, and on the 40th anniversary of the original Star Wars. So just how big is this set?
The new LEGO UCS Millennium Falcon will have 7,541 pieces, measuring 33 inches long, 22 inches wide and 8 inches high. It includes minifigures of the classic versions of Han Solo, Chewbacca, Princess Leia and C-3PO, as well as a buildable Mynock that will allow you to recreate scenes from The Empire Strikes Back. But for fans of the recent film, you'll also get the older Han Solo, Rey, Finn, BB-8 and a couple buildable Porgs. But that's not all.
This version of the Millennium Falcon is much more detailed than even the previous UCS version of the ship. Even the cockpit now holds four minifigures just like the ship in the movie. Here are some of the other awesome features of this massive LEGO set:
Exterior features include intricately detailed and removable hull panels, a lowering boarding ramp, concealed blaster cannon, 4-minifigure cockpit with detachable canopy, interchangeable round/rectangular sensor dishes, upper and lower quad laser cannons, and 7 landing legs.
Main hold features a seating area, Dejarik holographic game, combat remote training helmet, engineering station with turning minifigure seat and a doorway build with passageway decoration.
Rear compartment features the engine room with hyperdrive and console, 2 doorways, hidden floor compartment, 2 escape pod hatches, engineering console and an access ladder to the gunnery station.
Gunnery station features a minifigure gunner's seat and detachable hull panel with fully rotating quad laser cannon. An additional quad laser cannon is also mounted on the underside.
Features a new-for-October-2017 cockpit canopy element.
Open individual hull panels to access the detailed interior while retaining the overall exterior appearance.
Slide the panel to reveal the concealed blaster cannon.
Measures over 8" (21cm) high, 33" (84cm) long and 22" (56cm) wide.
Here are some photos for you to see some of those features up close: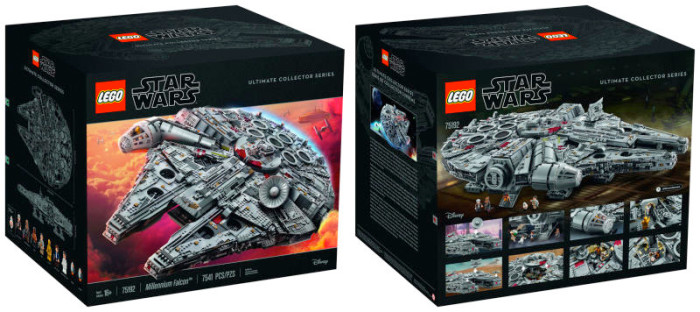 Now for the bad news. If you want to get this LEGO set home, you'll have to pay $799.99 when the set goes on sale on October 1, 2017 (it'll be available early for LEGO VIP members on September 14, 2017). That's quite an expensive LEGO set, but it's also the definitive building block version of Han Solo's signature ship, and I just might have to save up my money to get it.
If you'd like a more in-depth look at the set, check out this video from The Brothers Brick.