The Coolest 'Star Wars: The Last Jedi' Items You Can Buy On Force Friday II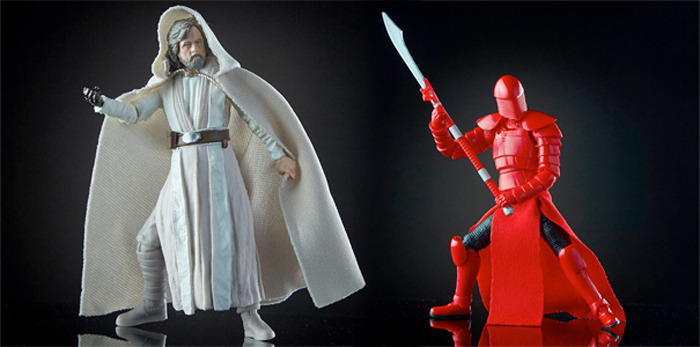 Tonight at midnight will officially begin the onslaught of Star Wars: The Last Jedi merchandise that is Force Friday II. The retail celebration brings the first toys, books, games, clothes, lunchboxes and more that are tied to the upcoming sci-fi sequel from director Rian Johnson. With so many items coming to shelves, we wanted to highlight some of the coolest stuff you'll be able to get your hands on.
Just so you know, director Rian Johnson has said that he doesn't think any of the toys being released for Force Friday II have any spoilers in them at all:
So that means you can peruse this story and Star Wars toy aisles to your heart's content, and you won't ruin the mysteries of Star Wars: The Last Jedi unless you're trying to go into the movie without knowing anything at all.
Check out our favorite Star Wars The Last Jedi toys and collectibles below.
Hasbro's Black Series 6-Inch Figures
These continue to be the best action figures in Hasbro's huge arsenal of toys. Standing at 6-inches tall, they're the most detailed and articulated Star Wars figures that you can both easily get your hands on and won't cost you an arm and a leg. The first wave of Black Series figures will include Luke Skywalker, as seen at the end of The Force Awakens, Rey in her new training gear, Resistance mechanic Rose Tico, Finn in First Order Officer uniform, Kylo Ren, a Praetorian Guard, Poe Dameron, General Leia Organa and Maz Kanata. They may not all be available on Force Friday II though, because some of them are in the second wave of figures coming later this year.
Those are all the figures that will be available across various retailers, but there are also exclusives you can only get at certain locations. For example, the First Order Stormtrooper Executioner (aka First Order Judicial) will only be available at Target. Meanwhile, that First Order Stormtrooper with the plethora of weapons will only be available on Amazon, and there's a different version of the Praetorian Guard that you can only get there too. Maybe you'd like a two-pack of Admiral Ackbar and an unnamed First Order Officer can only be bought at Toys R Us. And finally, there's that awesome Supreme Leader Snoke with his throne you can get at GameStop for $35. Be careful though, because some of these exclusives may not be available on Force Friday, but later this fall instead. (via io9 and The Hollywood Reporter)
Disney Store's Elite Series Figures
Though the Black Series figures may be the best and most affordable, a close second are these die-cast Elite Series figures. These figures are only available from the Disney Store (online and retail locations) or Disney Parks gift shops. The first wave includes Kylo Ren, Luke Skywalker, Rey, R2-D2, First Order Judicial Stormtrooper (Executioner), Praetorian Guard, Chewbacca (with Porgs), Finn, Poe Dameron, Rose Tico (with BB-8), C-3PO, Captain Phasma and Supreme Leader Snoke. (via StarWars.com and Yahoo)
Star Wars Elite Series Die Cast Action Figures inspired by Star Wars: The Last Jedi (characters included: Kylo Ren (unmasked), Rey, Luke Skywalker, First Order Judicial Stormtrooper, Praetorian Guard, R2-D2). A premium line of die cast action figures featuring characters inspired by Star Wars: The Last Jedi. Available exclusively at Disney Store, DisneyStore.com, and Disney Parks.
Funko's POP Vinyl Collection
Of course there are going to be an ample amount of Funko POP Vinyls featuring characters from Star Wars: The Last Jedi. The line-up will feature many of the characters from the rest of the action figure lines (not all are shown above), but there are some new ones too, such as Benicio del Toro's mysterious character DJ. It's funny that his name isn't officially DJ, but that's how he's being referred to on packaging. Could DJ end up being his real name after all? His hat say something in Aurebesh, but all we can make out is either "Jorn" or "Join" so it could be a phrase or a name. We'll have to wait and see. Plus, notice that there are two alternate Prateorian Guards, each with different helmets and weapons.
For a closer look at all of the Funko offerings for Star Wars: The Last Jedi, check out this official unboxing video, or head over to Funko's blog for the full reveal of all of their various little collectible figures.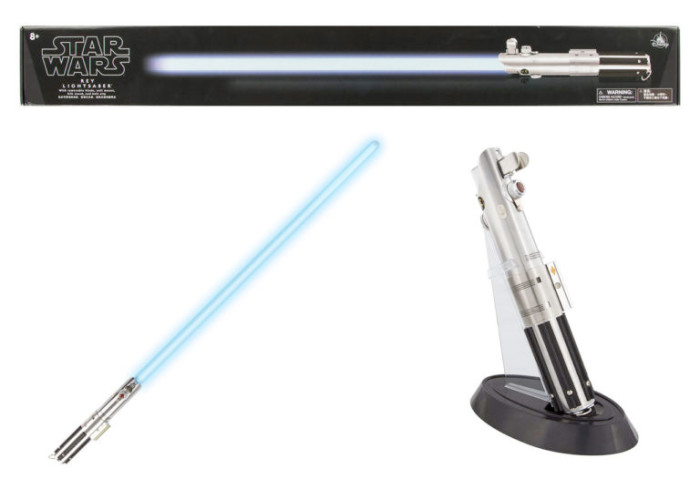 Rey's Premium Lightsaber
There have been plenty of premium lightsabers over the years, and this one was even released as Luke Skywalker's lightsaber before. But now it's officially Rey's and you can get your hands on this latest version of the weapon that's been handed down over the years for yourself. However, this one is only a Disney Parks exclusive, so make room for it in your vacation luggage.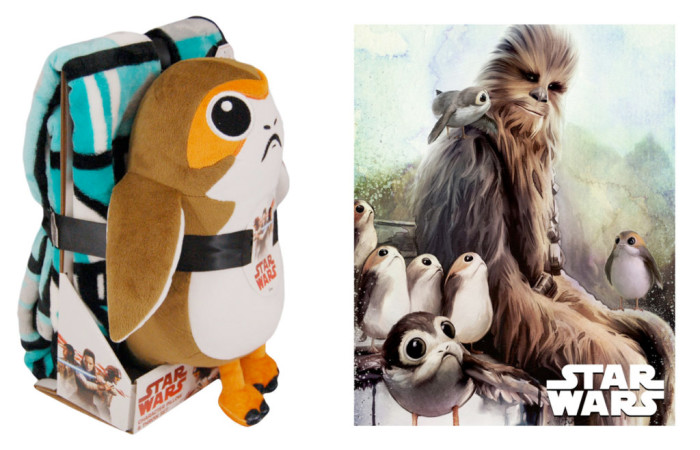 Porg Pillow and Chewbacca Blanket
We can't help but fall in love with the cute, puffy little Porgs from the planet Ahch-To. We're hoping that they don't turn out to be the most annoying little creatures ever and have our figures crossed that they're a little better than the Ewoks. We're cautiously optimistic about this adorable Porg pillow that comes with a blanket featuring Chewbacca and his new little bird friends. Even your aunt might love this Star Wars item from Northwest.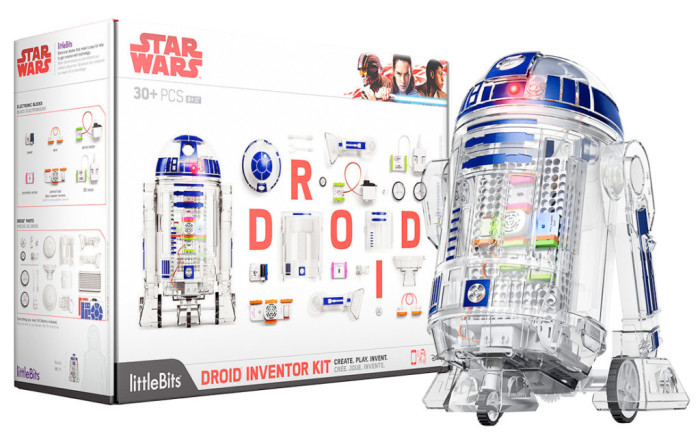 LittleBits Droid Inventor Kit
For any kid who has every wanted to build their own droid but doesn't have the parts to do so, this little Droid Inventor Kit from LittleBits should do the trick. You can reconfigure parts to come up with your own droid, give it special abilities through the app that works with the kit and take it on missions. It's perfect for the pint-sized nerd in your life.
The Last Jedi LEGO Sets
As always, there are a bunch of new LEGO sets being released in conjunction with The Last Jedi. The first wave includes several new vehicles like the Resistance Transport Pod, the First Order Heavy Scout Walker, Kylo Ren's TIE Silencer, a Resistance Bomber, the First Order Heavy Assault Walker, the First Order Star Destroyer, and a BB-8 made entirely of LEGO.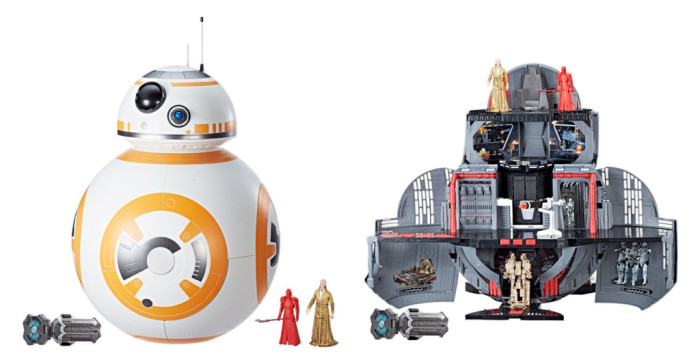 Star Wars Force Link BB-8 2-in-1 Mega Playset
The smaller line of action figures from Hasbro usually aren't great for collectors, but better for kids. But this BB-8 playset may be good for both. Our favorite ball droid unfolds to reveal a Mega Star Destroyer playset that includes several Force Link activation areas. Much like the CommTech chips that came with action figures for Star Wars: The Phantom Menace, the Force Link feature brings sound effects and dialogue from the movies to life, as long as you have devices that recognize the toys you're playing with.
You can buy a Force Link device separately as a wrist band that recognizes the toys being played with next to it for $25, or you can just spend $200 and get the version of this playset that comes with one instead. (via StarWars.com)

Propel Star Wars Battle Drones
Who wouldn't want to have Star Wars space battles from their own backyard? Propel has a new line of drones that now work with a companion app, featuring the T64 X-wing starfighter, TIE Advanced X1, and the 74Z Speeder Bike quadcopter. They can get up to 35 miles per hour and hopefully won't blow up when you inevitably crash them over and over again.
For a close-up look at these drones and the new app that goes along with them, check out The Verge.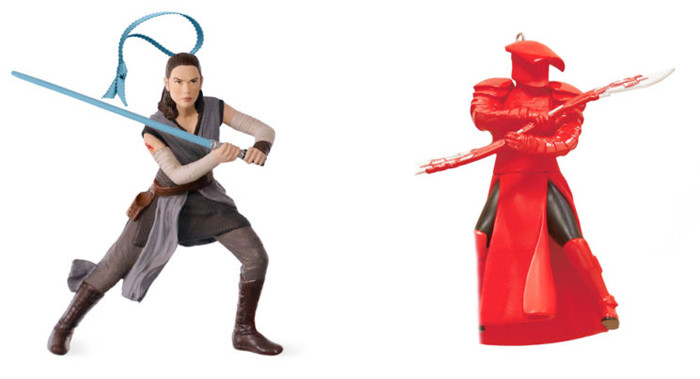 Hallmark Keepsake Ornaments
There are always new ornaments from Star Wars added to the ever-increasing Hallmark Keepsake ornament line, and this year will bring a new version of Rey with her lightsaber and a Praetorian Guard to your Christmas tree. (via StarWars.com)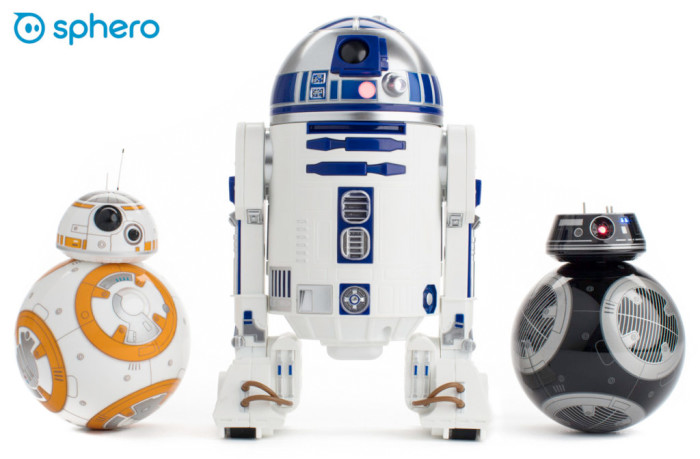 Sphero Droids
When Star Wars: The Force Awakens came out, one of the hottest items flying off shelves was the Sphero app-controlled BB-8 droid. Now the droid family at Sphero is about to grow with an additional BB-9E droid, the First Order (goth) version of BB-8. There's also a new Sphero BB-8 and a completely new R2-D2.
If you're curious how the Sphero R2-D2 operates, head over to Gizmodo for a hands-on experience.
Tamashii Nations SH Figuarts Figures
Most of the new Star Wars: The Last Jedi merchandise you can have in your hands starting tomorrow, but when it comes to these badass Tamashii Nations SH Figuarts figures, you can only pre-order them tomorrow. Look at how incredibly detailed they are! They cost somewhere between $50 and $60 depending on which one you're looking at, and you'll have to figure out which retailer will have them since they'll be coming from Japan. (via ToyArk)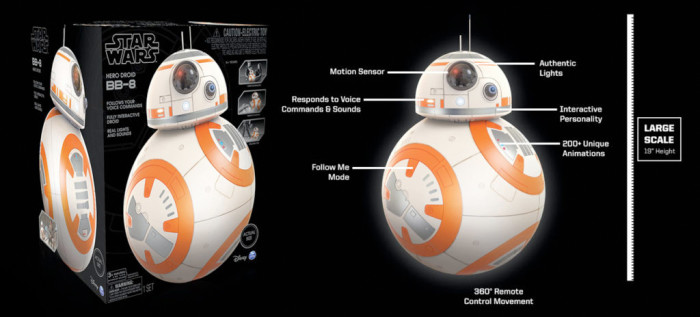 Spin Master Hero Droid BB-8
You can never have enough BB-8 toys, and this Hero Droid BB-8 might be the king of all of them. Not only does it have a nearly life-size scale at 16 inches tall (19 inches with antenna), but it's interactive and moves smoothly across the ground. Not only that, but you can set the droid to follow mode and he'll be buddies with you, just like he was with Poe Dameron and Rey. It also has voice recognition and remote control capabilities.
Star Wars: Jedi Challenges Augmented Reality Playset
Disney and Lucasfilm have teamed with Lenovo to create their own augmented reality playset that allows you to engage in a lightsaber battle with the greatest villains in the galaxy. The set will cost you $199.99, but it comes with a full headset, an impressive lightsaber replica, and endless amounts of fun inspired by the Star Wars universe. Even if lightsaber battling gets old after awhile, the item also a re-creation of the Dejarik holochess game featured in the original Star Wars, and a strategy-based game that will let users direct Rebel soldiers in a land-based assault against Imperial forces.
Get a much closer hands-on look at Lenovo's Star Wars: Jedi Challenges AR playset from Engadget over here.
***
To see an even fuller offering of Star Wars: The Last Jedi merchandise, check out StarWars.com.