'Star Wars: The Last Jedi' Merchandise Reveals More About The First Order Executioner Troops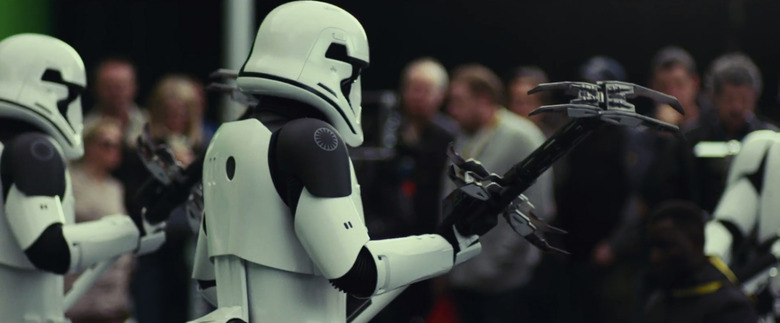 We're about to get an onslaught of Star Wars: The Last Jedi goods thanks to the arrival of Force Friday II on September 1. The celebratory day will see the first merchandise from the Star Wars sequel hitting shelves, including action figures, LEGO sets, books, shirts, stickers and more. One of those toys hitting shelves on Friday has provided insight into one of the new characters we'll see: a new kind of First Order Stormtrooper.
Throughout our constant updates regarding Star Wars: The Last Jedi, we've heard about a new First Order Stormtrooper referred to as The Executioner. We first heard about this Stormtrooper back in October, and since then we've actually seen them in the Star Wars: The Last Jedi sizzle reel (as seen in the image above). However, what we didn't know was what this division of Stormtroopers was tasked with doing, especially with that lethal new clawed staff. But now we know more about the Executioner Stormtrooper, including their official name.
Get the details below, but beware of possible spoilers for Star Wars: The Last Jedi.
First up, here's a Black Series figure of this Stormtrooper who will be available in stores this week:
(Pic credit @hiddenleveltoys) Here's the Target exclusive Black Series 6 inch First Order Executioner out of the package! #starwarstheblackseries #starwarsblackseries #blackseries #starwars #starwarsthelastjedi #thelastjedi #starwarstheforceawakens #forceawakens #starwarsfan #starwarsactionfigures #forcefriday #lucasfilm #starwars8 #firstorder #firstorderstormtrooper #stormtrooper #toy #toycommunity #toystagram #toyphotography #target #targetexclusive #hasbro #hasbrotoys #disney
As you can see, not only is the end of that staff sharp and dangerous, but it's also electrified, not unlike the baton of the Stormtrooper that Finn had to face off with in Star Wars: The Force Awakens. However, these Stormtroopers have a very specific mandate as indicated on the packaging of the Black Series figure seen above. Here's what the box says about the trooper on Reddit (via StarWarsNewsNet):
"The First Order can only operate effectively with the absolute loyalty of its followers. Should any soldier be found guilty of treason, it is up to this special branch of Stormtroopers to dispense final justice."
As a Stormtrooper whose job it is to dispense final justice, it should come as no surprise that, according to Elite Series packaging for the figure at Disney Store locations, this character is referred to as a First Order Judicial. We're not sure whether that name or the Executioner moniker will be used in the movie. Perhaps they're casually referred to as Executioners in the way that Tusken Raiders are referred to as Sand People.
Considering their job is to dispatch justice to those who are guilty of treason, you can bet that these guys would love to get ahold of Finn, who betrayed the First Order by abandoning his post and fighting with the Resistance.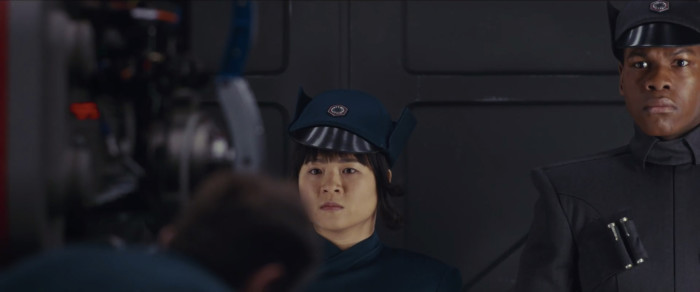 In fact, StarWarsNewsNet hypothesizes that Finn may end up facing the First Order Judicials at some point in the movie. They took notice of the black guy who appears to be kneeling in front of the troopers in lower right hand corner of the top photo. That's not John Boyega as Finn, but they speculate that it could be his stunt double Adam J. Bernard. Even if it's not, it could always be the actor's stand-in kneeling for the purposes of lighting and camera rehearsal, especially since he's wearing dark clothing that looks like it could be a First Order Officer uniform. And since we know from the sizzle reel that Finn suits up as a First Order Officer, he could end up getting caught and facing some First Order justice.
That's all speculation, but it would be a pretty spectacular sequence if Finn ended up getting rescued by the arrival of someone like Rey and Luke Skywalker, coming to take on Kylo Ren and Supreme Leader Snoke.
Star Wars: The Last Jedi hits theaters on December 15, 2017.