'Blade Of The Immortal' Trailer: Takashi Miike's 100th Movie Promises Plenty Of Bloody Samurai Action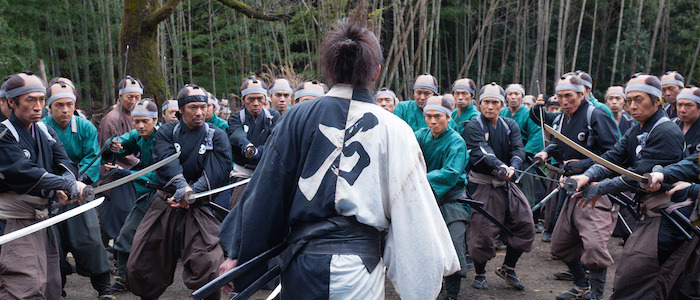 In Hollywood, we call a filmmaker prolific if they make one movie every few years. But Takashi Miike laughs in the face of even the speediest directors – he's releasing two movies in 2017 alone. And a TV series. And has directed 15 movies since 2011. He's a machine.
And his newest film, Blade of the Immortal, is a jaw-dropping milestone. This live-action adaptation of the Japanese manga series by Hiroaki Samura is Miike's 100th movie. If the bloody new red band trailer is any indication, he hasn't lost any of the insane and darkly comedic nerve that has defined his career so far.
Blade of the Immortal looks like an old school samurai movie, albeit one with a supernatural twist – the lead character cannot die, a curse that will only be broken once he's taken the lives of enough evil men. And the trailer makes it pretty clear that he'll be facing plenty of evil men throughout this movie. And killing them. Lots and lots of them. Although he's made his fair share of fantasies and comedies and horror movies, this looks like Miike in his element, complete with geysers of blood and pitch-black gallows humor.
Although best known for his brain-searing horror movie Audition, Takashi Miike has also made classical samurai movies (13 Assassins), twisted gangster tales (Dead or Alive), wacky anime adaptations (JoJo's Bizarre Adventure), video game adaptations (Ace Attorney) and horror comedy musicals (The Happiness of the Katakuris). As you'd expect from a director who works as often as he does, there are many misses as there hits...but when Miike hits, he hits. Keep your eyes on Blade of the Immortal. This could be a blast.
Blade of the Immortal is set to premiere at Fantastic Fest next month, a film festival that has often been very friendly to Miike's movies in the past. Look for our review then. In the meantime, here's the official synopsis:
Samurai Manji has taken a lot of lives, both innocent and guilty, and now lives life in feudal Japan as a criminal. After being cursed with immortality until he kills enough evil men, Manji meets a young girl who enlists him to be her body-guard. Swearing loyalty, protection and vengeance against the group of sword fighters who slaughtered her family, the unlikely duo set on a remarkable quest to make right against those who did them wrong.
Magnet will release Blade of the Immortal in theaters on November 3, 2017.