'Brawl In Cell Block 99' Trailer: Vince Vaughn Goes To Prison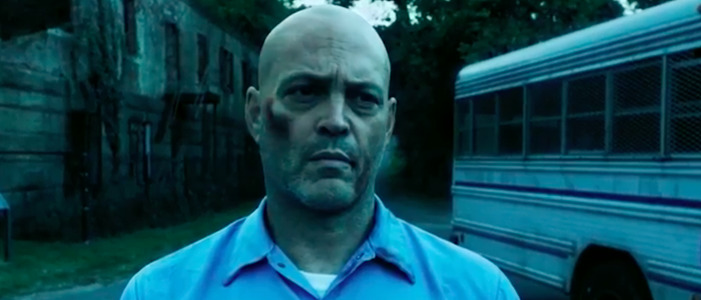 Vince Vaughn looks like a force to be reckoned with and just an absolute beast in Brawl in Cell Block 99. Vaughn is a big guy with a towering presence, so he looks more than suitable to play the role of a former boxer trying to survive prison in writer and director S. Craig Zahler's (Bone Tomahawk) new crime film. Zahler might be showing a whole new side of Vaughn, whose performance looks incredibly promising.
Below, watch the Brawl in Cell Block 99 trailer.
Zahler told Entertainment Weekly, "This is a Vince Vaughn you've never seen before." The actor plays Bradley Thomas, a former boxer who loses his job as an auto mechanic. Thomas, whose wife Lauren (Jennifer Carpenter) is on the brink of leaving him, takes a job as a drug courier for an old friend. He ends up in a gunfight with some cops, leaving him wounded and in prison. The prison, which is run by Warden Tuggs (Don Johnson), becomes a battlefield for Thomas when his enemies force his hand.
Here's the trailer for Brawl in Cell Block 99, which premieres at the Venice Film Festival soon and will show at next month's Fantastic Fest:
Brawl in Cell Block 99 Trailer
The image of a cross on the back of Bradley Thomas' head quickly establishes we're going to see a very new side of Vaughn, who's ventured far outside of comedy these past few years with Hacksaw Ridge, True Detective, and Term Life. His performance looks like reason enough to see Brawl in Cell Block 99 based on the trailer, which allows the actor's hulking presence to do most of the talking. The trailer has a great sense of atmosphere, with the sound of Vaughn beating his car, some fun and quick dialogue, and only a taste of brutal violence.
Before the movie even reaches theaters, Vaughn is already working with Zahler again, suggesting a successful first collaboration. The actor and director are currently shooting Dragged Across Concrete, which co-stars Mel Gibson. Like Brawl in Cell Block 99, that crime film has quite the title.
In BRAWL IN CELL BLOCK 99, a former boxer named Bradley (Vince Vaughn) loses his job as an auto mechanic, and his troubled marriage is about to end. At this crossroads in his life, he feels that he has no better option than to work takes a job for an old buddy as a drug courier. This improves his situation until the terrible day that he finds himself in a gunfight between a group of police officers and his own ruthless allies. When the smoke clears, Bradley is badly hurt and thrown in prison, where his enemies force him to commit acts of violence that turn the place into a savage battleground.
Brawl in Cell Block 99 opens in theaters October 6.