Terry O'Quinn Reteams With J.J. Abrams For Stephen King's 'Castle Rock'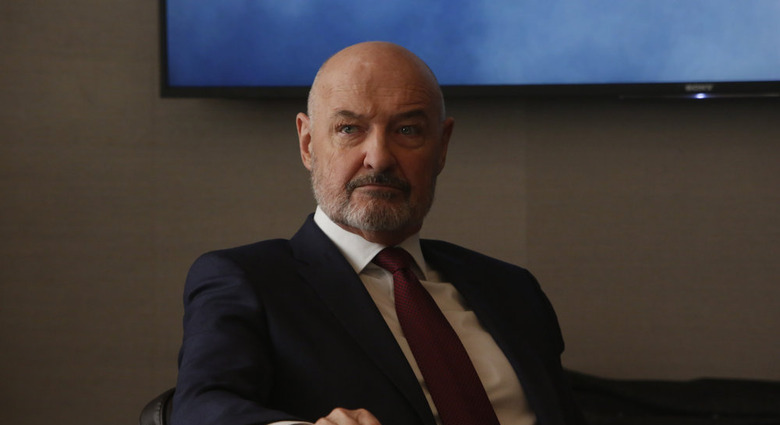 Terry O'Quinn has to go back...to work with Lost co-creator J.J. Abrams. The Lost alum has been cast in a key role in Castle Rock, Abrams' Hulu psychological-horror series revolving around the Stephen King universe.
While O'Quinn has been getting steady work on television, starring in series like The Blacklist and Hawaii Five-0, he did his career-best work in Lost — and it would be wonderful to see him live up to the potential that Abrams, Damon Lindelof, and Carlton Cuse helped him fulfill during the course of that sci-fi series.
O'Quinn has been cast in Castle Rock as Dale Lacy, a "pillar in the town of Castle Rock," reports Deadline. He'll be joining the already-cast André Holland, Scott Glenn, Sissy Spacek, Melanie Lynskey, Jane Levy, and Bill Skarsgard.
O'Quinn hasn't had a chance to really stretch his acting chops since Lost bowed out in 2010, bouncing about through various procedurals and prime time dramas. He deservedly won an Emmy in 2007 for his multifaceted performance as the paraplegic-turned-believer John Locke, who easily goes down as one of the most tragic and memorable characters in TV history. Lost may be remembered as a show that frustrated and disappointed its viewers, but it shouldn't be forgotten that it did some of the best character work — especially pertaining to O'Quinn's Locke — on primetime TV, like this scene from the season 1 episode "Walkabout":
That O'Quinn has not found a role that can match the emotional arc he got to embody in Lost is not surprising — and it may be in yet another genre show that he can find one again. Abrams and King seem like a match made in heaven: they're both ideas men and quite gifted when it comes to writing characters. Perhaps O'Quinn may find his next acclaimed role in Castle Rock.
Castle Rock is named after a fictional town that has appeared in many of Stephen King's works. According to producers, Castle Rock "combines the mythological scale and intimate character storytelling of King's best-loved works, weaving an epic saga of darkness and light, played out on a few square miles of Maine woodland." Although it's based in a town that's part of King's growing body of work — the teaser trailer name drops famous King stories like It, Salem's Lot, The Shining, Rita Hayworth and the Shawshank Redemption, and Misery — Castle Rock is an original series.
Produced by Abrams' Bad Robot Productions and Warner Bros. Television, Castle Rock was developed by Sam Shaw and Dustin Thomason, who serve as executive producers alongside Abrams, Ben Stephenson, and Liz Glotzer.
Castle Rock started production in July 2017. A release date has not been confirmed.