Worlds Collide In 'Game Of Thrones' Season 7 Finale Video, Plus The Cast Reacts To Jon And Dany's Relationship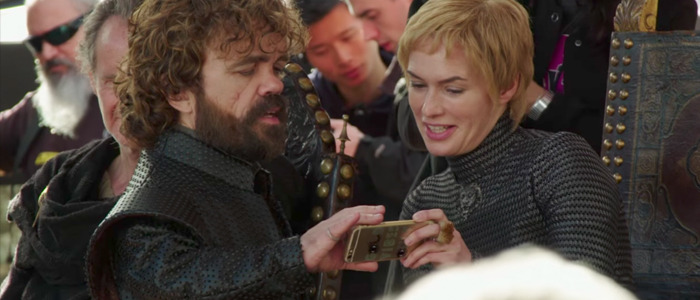 The sun set on the seventh season of Game of Thrones this past weekend, and while HBO just announced a post-season behind-the-scenes show dedicated to revealing how the season came together, they're still releasing separate videos with fun little details and interviews with the cast and crew. Check out two of those below, in which actors like Emilia Clarke, Lena Headey, Kit Harington, and Peter Dinklage discuss the major meeting that took place in "The Dragon and the Wolf," as well as the romance between Jon Snow and Daenerys Targaryen.
Game of Thrones season 7 finale video
While it's always enjoyable to hear these actors and showrunners talk about their work and to get a chance to hear many of them speak in their actual, non-show voices (shout-out to the Scottish lilt of Daniel Portman, aka Podrick Payne!), this video is admittedly a bit light on meaty reveals or searing insights. Instead, it's more of an opportunity to hear how many of the series' major players approached one of the show's most important scenes. Though they don't really reveal anything in this behind-the-scenes chat that their performance didn't already convey, it's still fun to see all of these people finally come together when they have been separated by so many Westerosi miles for so many years.
In yet another video, we get a look into the mental states of Jon, Daenerys, Tyrion, and Bran in the wake of Jon and Dany's boat sex scene at the end of the episode. The Wolf and the Dragon have consummated their budding relationship completely unaware that they're related to each other, and the comments of the actors involved may hint at a not-so-happy ending for the two young lovers.
"Just as everything was coming together, everyone was going to join together to fight, inevitably Game of Thrones will tear us apart once more," Isaac Hempstead-Wright says. Is that a clue about how Jon and Dany may react when they discover the truth?
"It's dangerous for everybody involved," says Peter Dinklage. "I'm sure it's good for both of them, in the moment, but you don't even get the relief of how beautiful it could be or should be. It's just...no. It's not good! But it should be! But it's not! It's Game of Thrones. There's a long history of romance not ending well on this show."
It looks like we may have to wait until 2019 to find out how this all ends.