'Top Gun 2' Gets A New Writer, Still On Track For July 2019 Despite Tom Cruise Inury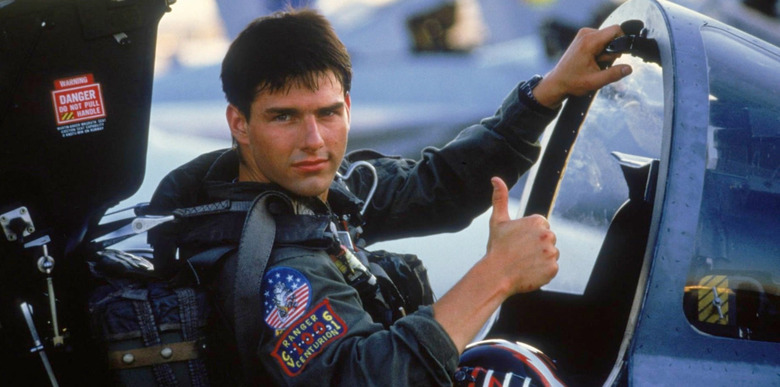 Since a sequel to Top Gun has been in development for years, we won't really believe it's happening until the cameras are rolling. But for now, with director Joseph Kosinski set to direct the film with a July 2019 release date, this is the closest Top Gun 2 has ever been to becoming a reality.
Recently, there has been some concern from Paramount Pictures as to whether or not production on Top Gun: Maverick would be able to begin on time. But thanks to some recent remarks from producer Jerry Bruckheimer, it sounds like the sequel won't be delayed, and there's a new writer working on the script. Find out more about estimated production start and the new Top Gun 2 writer below.
The new details about Top Gun 2 comes from the German film site FilmStarts, and while the entire article is in German, their editor Markus Trutt reached out to us with two key tidbits of information about the production while producer Jerry Bruckheimer was doing publicity rounds for Pirates of the Caribbean: Dead Men Tell No Tales.
First up, Bruckheimer was asked whether production on Top Gun 2 would be delayed due to the recent injury sustained by Tom Cruise on the set of Mission: Impossible 6 that has forced production to be delayed for anywhere from six weeks to three months. The producer said, "I don't think so," and said they were on track for Top Gun 2 to start shooting either in January or February of 2018, giving them plenty of time to meet the previously set July 12, 2019 release date.
Another interesting tidbit from FilmStarts' conversation with Jerry Bruckheimer indicates that Top Gun 2 has a new writer working on the script. The Jungle Book remake writer Justin Marks was brought on board back in 2014 and he was still attached to the project as of the spring of 2016. But Bruckheimer revealed that American Hustle and Only the Brave screenwriter Eric Warren Singer is working on the script right now. He's likely doing a rewrite for one last pass before the film goes into production.
We still don't know any new details on what kind of story Justin Marks came up with. However, it has been said that the sequel has something to do with drones replacing real human pilots and the rivalry that exists between the drone controllers and the old guard of fighter pilots, including Maverick himself. Beyond that, the lid has been kept tight on the sequel, so hopefully we'll get some new details soon.