'Blade Runner 2049' Short Film Reveals Jared Leto's Contribution To Replicant Technology In 2036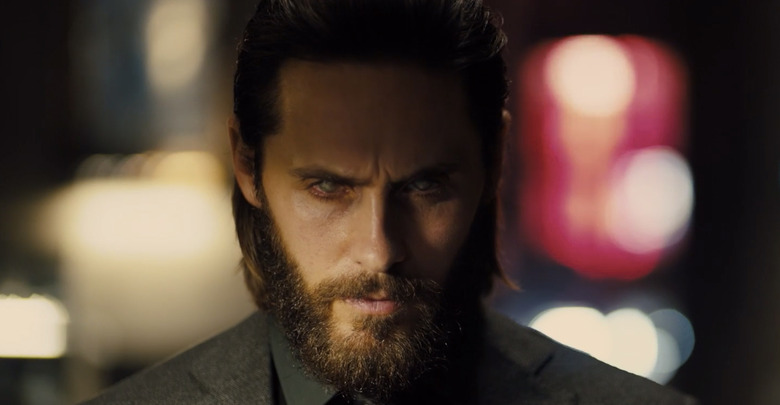 Blade Runner 2049 doesn't hit theaters until October, but Warner Bros. Pictures has a long marketing lead-up to the sci-fi sequel to Ridley Scott's original sci-fi noir from 1982.
The original Blade Runner took place in 2019, which was then the distant future. Now that we're just two years away from hitting that year ourselves, it only makes sense for the sequel to jump ahead 30 years. That leaves a big gap of time where we don't know what happened in this sci-fi universe. Thankfully, a series of short films leading up to the release of Blade Runner 2049 will help fill in some of the gaps, and the first one, starring Jared Leto and Benedict Wong, has just been released. You can watch it below.
Here's the first Blade Runner 2049 short film released by our friends at Collider:
The short, titled 2036: Nexus Dawn prominently features Jared Leto as reclusive genius and scientist Niander Wallace. Though the man may be blind, he sees a vision for a future that involves bringing replicants back after they were banned them from being created or maintained in 2023.
Now in 2036, Wallace believes he has perfected a new model of replicant, the Nexus 9, which appears to be completely controlled by humans. Even the replicant's free will is dictated by the preservation of human life as Wallace demonstrates that given the choice between killing itself or killing the blind scientist, the replicant doesn't hesitate to stab itself in the throat, thus retiring itself.
Wallace faces opposition from Benedict Wong and some kind of advisory board, apparently the small governing body who decides whether replicants will be allowed to freely exist again or not. But since the Blade Runner 2049 timeline that fills in the gaps between 2019 and 2049 indicates that prohibition of replicants is repealed in 2036, it looks like Wallace's argument changes their mind.
This is just one piece of background on the timeline leading up to Blade Runner 2049. You can check out a website with even more milestones that took place between 2019 and 2049 over here. Director Denis Villeneuve says there are three short stories that dramatize some of those key events. This first short was directed by Luke Scott, son of director Ridley Scott, and it feels right in line with the world of Blade Runner. There are two more shorts to come, and we'll be sure to let you know when they arrive.
Meanwhile, watch the most recent tease for the sequel right here and read the official synopsis for Blade Runner 2049:
Thirty years after the events of the first film, a new blade runner, LAPD Officer K (Ryan Gosling), unearths a long-buried secret that has the potential to plunge what's left of society into chaos. K's discovery leads him on a quest to find Rick Deckard (Harrison Ford), a former LAPD blade runner who has been missing for 30 years.
Blade Runner 2049 hits theaters on October 6, 2017.