'Justice League' Villain Steppenwolf Revealed Through (You Guessed It) Merchandise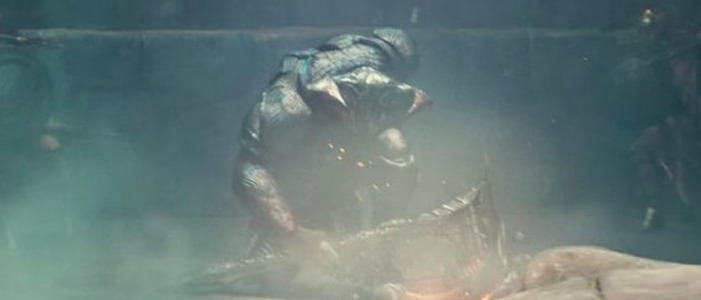 We haven't seen much of Steppenwolf's not-so-pretty mug from the Justice League marketing. The big bad of the film is played via motion-capture by Ciarán Hinds, so the little we've seen of villain's face has been blurry, probably unfinished visual effects.
And because toys and other merch always seem to outpace their own movies, a new mask gives a slightly better idea of Steppenwolf's grizzled face looks like.
The Steppenwolf in Justice League looks considerably different than the one from the Batman v Superman: Dawn of Justice deleted scene, in which the villain communicated with Lex Luthor, who's rumored to have been cut from the upcoming superhero movie. It seems like Luthor won't be helping Steppenwolf find the three mother boxes he's searching for: a Atlantean one, an Amazonian one, and a human one.
In Batman v Superman: Dawn of Justice, Steppenwolf had a very alien appearance. The character was redesigned for Justice League, making him resemble the New 52 comics version of Steppenwolf more: a mostly human appearance with some warrior attire.
Entertainment Earth is releasing a Halloween mask for the character, which seems a bit overpriced at $39.99. Heroic Hollywood found the mask, which gives us a clearer look at Steppenwolf's face. He's probably not going to win any beauty pageants during his time on our world.
Update: Here's an even better look at Steppenwolf and it's certainly more impressive.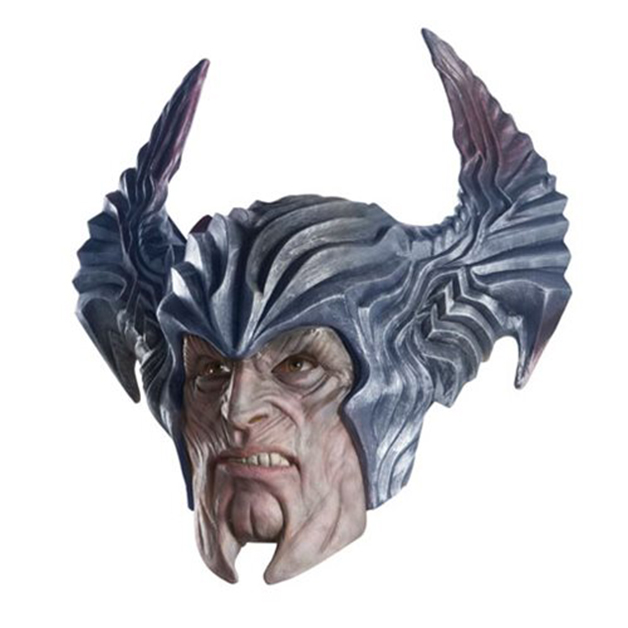 In the comics, Steppenwolf is a military leader on an alien planet, Apokolips, ruled by Darksied. Steppenwolf brings an army of his ruler's parademons to earth to find the Mother Boxes, which are Apokoliptian technology. The parademons are the winged creatures from the very cool, albeit very tangential, Batman v Superman: Dawn of Justice post-apocalyptic dream sequence.
The superhero team is going to face some CG-heavy threats in their first major team-up. When Batman, Superman, and Wonder Woman battled Doomsday in Batman v Superman, it was the kind of underwhelming CG destruction we see from too many third acts in superhero movies. With Steppenwolf, hopefully, they face a threat with more personality and motivation. The villains, including Lex Luthor, were clunky in Batman v Superman – but it seems like the villain's motivation could be a little clearer this time around. Plus, the villain is played by the great Ciarán Hinds, who could probably bring some real gravitas to Steppenwolf. The actor has such a strong and attention-grabbing voice, too, which could help make the villain pop.
Fueled by his restored faith in humanity and inspired by Superman's selfless act, Bruce Wayne enlists the help of his newfound ally, Diana Prince, to face an even greater enemy. Together, Batman and Wonder Woman work quickly to find and recruit a team of metahumans to stand against this newly awakened threat. But despite the formation of this unprecedented league of heroes—Batman, Wonder Woman, Aquaman, Cyborg and The Flash—it may already be too late to save the planet from an assault of catastrophic proportions.
Justice League opens in theaters on November 17, 2017.