'Super Troopers 2' Red Band Trailer: Back And Ballsier Than Ever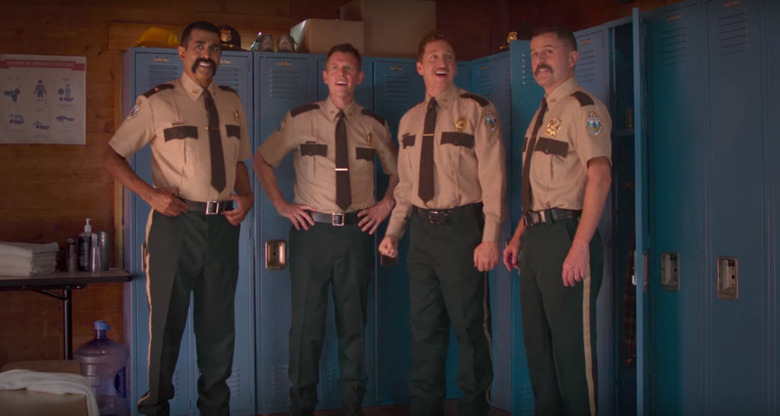 Get ready for balls to the wall hilarity with the arrival of the Super Troopers 2 red band trailer, promising all the immature, crass cop action you want and deserve.
Super Troopers 2 asks you to "shave the date" — you'll see why soon — for the anticipated sequel to the 2002 cult comedy classic. And the date is on, you guessed it, 4/20. And yes, this trailer is NSFW.
Other than a brief look at a semi-nude Rabbit being pranked by the rest of the Super Troopers as they prepare to shave his balls for some reason, there's not as much profanity as you would expect from a teaser that's been marked with the red band label. But it is pretty up close and personal with a guy we haven't seen in 15 years.
Anyways, the brief teaser showcases the Super Troopers as they're back to their old shenanigans "even though they're no longer rookies," and giving us some of that old, crude, comedy gold of the bygone early 2000s. There isn't much to be said about this trailer except that they get new uniforms, which they change in and out of with glee, even pranking an unknowing driver in Mounties uniforms that they somehow got a hold of.
Here's the official synopsis for Super Troopers 2:
Everyone's favorite cops are back (by popular demand) with the long anticipated follow up to the cult comedy classic: Super Troopers 2. When the United States and Canada get into a dispute about the location of the actual border, the Super Troopers – Mac, Thorny, Foster, Rabbit and Farva – are called in to set up a new Highway Patrol station in the contested area. Our heroes quickly revert to their own brand of unconventional police work.
Super Troopers 2 reunites the Broken Lizard comedy troupe that shot to niche fame with the original Super Troopers. The sequel was crowdfunded on Indiegogo, raising more than $4.6 million for a second go-around of stoner and dick jokes.
Now I'll admit that I've only seen part of the original Super Troopers, and I was drunk and fell asleep halfway through. But everyone else was laughing, so I'm assuming that it's great. It's got to be beloved to have raised $4.6 million 15 years after the original was released in theaters. That's the power of stoner comedy.
Super Troopers hits theaters April 20, 2018.