Stephen King's 'It' Early Buzz: A Terrifying Movie With Heart, True To The Spirit Of The Book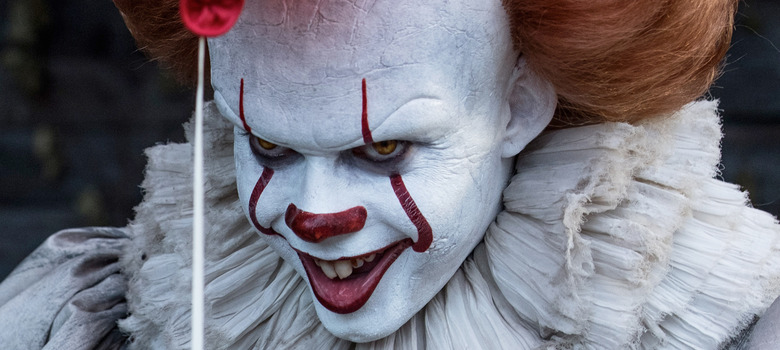 Warner Bros. Pictures and New Line Cinema's new adaptation of Stephen King's It won't hit theaters until September 8th. But in an effort to kick off positive word of mouth, some critics have already seen the film from director Andy Muschietti, and the first reactions have started to hit the web.
There aren't any full reviews available yet, but the embargo on social media reactions has been lifted, and the early buzz is through the roof. This adaptation captures the spirit of Stephen King's original book, assembles an incredible group of kids to play the Losers Club, and brings a terrifying new Pennywise to the screen. Check out the first Stephen King's It early buzz below.
Here's the round-up of social media reactions from critics who have seen the movie:
I love the #ITMovie. It's everything I wanted. Scary as shit, Skarsgard nails Pennywise, and the Losers are perfection.

— Haleigh Foutch (@HaleighFoutch) August 26, 2017
Just saw IT. Really well done. Cast were all great with some twisted visuals. Going to make a ton of money. Ready for the sequel tomorrow. pic.twitter.com/XYTEG39YCX

— Steven Weintraub (@colliderfrosty) August 26, 2017
The amount of violence and horrific imagery in regards to children is SHOCKING. They didn't hold back. It's great. #ITMovie @ITMovieOfficial

— Drew Dietsch: GenreVision.com (@DrewDietsch) August 26, 2017
Bill Skarsgard is putting in a performance that is going to turn him into the Freddy Krueger of a new generation. #ITMovie @ITMovieOfficial

— Drew Dietsch: GenreVision.com (@DrewDietsch) August 26, 2017
Thrilled I can now say that IT is spectacular. Totally terrifying, but also amazing fun (the Losers are PERFECT). Top 10 candidate for me. pic.twitter.com/XjQHyNmSEq

— Eric Eisenberg (@eeisenberg) August 26, 2017
#ITMovie is everything I hoped for & more. Has heart, laughs & TONS of incredible scares. Fell in love w/ The Losers. Didn't want it to end.

— Perri Nemiroff (@PNemiroff) August 26, 2017
#ItMovie was spooktacular. Great cast, surprisingly funny, and genuinely unnerving scares. You'll still be freaked out when you get home. 🎈 pic.twitter.com/n5EQpbk53N

— Dan Casey (@DanCasey) August 26, 2017
I can say I saw #IT tonight. And IT was great. Cast is excellent. And, yes, 🤡is scary! This will be a, ahem, monster at the box office.

— Jim Vejvoda (@JimVejvoda) August 26, 2017
IT was terrifying and hilarious and delightful, so we're deciding to see how this thing goes. #ITMovie pic.twitter.com/FI6zuvki3h

— Terri Schwartz (@Terri_Schwartz) August 26, 2017
#ITMovie is a very handsome, polished execution of a story you know inside out. The big surprise is Finn Wolfhard. Really earns his spot.

— Phil Nobile Jr. (@PhilNobileJr) August 26, 2017
Happy to say #IT is an effectively scary & faithful adaptation of (half) @StephenKing's novel. Walked out very satisfied. @ITMovieOfficial

— Eric Walkuski (@ericwalkuski) August 26, 2017
LOVED #ItMovie. Captured the spirit of the book & still created something new. Perfect combo of dark & fun. & The Losers Club was PERFECT! 👌 pic.twitter.com/ipkKlAORyt

— Rachel Heine (@RachelHeine) August 26, 2017
IT is creepy, bloody, super funny, adorably romantic and hands down among my favorite movies of the year pic.twitter.com/tYpaNFHOsu

— Erik Davis (@ErikDavis) August 26, 2017
#IT definitely captures frights of the novel whilst adding a new fears. Major set pieces are bone-chilling -even summons a splash of tears

— Courtney Howard (@Lulamaybelle) August 26, 2017
IT makes me nostalgic for when I used to get scared by things because I don't anymore. But man oh man, if you still do...

— Franchise Fred (@FranchiseFred) August 26, 2017
Saw #ITMovie I loved it.

Then took trash out in my empty, dark, stairwell...

SHIT FREAKED ME OUT CAUSE THAT MOVIE SCARED ME LIKE FOR REAL

— Mark E Reilly (@ReillyAround) August 26, 2017
Just finished watching #ITmovie
Wow! Incredible!
Scared me shitless! #it pic.twitter.com/pAg2gQQlx7

— Rama's Screen (@RamasScreen) August 26, 2017
This is all overwhelmingly positive, but make sure you keep your expectations in check. In fact, if you're looking for a little more even-handed reaction, check out this thread from the first reaction above, from our our Chris Evangelista. While he loved the movie, he pointed out some flaws, such as using orchestral cues for jump scares a little too often, some unnecessary visual effects used for Pennywise here and there, and one moment involving one of the characters. But overall, he was still extremely satisfied.
These reactions also jibe with the footage that I saw at San Diego Comic-Con. The studio didn't go out of their way to scare us with a bunch of footage of Pennywise, but opted to show us how much chemistry and camaraderie there was between all of the kids playing the Losers Club. It looked like it was as much of a coming of age story as it was a horror movie, something that you usually don't see in movies like this. Plus, with a longer running time than we've come to expect from horror movies, it's clear there's no hurry to just scare the audience and run through the story.
For more from Stephen King's It, be sure to check out our reaction to footage from Comic-Con right here, and check out the most recently released theatrical trailer over here. Otherwise, we'll be back with even more early buzz when the review embargo for the movie lifts on September 5.
This adaptation of Stephen King's It stars Bill Skarsgård (Allegiant) as the horrifying Pennywise the Dancing Clown while the group of young misfits known as the Losers' Club is played by Jaeden Lieberher, Finn Wolfhard, Wyatt Olef, Jeremy Ray Taylor, Chosen Jacobs and Sophia Lillis.
Mama director Andy Muschietti is at the helm of the feature produced by Roy Lee, Dan Lin, Seth Grahame-Smith, David Katzenberg and Barbara Muschietti with a screenplay from Chase Palmer & Cary Fukunaga and Gary Dauberman.
New Line Cinema's horror thriller "IT," is based on the hugely popular Stephen King novel of the same name, which has been terrifying readers for decades.
When children begin to disappear in the town of Derry, Maine, a group of young kids are faced with their biggest fears when they square off against an evil clown named Pennywise, whose history of murder and violence dates back for centuries.
It hits theaters on September 8, 2017.