New 'Star Wars: The Last Jedi' Character Reveal Coming During Force Friday II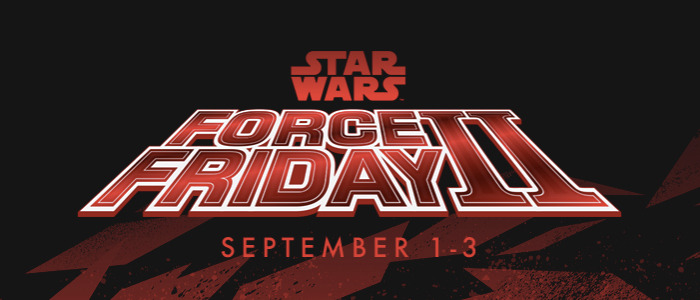 We're just one week away from Force Friday II, the big merchandising event that will see a slew of Star Wars: The Last Jedi toys, clothing, posters, books and more thrown on shelves as part of Disney and Lucasfilm's massive hype machine that we happily crank up each and every week. While most of the secrets of The Last Jedi will likely be kept intact, it doesn't mean there won't be some details gleaned from the event. In fact, part of the Force Friday II promotion will include the reveal of a new character through the "Find the Force" augmented reality event accessed through the official Star Wars app.
Find out more about Star Wars Force Friday II and this special promotion below.
This video explains how you can unlock characters in the Star Wars app by participating in Force Friday II:
As you can see, by scanning the "Find the Force" logo, you'll unlock characters in the app, almost as if they were trading cards. Apparently at least one of the characters you'll be able to unlock during the global event that spans three days at 20,000 retail locations spread across 30 countries will be a never-before-seen character from Star Wars: The Last Jedi.
Will this be a new key character in the Star Wars saga or are we talking about getting a glimpse at another Constable Zuvio here? It's difficult to say, but it's a relatively cool way to keep fans active on the Star Wars app while also unlocking new information about the movie.
You can use the Star Wars app right now to get an early look at the Porgs in augmented reality before the treasure hunt for more characters goes live next week for Force Friday II on September 1st. In fact, once you start the treasure hunt, you'll be able to post photos and videos on Instagram and Twitter with the hashtags #FindtheForce and #Sweepstakes throughout that weekend for a chance to win the ultimate fan experience: tickets to the Star Wars: The Last Jedi premiere in December.
If you're wondering where the best place to go for Force Friday II is going to be, StarWars.com has all the details on the various events and parties that certain retail locations are having. Some establishments like Target, Walmart and Meijer will be opening at midnight to start selling The Last Jedi merchandise immediately. Other retailers have their own exclusives and whatnot too, which you can find about in much more detail right here.
Happy hunting, and may the Force be with you!