Rumor: 'Fantastic Four' Reboot Is Based On An Unpublished Mark Millar Children's Book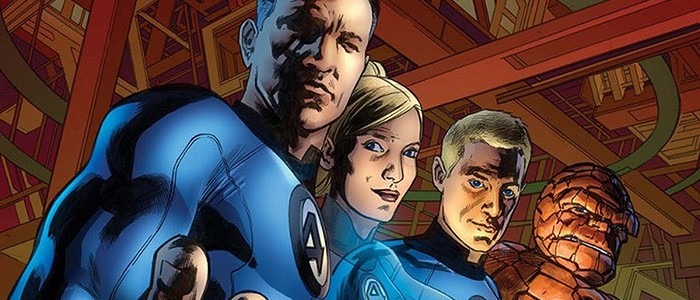 Back in June, it was rumored a more kid-friendly Fantastic Four was in the works after audiences didn't flock to see 20th Century Fox's bleak take on the property. After the rocky experiencing making Josh Trank's butchered comic book movie, the studio wanted to go in an entirely different direction inspired by Pixar's The Incredibles. A new rumor from the same source says 20th Century Fox is basing the new reboot off Mark Millar and artist Curtis Tieg's unpublished children's book, Kindergarten Heroes.
Below, learn more about the potential Fantastic Four reboot.
We last heard the next Fantastic Four film might follow Reed Richards and Susan Storm's kids, Franklin and Valeria, with The Human Torch and The Thing "along for the ride." Now, Bleeding Cool writes that reboot is a rework of Millar and Tieg's unpublished story, not based on any of the writer's Ultimate Fantastic Four stories.
In 2013, Millar sold the film rights for Kindergarten Heroes to 20th Century Fox. The book was completed but was never released by the now defunct Edinburgh publisher Books Noir. The rumor goes that the book and Carter Blanchard's script for Kindergarten Heroes is now the basis for the next Fantastic Four film, which the outlet says will still star Franklin and Valeria.
A Kindergarten Heroes movie – which Simon Kinberg (Fantastic Four) was going to produce – has been scrapped and reworked into the next reboot of Marvel's classic heroes, who are 0 for 4 when it comes to live-action movies. Seth Grahame-Smith (The LEGO Batman Movie) wrote the most recent draft of the kid-friendly Fantastic Four, and he apparently incorporated elements from Kindergarten Heroes into his draft.
Bleeding Cool reached out to Millar and Tieg for a comment, but they offered none for the story. Five years ago, the comic book writer behind Kick-Ass and Kingsman: The Secret Service started working closely with 20th Century Fox as a creative consultant on a few of their Marvel properties, including Fantastic Four. He had input on The Wolverine and X-Men: Days of Future Past, but over the last few years, we haven't heard much about his involvement in their superhero properties – although 20th Century Fox has picked up a few of his comics to adapt, including the long-in-development Nemesis. They had great success with their one and only Millar adaptation, Kingsman: The Secret Service, which gets a sequel next month. A lot of studios want to be in the Millar business, as a huge deal with Netflix has cemented.
20th Century Fox possibly using an unpublished story of the writer's is very surprising. The Fantastic Four has been around since 1961. With 56 years worth of material and some beloved storylines, it's kind of odd the studio wouldn't go directly to the source material – what made fans love the Fantastic Four in the first place. We probably don't need to see the team fight Doctor Doom anytime soon again, but there's plenty of Fantastic Four stories to adapt not involving their most famous villain. The previous Fantastic Four movies were said to be inspired by Millar's Ultimate Fantastic Four, which was quite fun as I recall, but we've yet to see a movie actually get the tone and spirit of those comics or, more importantly, Stan Lee and artist Jack Kirby's original work.
What do you want to see from a Fantastic Four movie?