Ryan Gosling Is Hosting The 'Saturday Night Live' Season 43 Premiere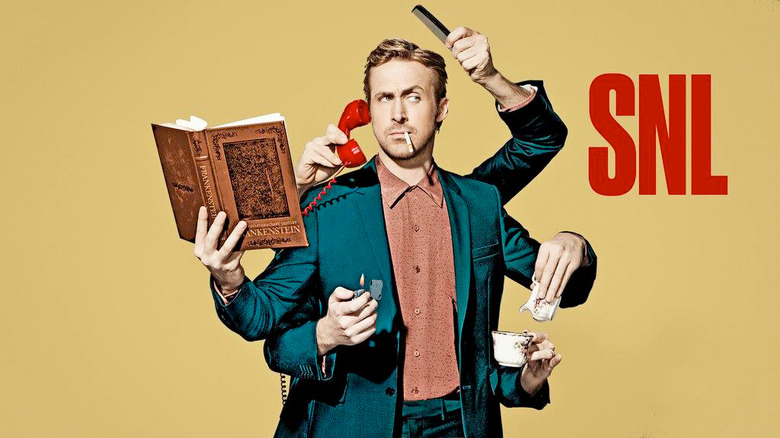 Last season of Saturday Night Live enjoyed record numbers for the late night sketch comedy series, the likes of which haven't been seen since the 1990s. That's largely thanks to the complete shitshow in the White House making for ripe political satire, not to mention impeccable lampooning of the Orange-in-Chief himself by Alec Baldwin.
If the Saturday Night Live spin-off Weekend Update: Summer Edition this month is any indicator, the 43rd season of the staple NBC series should be back with a vengeance, and now we know who will be hosting the season premiere. Surprisingly, it's not a former SNL cast member or one of their knockout, repeat hosts. Instead, it's Blade Runner 2049 star Ryan Gosling and I couldn't be happier about that.
News of Ryan Gosling hosting Saturday Night Live for his second time came during Weekend Update last night:
Season 43 premieres on September 30 with @RyanGosling and JAY-Z! #SNL pic.twitter.com/a2kdhJGVs0

— Saturday Night Live – SNL (@nbcsnl) August 25, 2017
Ryan Gosling hosted Saturday Night Live just once before in December of 2015. The result was surprisingly great as Gosling showed an affinity for authentic comedy, leaning into his characters to make them that much funnier. One of the prime examples from the night, which was my favorite from the entire episode in my recap and review, featured Ryan Gosling and Vanessa Bayer as a Santa Claus-obsessed couple in a Quentin Tarantino-esque short film called Santa Baby. If you missed it, check it out:
The sincerity with which Ryan Gosling plays this guy is incredible. From when he says, "We'd very much like to meet him," to "Then how the f*** did Santa get here, David?" This sketch still cracks me up to this very day. But Gosling doesn't just have a great comedic presence in pre-recorded material. He also had a lot of fun in the live sketches, such as when he played Anthony Crispino's third-hand news guy Angelo Skaggs on Weekend Update:
Ryan Gosling is definitely a surprising choice to host the season premiere of Saturday Night Live, but I think he'll knock it out of the park. Unfortunately, we likely won't see him reprise his role as Angelo Skaggs now that Bobby Moynihan has left the show. But since the best characters he played during his first time hosting were original and not tied to recurring bits, the writing staff should have no problem cooking up new stuff for Gosling this time. Maybe musical guest Jay-Z will even get in on some of the fun.
Overall, this season should be interesting since Alec Baldwin will be showing up a little less as Donald Trump than he did last season. We'll see if the writing staff will be able to keep up their ratings and the quality of their satire without relying on the president's buffoonery. Since there's a rotating cavalcade of clowns in the White House, it shouldn't be a problem, and it just might allow for more exciting stunt casting to follow the likes of Alec Baldwin as Trump and Melissa McCarthy as Sean Spicer. Personally, I wouldn't mind seeing Jim Parsons as new communications director Stephen Miller, but they might keep that role in-house instead of pulling in another guest star.
Saturday Night Live Season 43 begins on September 30.