'Black Mirror' Season 4 Trailer: Yeah, Technology Is Still Going To Kill Us All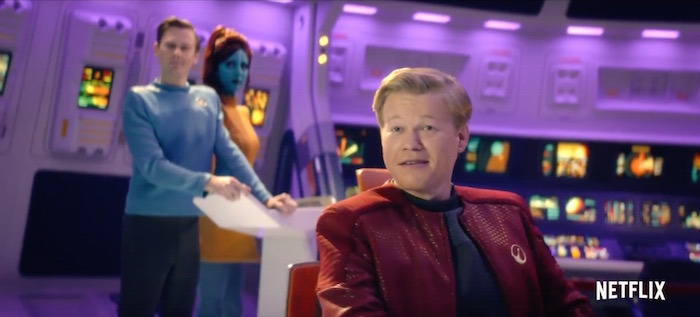 Black Mirror, the cynical and twisted technology-centric anthology show that's as addictive as it is emotionally numbing, is returning to Netflix with its fourth season. At some point. No official release date has been set yet, but the first trailer has arrived, teasing six new stories of science fiction, horror, and bad decisions being amplified by technology bringing out the worst in humanity.
And yes, that is Friday Night Lights, Breaking Bad, and Fargo star Jesse Plemons on the bridge of some kind of Star Trek-esque spaceship. At the very least, the Black Mirror season 4 trailer is promising a batch of stories that are going to tread on some fresh turf.
The trailer doesn't feature any story details or dialogue, but it does reveal the titles of the six episodes that comprise the new season: "Crocodile," "Arkangel," "Hang the DJ," "USS Callister," "Metalhead," and "Black Museum." Naturally, each title is accompanied by people looking like they're in emotional distress and in the process of making poor decisions. Oh, and there's a giant robot. And a spaceship.
Although it hasn't been confirmed which director is helming which episode, we know that the line-up this year includes the likes of Jodie Foster, David Slade, and John Hillcoat. It's Hillcoat whose involvement intrigues me the most, only because the director of The Proposition and The Road entering the world of Black Mirror suggests one the bleakest hours of television, well, ever.
However, it's the footage from "USS Callister" that has my attention at the moment, mainly because it looks completely different from every episode of Black Mirror we've seen so far. Either the show is boldly going further into the future than it ever has before or it's a story set within some kind of Star Trek-inspired virtual reality game. A game that will surely doom everyone playing it. Also: the eternally great Jesse Plemons. That's more than enough.
One episode we do know a little bit about is "Black Museum," because magician and writer Penn Jillette revealed a few months ago that one of his unpublished short stories will figure into the episode. Long story short (you can read the whole thing here), Jillette once wrote a story called "The Pain Addict," about a device that lets doctors feel the pain of their patients, and Black Mirror creator Charlie Brooker scooped it up for use in an episode that would tell a series of smaller stories connected with a framing device, much like the unforgettable "White Christmas" episode. Here's more:
And then two years later, [Brooker] started calling me up a lot and for the [finale] of the next Black Mirror, they're doing a thing called "Black Museum," which is three stories tied together as one, like they did with "White Christmas." We went back and forth. Charlie Brooker writes everything. There wasn't a chance of me actually typing. I sent him my short story. We brainstormed for a few hours. It ended up being that the whole story was framed by a carnie in Vegas who has a museum that includes the helmet that was worn by the original pain addict. He's telling the story to a young woman who was at the museum. He's this washed-up carnie guy, 20 miles outside of Vegas, running his little museum there.
Black Mirror season 4 doesn't have a release date, but Netflix promises that the season is coming soon.