Star Wars Bits: Porg Mania Continues, A New Snoke Theory, And Maz Kanata Rumors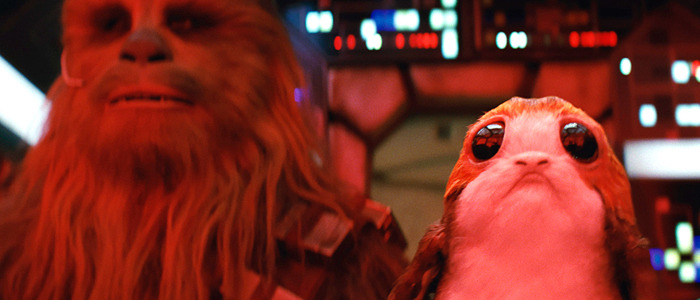 In this Super-Sized edition of Star Wars Bits:
A new Snoke theory! But does it suck?
Several Ron Howard Han Solo set teases...1313?
Porgs, Porgs, and MORE Porgs!
And much, much more!
One of the fun things to do with the comics, books, films, and animated series that add to the time just before and during the Original Trilogy, is to try to reconcile them while watching those films. There are plenty of ways to do it, whether it's picking out nameless-in-the-films characters, or in the case of Iden Versio at the Battle of Yavin, just finding the right awesome TIE fighter pilot. Star Wars Explained takes on the task, and I happen to agree with their assessment.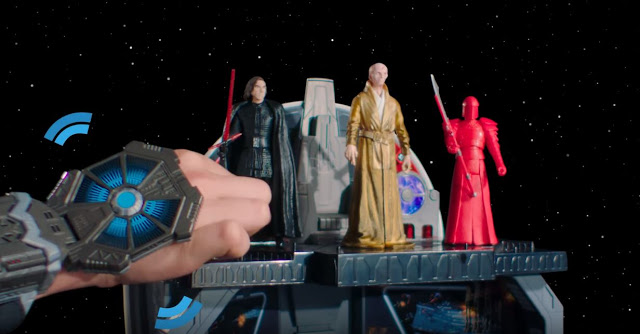 StarWarsUnderworld spotted two Hasbro commercials for Force Friday that it seems were published on accident. One shows a BB-8 playset with First Order characters Supreme Leader Snoke, Kylo Ren, and a Praetorian Guard, and the other a "Force Link Band" that plays dialogue and sound effects when near specific figures. They have more details of the removed spots.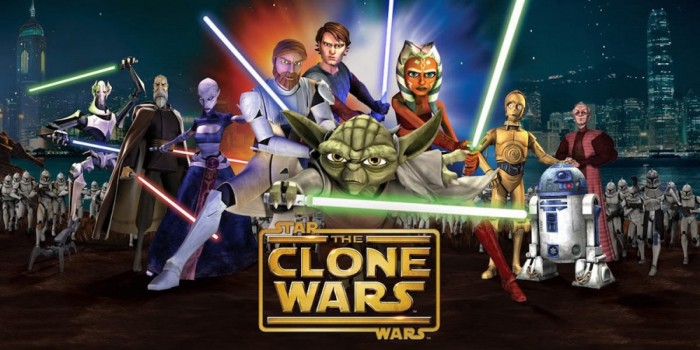 Another month, another rumor that Star Wars: The Clone Wars is leaving Netflix. Every month for the last several, for some reason, the Netflix app has said The Clone Wars series is leaving on the seventh of the month. This prompts panic and binge watches from fans, and articles like this one on Inverse. However, for the fourth month in a row, this is likely much ado about nothing, as The Clone Wars is NOT, I repeat NOT on Netflix's official list of leaving titles. Better Off Ted and the underrated The Batman are leaving, so get to watching!
Looks like I was clearly enjoying this close up performance today on the set. #UntitledHanSoloMovie #chewbacca pic.twitter.com/yw9F0ZmiTl

— Ron Howard (@RealRonHoward) August 17, 2017
Ron Howard continues his Han Solo set pic tweets, with another shot of Chewbacca. Either he's extremely important to the film, with the number of pictures Howard has tweeted of him, or it's easy to show him without spoiling anything because you're pretty darn used to seeing Chewbacca's look.
Bonus content with re-recording mixer David Parker
A post shared by Rian Johnson (@riancjohnson) on Aug 17, 2017 at 5:53pm PDT
Rian Johnson posted an amusing video on instagram with re-recording mixer David Parker, working on Star Wars: The Last Jedi. Guys, huge "space floor" spoiler bomb dropped above.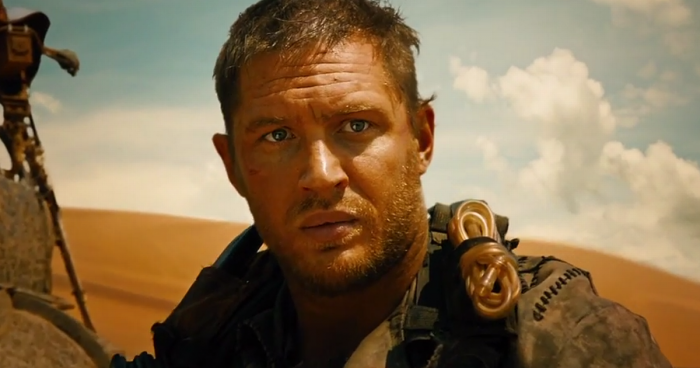 Yes, Tom Hardy, as well as Prince Harry and Prince William were on the set of Star Wars: The Last Jedi, actor John Boyega (Finn) confirmed to BBC Radio. He was asked if they were on set or cameoed at all in the film, and though some are reporting him confirming cameos, all he actually says is they were on the set: "I've had enough with those secrets. They came on set. They were there. I'm sick of hiding it. I think it was leaked, anyway. There were images. Every time I get asked, I have to dodge it. I'm tired of dodging it. They were there. So was Tom Hardy."
Get ready! #LEGOStarWars is assembling its biggest set yet! 😱 We just can't wait for October 1st! @starwars pic.twitter.com/bG5bYgHDv8

— LEGO (@LEGO_Group) August 15, 2017
LEGO is teasing their biggest Star Wars set ever, but aside from it, um, being in space, there's no real clues to what exactly it will be. Their Death Star and Star Destroyer builds were pretty huge, and they do have a new Millennium Falcon on the way. Could be a Starkiller Base, or a new First Order Star Destroyer – those ships get pretty big!
The Last Jedi's Rian Johnson talked with Thomas Kail, director of Hamilton, and said that shooting and editing the movie is actually very similar to what he's done in his indie work: "Every now and then we'd just look at each other over the camera and go – that's C-3PO over there!" Yeah, not gonna lie, feel like that every time I see Threepio even at a press junket.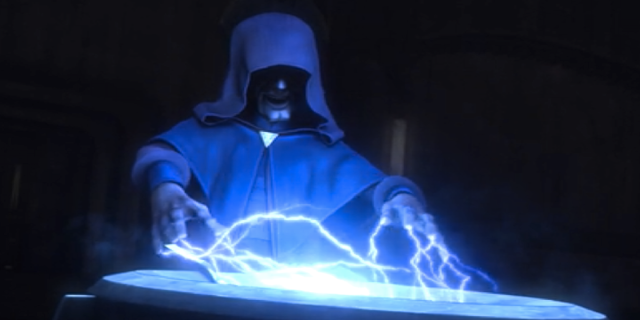 Star Wars: The Clone Wars delved into a lot more "types" of Force use than just Jedi and Sith, and one of those was Force magic. Primarily wielded by the Nightsisters and Mother Talzin, Darth Sidious and his apprentice Darth Tyranus used one bit of Force magic, channeling their dark side power (and Palpatine's blood) into a cauldron to spy on Yoda. According to a rumor on the StarWarsLeaks subreddit, a Snoke toy may reveal a similar cauldron. Of course, that bluish object also looks like it might just be a transmitter/receiver that works with the new Force Link Band shown above, so we'll take this with a grain of salt. Remember, Supreme Leader Snoke does not appear to be a Sith Lord in any way according to anything we've seen so far.
Adam Driver has been out on the press tour for the (excellent and hilarious) Logan Lucky heist film, but he does get asked about Star Wars: The Last Jedi. Will fans be happy with what happens to Kylo Ren? "I hope they will! I think it'll be...unexpected."
Rough corner of the Galaxy. pic.twitter.com/A6UmPI60kV

— Ron Howard (@RealRonHoward) August 18, 2017
Did we mention Ron Howard is posting a lot from the set of Han Solo? We did, didn't we? This video, along with one on Instagram seems to show a rough area of the galaxy. Perhaps the "Star Wars Underworld" that the above video takes its name from, was almost featured in a live-action TV show and video game Star Wars 1313? Lucasfilm never throws anything away, so it certainly could be.
Holy crap this Star Wars Battlefront 2 trailer is amazing. And where's that first location, fighting the First Order? The UNKNOWN REGIONS you say? Almost like someone (it was me) told you at length (it was here on this site) that the Unknown Regions are extremely important (seriously, you read it right?) to the future of Star Wars!
Daniel Craig was full of admissions on Colbert last week (also on the press tour for the excellent and hilarious Logan Lucky). He finally admitted he's coming back to play James Bond one last time, and he admitted he was the stormtrooper who got mind tricked in Star Wars: The Force Awakens. How'd he get the gig? "I slept with J.J. Abrams." To which Colbert replied, "Well, I didn't get a part in Star Wars!" It was actually because his Bond 2nd AD was working on the movie, and Craig asked if he could be in it. So, um, that's all it takes I guess. Hey, can I be in a Star Wars movie, please? Hello? Why are you walking away? Does that mean Yes? HELLO?!
So there's this. #Repost @toyfiend ??? Not annoying or creepy at all. ???????????? We are Porg. Resistance is futile. Thanks to @tyler_gaddey for the video of this early Porg spotting! #thelastjedi#porgs A post shared by Vintage Star Wars (@vintagestarwars) on Aug 19, 2017 at 10:13am PDT
Here's a Porg, in the wild, in action, making noise. Still cute?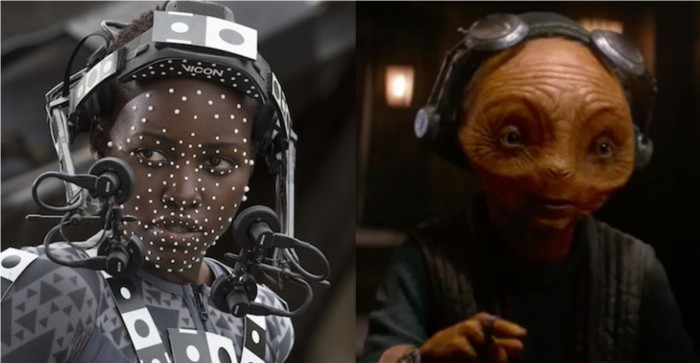 Screenrant picked up a rumor that Maz Kanata may appear in Han Solo. It comes from a Funko rep saying Lupita Nyong'o alongside other actors in the film; that could just be a mistake, or it could've been insight based on what Funko is making, hence: rumor. Still, it'd be fun to see a little Maz/Chewie backstory, right?
A lot of people (me) love the heck out of the Mortis Trilogy on Star Wars: The Clone Wars. But even most of the die-hard fans may not know there's a fourth figure: Abeloth, aka "Mother." While certain bits from the Legends continuity have already seeped into Star Wars canon, she hasn't yet, but Star Wars Explained thinks she still could. Let's get Snoke and Rey and all that sorted out first, please.
Three brand-new promotional images from "Star Wars: The Last Jedi" have surfaced online! The film, which stars Daisy Ridley, Mark Hamill, John Boyega, Oscar Isaac, Adam Driver, Carrie Fisher, Peter Mayhew, Anthony Daniels, Jimmy Vee, Domhnall Gleeson, Andy Serkis, Gwendoline Christie, Lupita Nyong'o, Laura Dern, Kelly Marie Tran, Veronica Ngo and Benicio Del Toro, is written and directed by Rian Johnson and hits theaters on December 15th, 2017. What do you think of this new look at "Star Wars: The Last Jedi"? Let me know in the comments! #StarWarsTheLastJedi #TheLastJedi #StarWars #StarWarsEpisodeVIII #StarWarsEpisode8 #MarkHamill #AdamDriver #CarrieFisher #DaisyRidley #Rey #JohnBoyega #OscarIsaac #PeterMayhew #AnthonyDaniels #DomhnallGleeson #AndySerkis #GwendolineChristie #LupitaNyongo #LauraDern #BenicioDelToro #RianJohnson #LukeSkywalker #PrincessLeia #R2D2 #C3PO #Chewbacca #Disney #LucasFilm #MovieNewsNow
A post shared by Movie News Now (@movienewsnow) on Aug 20, 2017 at 9:42pm PDT
The instagram account MovieNewsNow got three new pieces of promotional art for The Last Jedi, one featuring a Resistance character lineup (putting Rose on equal billing with Finn, Poe, and Chewie, notably), and the other two close-ups of Kylo Ren and Snoke. They're purty.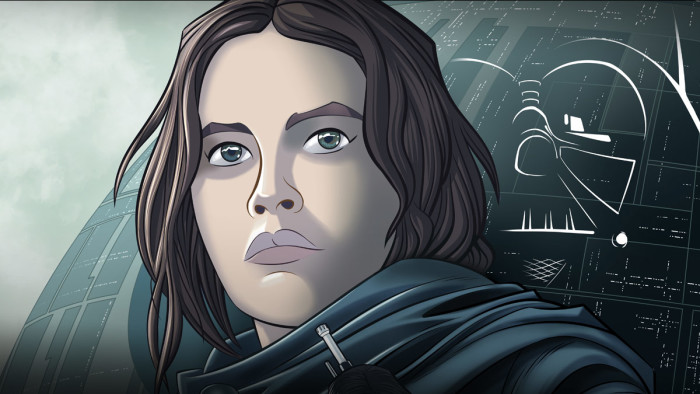 Marvel Comics' serialized adaptation of Rogue One: A Star Wars Story still has one issue left to come out so... Star Wars has just announced another graphic novel adaptation of the movie, this time from IDW? Huh. This is, honestly, very confusing. The assumption, thanks to the Disney-animation style art, is that this will be a younger-reader-focused adaptation, just as they do Novelizations and Junior Novelizations. We're guessing. They weren't really clear on this.
Rey cosplayer "Girl Meets Jakku" has already been snapping some Ahch-To style shots with adorable Porgs. They're so cute as they watch her meditate and keep her company. Hopefully, they're not all squawking the whole time like that toy above, or else meditation will get pretty tough.