Watch Netflix's Teasers For Nick Kroll's 'Big Mouth' Series And Jerry Seinfeld's New Stand-Up Special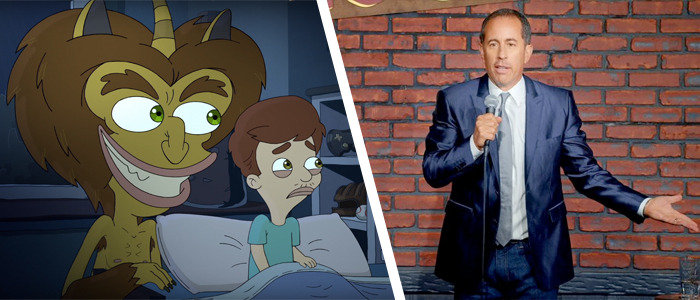 Netflix has plenty of original programming coming to the streaming service in September, and teasers for two of their biggest comedy offerings have just hit the web.
First up, Nick Kroll is trying his hand at animated comedy with a new series called Big Mouth that he co-created with Andrew Goldberg, which focuses on the nightmare of going through puberty as a teen, envisioning hormones as giant monsters who are bad influences on teenagers. It looks delightfully twisted and weird for a coming-of-age series.
Additionally, Netflix has also announced the premiere date for Jerry Seinfeld's new stand-up special, which is part of the big deal the comedian struck with the streaming service for several specials as well as his series Comedians in Cars Getting Coffee. Along with the date, they've also released several clips for you to enjoy.
Check out the Big Mouth teasers and Jerry Seinfeld stand-up clips down below.
Big Mouth Teasers
First up, let's check out one of the two teasers for Nick Kroll's animated series Big Mouth:
This isn't so much of a teaser as it is a clip lifted from the series itself where Andrew (voiced by John Mulaney) has his Hormone Monster (voiced by Nick Kroll) cloud his judgment, driving him to, um, sneakily pleasure himself while his friend Nick sleeps just a few feet away. It's a hilariously awkward but true-to-life scenario for anyone who has ever been a hormone fueled teenager. But it's not just young teen boys who will be dealing with hormones in this series.
In the second teaser, a young teenage girl voiced by Jessi Klein (Inside Amy Schumer) has a visit from her Hormone Monstress (voiced by Maya Rudolph), which forces her to lash out at her mother irrationally for no good reason and sob uncontrollably on the bed. So it looks like both boys and girls will have their difficult days of puberty lampooned in this animated series that promises to be charmingly gross and inappropriate.
The voice cast also includes Jason Mantzoukas, Jordan Peele, Fred Armisen and Jenny Slate. The series is directed and written by Mark Levin and Jennifer Flackett, who are also credited as co-creators and executive producers on the series with Nick Kroll and Andrew Goldberg.
Big Mouth hits Netflix on September 29.
Jerry Before Seinfeld, A Netflix Original
The beginning of the year brought news of a deal that Jerry Seinfeld had struck with Netflix for two stand-up specials, the rights to his documentary talk series Comedians in Cars Getting Coffee, and the potential to develop more original programming for the streaming service. One of the two stand-up specials in that deal is debuting this month.
Jerry Before Seinfeld features the beloved comedian heading back to The Comic Strip in New York City, the comedy club which helped launch his career. Along with an entirely new set of stand-up material, there will be footage interspersed from Seinfeld's previous stage performances that no one has ever seen before. Plus, Seinfeld will also be performing some of his earliest jokes, hopefully with hindsight adding even more comedic commentary.
The Netflix Comedy Instagram was completely overhauled with a couple clips from the special, including some of his vintage bits, as well as scans of his actual legal pad notes that Seinfeld used to plan his sets, some of which were written as far back as 1975. Here's an example right here:
A post shared by Netflix Comedy (@netflixcomedy) on
Seinfeld has never been a favorite of mine when it comes to stand-up, despite how much I love Seinfeld as a series, but I'll certainly be tuning in to see what his new material is like. Plus, it's always fascinating to hear a comedian's early work to see how they've evolved over the years.
If you want to see more than the clip above, check out the Netflix Comedy Instagram page right here, and get ready to watch Jerry Before Seinfeld when it debuts on September 19.