The 'Tremors' TV Series Finds A Director In Vincenzo Natali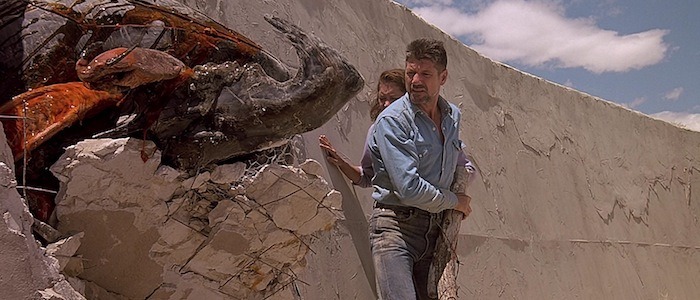 In 2017, beloved movies and television shows don't die – they just hibernate. We knew that Tremors was coming back as a television series on Syfy and we knew that it would see the return of Kevin Bacon's Valentine McKee, but now we know who will help usher forward the small screen continuation of this (pretty darn great) horror adventure: director Vincenzo Natali.
Deadline reports that Blumhouse TV has hired Natali to helm to the pilot for the Tremors revival series and it's a match that makes perfect sense. After all, Blumhouse has built its empire on low-budget horror movies and Natali cut his teeth on tiny-but-terrific genre films like Cube and Splice. And while he hasn't directed a feature since 2013's ambitious and clever Haunter, he's made a successful transition to television, having helmed episodes of Hannibal, American Gods, Luke Cage, Westworld, Orphan Black, and The Strain. So yeah, making monsters and science fiction and horror sing on a TV budget is what he does best.
As you may recall, Tremors followed the citizens of a small Nevada town who do battle with a group of "graboids," giant worms that tunnel underground to hunt their victims. It's icky without being violent, scary without being upsetting, and funny without losing its edge. It's a hoot.
And unlike the four direct-to-video Tremors sequels (a fifth is on the way), this television sequel will actually bother to bring back the lead character from the first movie. Whether or not those other entries will be referenced in any way, or if they'll be part of the Tremors canon, remains to be seen. It gets even more confusing when you recall that Syfy (then known as the Sci-Fi Channel) aired another Tremors TV series sequel in 2003. It didn't last long.
But that TV series sequel had more in common with the increasingly ludicrous and cheap sequels than the original movie, which remains a delicious blend of horror and comedy nearly 30 years after its release. Here's how Deadline describes the plot of the new series:
...the killer Graboid worms that nearly destroyed Perfection, NV, 25 years ago are back, and the town's only hope for survival is Valentine McKee (Bacon), who beat them once. But to do it again he'll have to overcome age, alcohol and a delusional hero complex.
Despite his extensive television experience, this will be Natali's first time directing a pilot, so it will be exciting to see him establish the look and tone of an entire series. The pilot is also a reunion, as writer Andrew Miller also starred in Natali's audacious 1997 debut, Cube.
The Tremors TV series does not have an air date yet, but should Syfy like what they see, expect to see something in 2018.