'Knight Rider' Movie Being Developed As A Comedy For John Cena And Kevin Hart (Sorry, David Hasselhoff)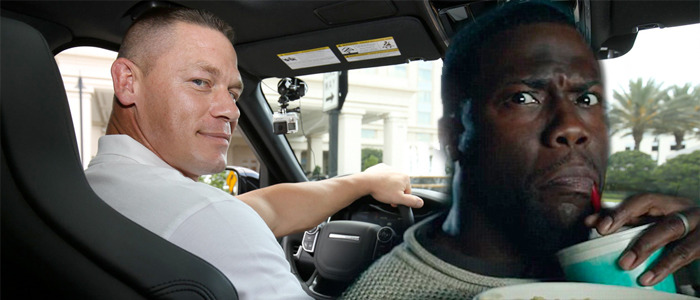 Hot on the heels of Knight Rider star David Hasselhoff hoping that Robert Rodriguez could direct him in a Logan-esque film adaptation of the beloved 1980s TV series featuring the Baywatch star as an aged Michael Knight, we have news on the development of a Knight Rider movie, but it's not going to make David Hasselhoff happy at all.
The Weinstein Company is reportedly taking a crack at making a Knight Rider movie, but rather than taking a more serious approach, the project will follow in the footsteps of 21 Jump Street by making it an action comedy. Furthermore, they want to put John Cena behind the steering wheel as Michael Knight and they're considering Kevin Hart to provide the voice of the talking car called KITT.
ScreenRant has the news on the development of a Knight Rider movie at The Weinstein Company, but they caution that both John Cena and Kevin Hart are not attached to the project, but merely the actors that the studio hopes to get on board. Considering the rising star of John Cena as a comedy and action star, not to mention the box office draw of Kevin Hart, those are picks that make complete sense. But are they the best choices for the movie?
John Cena has proven himself to be a surprisingly good talent on screen. The wrestler turned actor was making straight-to-DVD quality action movies like The Marine, 12 Rounds and Vengeance. But more recently, he's found a better calling in comedy with supporting roles in Sisters, Trainwreck, the HBO Sports mockumentary Tour de Pharmacy and the upcoming sequel Daddy's Home 2. If he can balance that comedy out with some kick-ass action, he might be on a path to being the next Dwayne Johnson. But I'm not sure if he's ready to lead a movie like this just yet
Meanwhile, Kevin Hart is obviously a huge comedy star around the world. He's already teamed with Dwayne Johnson for Central Intelligence and he's about to do it again in Jumanji: Welcome to the Jungle, so why not partner him up with the next big wrestler turned actor? But for me personally, Hart's voice is one of the most annoying things about him. I know that his hyper behavior and yelling is what makes people laugh when he's in a movie or performing stand-up, but for me it gets old fast. I'm not sure I can handle him utilizing only his voice as KITT.
The problem I foresee with The Weinstein Company's hope for Knight Rider is that audiences aren't going to flock to a movie based on a TV show just because they recognize the title. The reception of Baywatch and CHIPS this year is evidence of that. Studios think it's so easy to create the next 21 Jump Street, but most movies trying for that goal don't even come close. While John Cena and Kevin Hart may have box office appeal, I'm not sure they're the best duo to make Knight Rider work properly as an action comedy. But that all depends on who ends up writing and directing
You know who I would like to see in a Knight Rider movie? I'd put T.J. Miller in the role as a detective who is being punished for some mistake in the field by forcing him to be part of a new experimental project that puts artificial intelligence into a police car. Then I'd make Bill Hader the voice of KITT. That's what I want to see in a Knight Rider movie.
What would you like to see in a Knight Rider movie?