'Blade Runner 2049' Extended TV Spot: What's The Deal With This Replicant Army?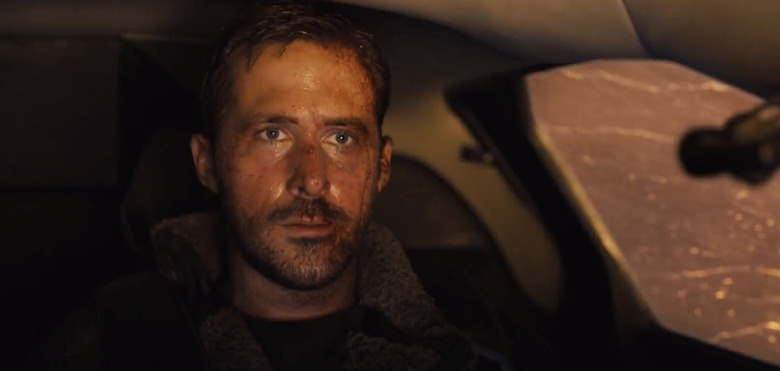 We're returning to futuristic Los Angeles this Fall with the long-awaited sequel, Blade Runner 2049. Picking up where Ridley Scott left off in 1982, director Denis Villeneuve (Arrival, Prisoners) follows a new blade runner played by Ryan Gosling as he uncovers a secret from the past that will greatly impact the future, especially when it comes to replicants.
A new Blade Runner 2049 TV spot from our friends in the United Kingdom has arrived online, and it's long enough that you could even consider it a trailer. There is plenty of new footage, including Officer K (Gosling) officially asking Rick Deckard (Harrison Ford) to help him with some kind of case. Of course, Officer K is digging where he shouldn't be and there are some dangerous people in pursuit who cut their meeting short. 
This extended TV spot also seems to be a little more forward about revealing that Jared Leto is the villain in this movie. However, I'm a little concerned that the threat seems to be that he's "building an army." That's a tired plot device that we've seen too many times before. But since this is Blade Runner, I'm hoping that it's just a small piece of a plan that is much more complex than amassing an army of replicants for the purposes of an action set-piece.
Part of me wonders if the line "I can only make so many" regrind his production of replicants means that he's figured out how to create replicants so they can reproduce, which would make them pretty much human, right? That would be a compelling conundrum in the world of Blade Runner.
Another interesting detail in this TV spot is confirmation of who Ana de Armas is playing in the movie. There's a shot of Ryan Gosling standing in front of a hologram billboard, and it features an image of a nude Ana de Armas with text that says "Joi" and "Everything You Want." Taking that into consideration with how the actress interacts with Ryan Gosling in the opening of the TV spot, acting like a programmed companion, it's clear she's a mass-produced replicant.
Beyond those details, the action in this movie has been played up quite a bit. The first Blade Runner had moments of excitement to be sure, but the action in the sequel appears to be on another level. Hopefully, it doesn't overshadow the contemplative core that made the first Blade Runner such an engaging and thoughtful piece of sci-fi.
Blade Runner 2049 is written by Hampton Fancher and Michael Green. The cast also includes Robin Wright, Mackenzie Davis, Carla Juri, Barkhad Abdi, Edward James Olmos, and Dave Bautista.
Thirty years after the events of the first film, a new blade runner, LAPD Officer K (Ryan Gosling), unearths a long-buried secret that has the potential to plunge what's left of society into chaos. K's discovery leads him on a quest to find Rick Deckard (Harrison Ford), a former LAPD blade runner who has been missing for 30 years.
Blade Runner 2049 hits theaters on October 6, 2017.