Why Netflix Was The Only Place To Make Scorsese's 'The Irishman', According To Robert De Niro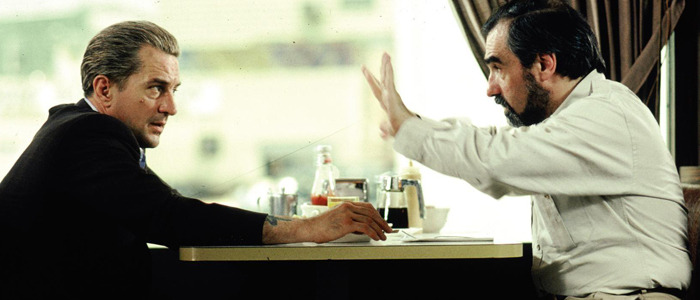 Martin Scorsese's upcoming gangster movie The Irishman has traveled a long and difficult road toward production, but it's finally come together at Netflix. The film will star heavy hitters like Robert De Niro, Al Pacino, Joe Pesci, Harvey Keitel, Ray Romano, and Bobby Cannavale, and it features digital de-aging techniques that will allow those actors to play characters across multiple decades.
In a new interview, De Niro spoke about why Netflix was the only proper way to go for The Irishman, and his reasoning involves one vitally important factor: money.
In a chat with Deadline (via The Playlist), De Niro explained how the streaming service is willing to cough up enough cash to make sure that the de-aging technology looks as good as it possibly can:
"I think that's good also because we need the money to do it right and it just wasn't financeable in another way, in the traditional film way, if you will. They're trying to really do it as the best it's ever been. We're doing the young stuff first and taking it decade-by-decade so that later the oldest stuff will be closer to our own age. So they're trying to really make it as good as they can make it, and that's the goal that it can be something special that everyone would want to see and see it done as well as it can at this point. I'm excited by it and looking forward to doing it."
The Irishman is based on Charles Brandt's 2004 book I Heard You Paint Houses, which tells the story of Frank "The Irishman" Sheeran (De Niro), a hitman with ties to organized crime who claimed to have information about the assassination of President John F. Kennedy and who admitted to killing Teamster leader Jimmy Hoffa on the orders of the mafia. Steven Zaillian (Schindler's List, Gangs of New York, American Gangster, The Night Of) wrote the screenplay.
The film's budget is said to be around $150 million, and Paramount was once bidding for this project before Netflix swooped in with a big offer and Scorsese opted to go with the sexier choice. And you can't really blame him after Silence only made $7 million domestically and a combined $23 million worldwide. That de-aging tech can't be cheap – just ask Disney, who's been using it in Marvel and Star Wars movies lately with varying degrees of success. De Niro isn't bothered by Netflix's release strategy (which rarely involves sending films to theaters) because he's clearly more pleased with the fact that they'll be giving the filmmakers enough money to make the movie in the first place. While I'd love to see The Irishman in theaters, I suppose I'll have to settle for being able to see it at all. Filming begins late next month.