David Hasselhoff Wants A 'Knight Rider' Movie Like 'Logan,' Directed By Robert Rodriguez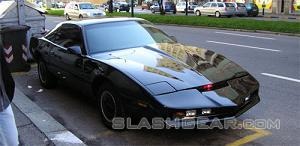 David Hasselhoff is currently back in the spotlight for a presumably limited amount of time thanks to his cameo in Guardians of the Galaxy Vol. 2, More importantly, Hasselhoff has even more fun performing the disco track "Guardians Inferno" on the film's soundtrack, not to mention starring in the supplemental music video on the home video release. And the former Baywatch star is using the opportunity to talk about the hopes he has for a big screen adaptation of a familiar property he starred in back in the 1980s.Knight Rider is a fan favorite show from the 1980s that hasn't yet had a successful update on film or TV like many other shows from the same decade. If David Hasselhoff had his way, there would already be a successful reboot of Knight Rider, and he's doing everything he can to try to make it happen. Just recently, we heard Hasselhoff had tried to convince Guardians of the Galaxy director James Gunn to be at the helm of a Knight Rider movie, but now he wants Robert Rodriguez to direct, and he knows exactly which movie he wants to emulate.CinemaBlend spoke with David Hasselhoff and the actor told them about his idea to have Robert Rodriguez tackle Knight Rider. Furthermore, Hasselhoff himself wants to star and have it be something akin to Logan:
"I have met Robert Rodriguez. He does Dusk til Dawn and Machete. And I said 'You need to do Knight Rider.' Because he was doing a marathon of Knight Riders and he said 'Can we have a selfie!?' And I said, 'No, I don't want a selfie! I want to do the movie! I want to shoot the TV series! I want to bring it back and make it dark! Michael Knight comes back and he's pissed.' ... I hope it happens, and if it does, it'll be kind of like Logan. It will be dark. Hasselhoff as Michael Knight in 2017. Knight Rider. The saga continues."
First of all, it sounds like David Hasselhoff is just throwing this idea out to any director who will listen to him. That's how desperate he is to see a Knight Rider movie happen.
Furthermore, David Hasselhoff appears to lack a bit of self-awareness when it comes to his capabilities as an actor. When the actor mentions that he wants a Knight Rider movie to be like Logan, where it's dark and it features himself as an aged Michael Knight, that sounds more like a fan film idea than a legitimate approach to Knight Rider. Are we really going to have a dark, gritty approach to a cheesy 1980s action series about a guy wearing a leather jacket who drives a talking car?
While I can appreciate David Hasselhoff's ambition to protect the properties he was part of and hope that they get treated right when being adapted for a new audience, he seems woefully misguided in his efforts. There's always the chance that Hasselhoff could have a performance in him along the lines of Mickey Rourke in The Wrestler, but personally I just don't think it's in the cards.
Do you want to see a Knight Rider movie at all?