Comedy Icon Jerry Lewis Has Died At 91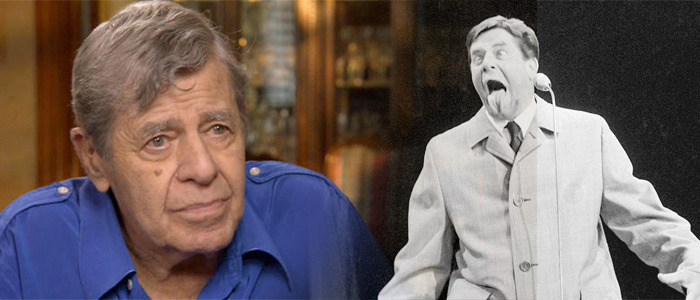 Jerry Lewis, one of the most iconic entertainers of the 20th century, passed away Sunday morning at age 91 in his Las Vegas home. The comedian turned philanthropist for the Muscular Dystrophy Association wore many hats throughout his career, including director, writer and producer. We remember the life of the legendary Jerry Lewis below.
News of Jerry Lewis dead was confirmed by the star's publicist Candi Cazau according to The New York Times.
Jerry Lewis was born into a family of entertainers. His father Danny Levitch was a song and dance man while his mother Rae was a pianist, both using the stage name of "Lewis" when performing their vaudeville act. This left the young Jerry (real name Joseph Levitch) being passed around between his grandmother and aunts while his parents were on the road. It has been said by Lewis himself that his rambunctious comedy came about because of a need for attention and affection that he wasn't receiving from his parents.
In his teenage years, young Joseph began hitting the night club circuit as a comedian, opting for the name Jerry Leiws to avoid being confused with the famed comic Joe E. Lewis at the time. He would perform as a solo act between movies at theaters, not to mention getting involved with burlesque and vaudeville shows.
In 1946, after a second time appearing on the same bill at a Manhattan nightclub, Jerry Lewis and singer Dean Martin started to play around with some improvisation work with each other. Their fooling around eventually turned into a real nightclub routine where Dean Martin played the handsome, cool straight-man, while Jerry Lewis played the bumbling, comedic relief, constantly flailing about, spilling drinks and food.
Their show turned them into stage stars across the country, and thanks to the rise of entertainment after World War II, Lewis and Martin became quite the popular duo, offering "sex and slapstick" to an audience exhausted from the war and ready for some laughs.
Eventually that show turned Martin and Lewis into an on-screen duo after Paramount Pictures producer Hal Wallis saw their show. The duo had appeared on live TV several times, but struck a huge five-year deal with Paramount that resulted in 13 hit movies such as The Ghost Breakers, That's My Boy, The Caddy, The Stooge, Artists and Models, Hollywood or Bust and more.
But as Jerry Lewis found himself wanting more control over the projects he was starring in, fascinated by the work of motion picture directors, he began to clash with Dean Martin, and after exactly 10 years, the duo called it quits with a farewell performance in 1956 at the famous Copacabana.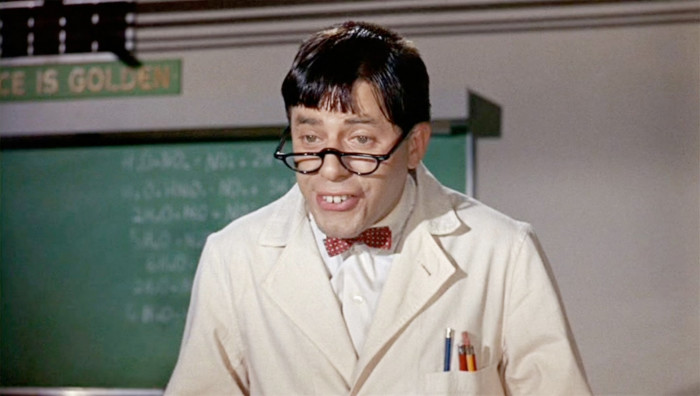 An entirely new career spawned for Lewis that included being a solo hit recording artist with an album called Jerry Lewis Just Sings, directing movies such as The Delicate Delinquent and The Bellboy. That was just the beginning though as his directing career went on to include The Ladies Man in 1961 and The Nutty Professor (seen above) in 1963.
After these successes, Lewis became a little less of a draw for audiences as those who grew up loving the comedian and stage star were aging and became disinterested in his antics, even as he ventured into more mature roles such as Three on a Couch, another movie he directed. He still stayed with comedy by taking on films like The Big Mouth and Which Way to the Front?, but his slapstick style was falling out of favor with audiences as films like The Graduate started becoming all the rage.
After his famous cinematic disaster The Day the Clown Cried became lost in a legal battle (and caused even more wild legal issues more recently), Jerry Lewis took a step back from filmmaking for eight years and found trouble in an addiction to painkillers. When he finally returned to filmmaking, he was not received well with films such as the low budget Hardly Working and Smorgasbord landing poor reviews, marking the end of his directing career from then on.
Jerry Lewis wasn't done with Hollywood yet though. The actor saw a resurgence of sorts with a surprising turn in Martin Scorsese's The King of Comedy, playing a talk show host kidnapped by an aspiring comedian played by Robert De Niro. It was an acclaimed performance for Lewis, and while it didn't launch a new wave of stardom for Lewis, he did take on several more character roles in films like Arizona Dream and Funny Bones.
More recently, Lewis had guest appearances on The Simpsons as Professor John Frink Sr. in 2003 and Law & Order: Special Victims Unit in 2006.
Lewis continued to work into his later years despite dealing with a variety of ailments throughout his life, which included prostate cancer, pulmonary fibrosis and two heart attacks. He even returned to arguably his most iconic work by directing a stage production of The Nutty Professor with a score by Marvin Hamlisch and book and lyrics by Rupert Holmes. He would also return to films with a starring role in the film Max Rose at the 2013 Cannes Film Festival, where he was recognized as a "towering figure in cinema."
Though Lewis was never given an Academy Award, he received many other accolades for his work on screen, not to mention his charitable work off-screen, for which he was given the Jean Hersholt Humanitarian Award. For as much as Lewis was beloved in the United States, which resulted in two stars on the Hollywood Walk of Fame for film and television, he was even more loved in Europe, being inducted into the Légion d'Honneur by the French government in 2006.
The work of Jerry Lewis will be forever commemorated by the Library of Congress, who acquired the comedian's personal archives in 2015, which he cited as "one of the biggest thrills" of his life.
Though Lewis was certainly an icon of entertainment, he wasn't without controversy due to his old school sense of humor, which was known to be politically incorrect as he refused to change with the times. Still, his legacy and impact on the worlds of stage and screen inspired countless other talents who followed him, and his work from decades passed will be important pieces of Hollywood history for generations to come. Rest in peace.