'The Big Sick' Deleted Scenes Showcase All The Dad Jokes And Bad Puns That Didn't Make It In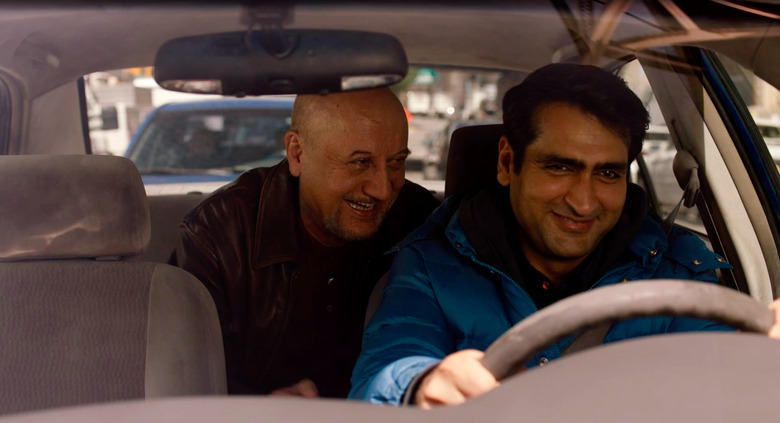 Contrary to the title, it's hard to get sick of The Big Sick. The sleeper hit of the summer, The Big Sick was absolutely charming with its romantic-comedy twist on Kumail Nanjiani and his wife Emily V. Gordon's somewhat sad semi-autobiographical tale. But it's also funny as hell.
It's a movie by a stand-up comedian about stand-up comedians, and it shows. The movie is rife with improvised jokes and dry humor, even as it goes into some dark, emotional places with the titular sickness of Gordon's fictional character, played by Zoe Kazan. The movie is so stuffed with jokes in fact, that Amazon Studios has released online a clip of all the deleted jokes and puns that didn't make the movie.
The video, titled "The Other Stuff," premiered on Nerdist and claims that "the best stuff made it in The Big Sick. This is the other stuff."
Less deleted scenes than it is bloopers and improvised jokes by actors Ray Romano, Holly Hunter, Aidy Bryant, Bo Burnham, Anupam Kher, Adeel Akhtar, and Kurt Braunohler, the "other stuff" is chock full of dad jokes and hilarious puns that only stand-up comedians shooting a movie could think of. It's always enjoyable seeing smart comedians at work and even more enjoyable seeing them break during scenes, causing the cast and crew to laugh along.
The best gags are naturally the ones improvised by the dads of the movie, Anupam Kher and Ray Romano. In the car that Nanjiani's character is driving, Kher tells several extended jokes from the backseat about Tinder and bad falls, nearly showing more energy in those two scenes than he does throughout the rest of the film. Romano too can hold up to Nanjiani's stand-up comedian character, delivering a hilariously poorly-timed joke about comedic timing.
"Here's a joke. Ask me the secret to comedy," Romano's character Terry says in the scene to Nanjiani.
"What's the secret to com-"
"KA-TIMING," Terry says, stuttering.
Nanjiani breaks character, laughing, "What did you say?"
What did you think of "The Other Stuff"?