Jessie T. Usher Is The 'Son Of Shaft,' Samuel L. Jackson And Richard Roundtree Also Returning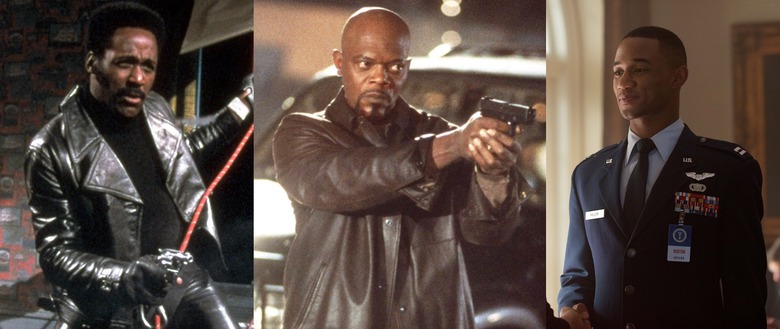 The new Shaft movie won't be another reboot. In fact, it's going to be a family affair. The newly titled Son of Shaft has cast Jessie T. Usher in the title role, but he's not coming alone. He's going to have a little help from his father. And his great uncle. Because it seems that previous Shaft actors Samuel L. Jackson and Richard Roundtree have also signed on to join director Tim Story's action/comedy.
Deadline has the news, reporting that New Line is currently negotiating to bring Jackson and Roundtree back into the fold. This means that Son of Shaft will have a direct connection to the previous film versions of the character, with Usher carrying the legacy of one of cinema's coolest characters.
Richard Roundtree originated the character of John Shaft on the big screen in Gordon Parks' 1971 film Shaft. He returned to play the badass private detective in 1972's Shaft's Big Score and 1973's Shaft in Africa. Roundtree even made a cameo appearance in John Singleton's 2000 reboot-of-sorts, also titled Shaft, which followed Samuel L. Jackson as NYPD detective John Shaft, the nephew of the original John Shaft. Hopefully, Usher's character will also be named John Shaft, to make this all extra awesome/confusing.
If you haven't seen Jessie T. Usher before, you probably haven't watched the Starz series Survivor's Remorse, which begins its fourth season this month. And like the rest of the world, you probably skipped Independence Day: Resurgence, where he played Dylan Hiller, the son of Will Smith's character from the original movie.
In Son of Shaft, Usher will play the son of Jackson's John Shaft (which makes him the grand nephew of Roundtree's John Shaft) and they will have something of a mismatched buddy cop dynamic in the new movie. Here's how Deadline describes the movie, which will see the millennial Shaft teaming up with old school daddy Shaft:
He will play the son of the detective, who, after long being estranged from his father, finds himself teamed up with him. The young man is an FBI agent, a cyber expert, and the partnership with dad is an uneasy collision of old school meets new school.
Tim Story, who signed to to direct Son of Shaft back in January (long before we knew any of these story details), recently told us that his movie will be a blend of action and comedy. Heck, he dropped the father/son detail right there on our lap:
My Shaft movie is going to be definitely not straight action. We're going action-comedy or comedy-action, I'm not exactly sure which one comes first. We're going to definitely make sure the stakes in the world are real, and then you've got these characters who are dealing with kind of a father/son situation, we're going to see them put a family back together.
John Shaft is one of the main '70s "blaxploitation" icons for a reason: he was effortlessly cool, the kind of streetwise badass who just oozed charisma...until it was time to kick ass and take names. Then he was all business. The remake is less memorable, but Jackson's turn as Shaft 2.0 was as entertaining as you'd expect. So the thought of seeing three Shafts on the big screen together is certainly intriguing.
And honestly, that brings me to my one big hang-up here. Tim Story has made laid-back comedies (Babershop) and superhero movies (Fantastic Four and its sequel) and buddy cop action films (Ride Along), but can he make a Shaft movie? While I'm glad New Line has entrusted this character to a black director, John Shaft is too powerful and too important of an icon to be reduced to parody. Hopefully, Story's promised comedic touches will enhance Shaft's legacy rather than reduce him to a joke.
Son of Shaft is set to begin filming later this year.