Final Season Of 'Portlandia' Will Say 'Oh, Hello' To John Mulaney And Nick Kroll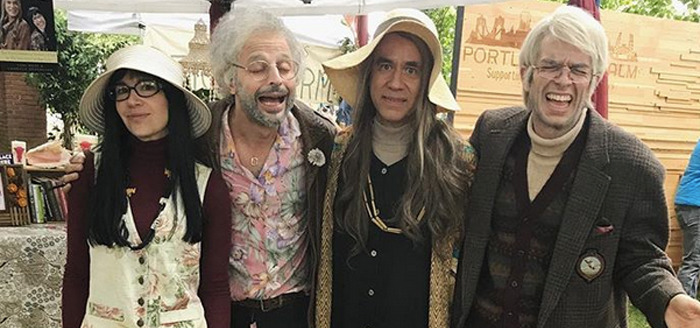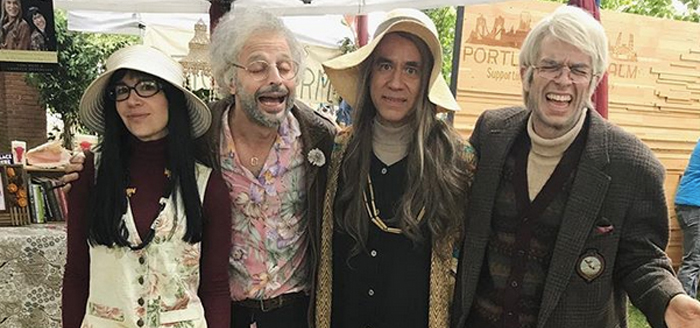 It's a damn shame, but the comedy sketch series Portlandia is coming to an end after being renewed for an eighth and final season on IFC. Fred Armisen and Carrie Brownstein have assembled a cavalcade of hilarious characters over the years, and they've brought some of their best comedian friends into the show with them to make it even better. The final season will be no different, and it will features a crossover that no one was expecting, but everyone should be excited about.
Two of Fred Armisen and Carrie Brownstein's most favorite characters are Tony and Candace, who work at a feminist bookstore in Portland, and this season they'll be joined by none other than Gil Faizon and George St. Geegland, better known as Nick Kroll and John Mulaney from both the Oh, Hello comedy special on Netflix and The Kroll Show.
You can see the Portlandia season 8 sneak peek below.
The front page image came from Carrie Brownstein's Instagram, and here's another from Fred Armisen:
Toni, Gil, Candace, George and cardboard Toni. @carrie_rachel @nickkroll @johnmulaney #portlandia
A post shared by Fred Armisen (@sordociego) on
It was thought the characters wouldn't be around much after the real store that inspired the sketch (also used as the location for the bookstore) lashed out at the series after a bad experience following a filming stint in the store and wanted nothing to do with them anymore, but they'll at least be back for this final season, and having Gil Faizon and George St. Geegland appearing with them only sweetens the deal.
Considering the location of the photo, I wonder if Toni and Candace will have been kicked out of their bookstore location and maybe forced to be part of a farmer's market or something like that. The background in the images above suggests a location like that. Maybe the bookstore went out of business so the two feminists have more free time and they end up running into Gil and George, which will make for a hilarious clash of characters. Plus, it means that Portlandia and Oh, Hello exist in the same universe.
The characters played by Nick Kroll and John Mulaney have become rather popular after having their own run on Broadway, which resulted in the aforementioned Netflix special. Here's the trailer for that:
If you haven't seen that incredible piece of comedy, carve out some time this weekend to see how amazing it is. You'd be hard-pressed to find two other comedians today who are so in tune with each other and outstanding at playing characters completely unlike themselves, and improvising as them perfectly. Now the question is whether they give Toni and Candace too much tuna. We'll find out when the final season of Portlandia begins sometime in 2018.