WTF: Billy Idol Was Cast As T-1000 In 'Terminator 2' Before Robert Patrick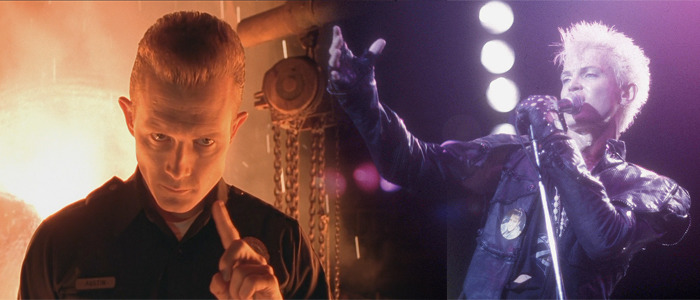 This year doesn't mark a special anniversary for Terminator 2: Judgment Day, but since James Cameron's action sequel is coming back to theaters in 3D, there's a little bit of chatter about the 1991 film making the rounds as publicity for the re-release builds. That includes Robert Patrick, who played the liquid metal villain T-1000 in the sequel, discussing his history with the role, which resulted in the actor revealing that he wasn't the person who was originally cast to play the part. Instead, that role was supposed to go to none other than rock star Billy Idol. Wait, what?
That's right, folks. According to Robert Patrick, the original casting for T-1000 had Billy Idol in Terminator 2 as the advanced prototype Terminator who pursues John Connor (Edward Furlong) and the T-800 series Terminator played by Arnold Schwarzenegger. Patrick explained to The Hollywood Reporter, "Billy Idol was set to do the role of the T-1000, as I understand. I can tell you that I saw Billy's image when I went to Stan Winston after I got the role."
So how did Robert Patrick end up snagging the role instead? Why didn't we end up hearing T-1000 give the Rebel Yell? Patrick explained, "Unfortunately, he got into a motorcycle accident and busted up his leg, so he wasn't able to physically do what the role demanded."
It sounds like we dodged a bullet there, because I can't imagine Billy Idol being anywhere near as intimidating as Robert Patrick in that role. Even if Billy Idol is a good actor, he brings with him the weight of his on-stage persona, something not easily shaken when you're portraying a character like T-1000. It would have taken quite the spectacular performance for him to make us believe that Arnold Schwarzenegger should be running from him. Then again, apparently the role was originally envisioned as "a cross between David Bowie and James Dean," so it would have been a much different version of the villain than what we ended up seeing anyway.
Thankfully, Robert Patrick auditioned for the role, and director James Cameron liked what he brought to the table with his take on the character. And there's a reason that the T-1000 running has become such an iconic moment in cinema history. Patrick said he trained in order to sprint long distances without needing to breath heavily, so he could keep up his stoic, intimidating demeanor on camera even during the action sequences. It turns out Patrick was so fast that he ruined a take by catching John Connor on his dirtbike:
"The first big chase sequence we did at the mall before I take the semi, I caught John!" Patrick said. "And I was like, 'What the f*ck do I do now?' And Jim was like, 'Jesus Christ! How fast can you run?!' And I said I didn't know. So they had to crank up the speed of John's dirt bike."
That's not the only training that Patrick did to make his character seem more threatening. He also learned how to shoot a Beretta 92FS extremely quickly, as well as reloading it without having to look at the gun. This way, he's a machine with a mission, cold and calculated, with only his eyes on the target, never losing sight of John Connor.
As for Billy Idol, he never landed a role that would have been as big as T-1000 in Terminator 2, but he did go on to have roles in The Doors and Heavy Metal 2000. But his best performances was obviously playing himself in The Wedding Singer: